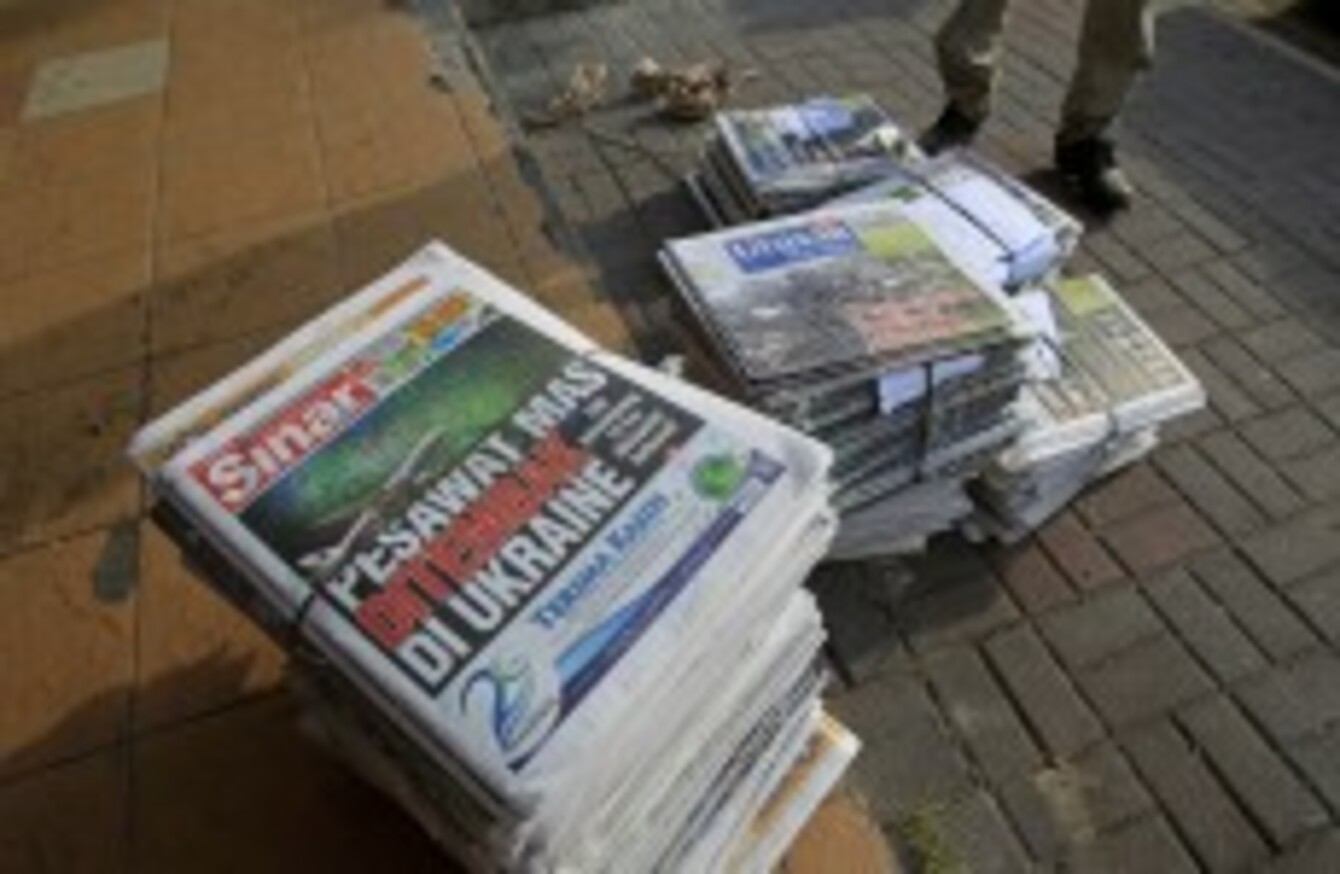 A man stands next to newspapers carrying headline stories and pictures of Thursday's Malaysia Airlines plane shot down, in Shah Alam, outside Kuala Lumpur, Malaysia
Image: Lai Seng Sin
A man stands next to newspapers carrying headline stories and pictures of Thursday's Malaysia Airlines plane shot down, in Shah Alam, outside Kuala Lumpur, Malaysia
Image: Lai Seng Sin
UKRAINE REBELS HAVE guaranteed investigators "safe access" to the crash site of Malaysian Airliner MH17 in territory they hold, negotiators said after talks with the insurgents.
The separatists committed to providing "safe access and security guarantees to the national investigation commission, including international investigators, in the area under their control," the trilateral Contact Group on the Ukraine Crisis said in a statement, adding rebels would also close off the site and allow local authorities to recover the bodies of the victims.
US intelligence agencies have confirmed that the flight was shot down, but nobody can confirm by whom.
Ukraine claims that pro-Russian separatists were responsible, but rebels claim they do not have the capability.
Vladimir Putin put the blame at Ukraine's door.
However, there is growing speculation that those responsible had wrongly thought they took down a Ukrainian cargo plane.
Social media postings attributed to members of the Donetsk Republic, a breakaway separatist group in the Ukrainian city, claimed that the rebels had taken a missile facility similar to that believed to be used in the downing of the Boeing 777.
Another is reported to have been a posting by a rebel leader celebrating the taking down of a Ukrainian cargo plane, but has since been deleted.
The UN Security Council will hold an emergency meeting today at 3pm. UN Secretary General Ban Ki Moon called for a "full, transparent investigation".