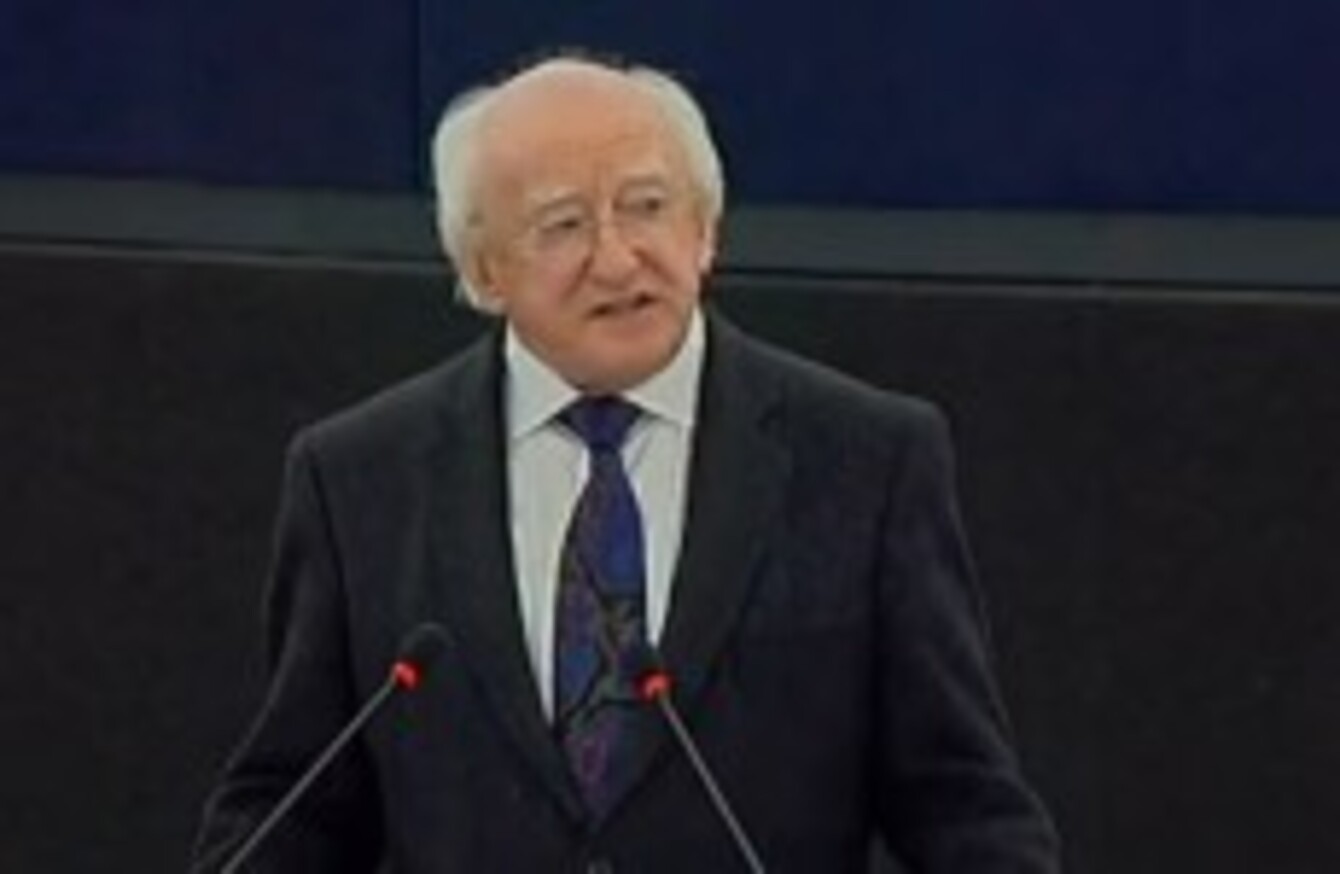 Michael D Higgins speaking in The European Parliament today.
Michael D Higgins speaking in The European Parliament today.
PRESIDENT MICHAEL D Higgins today addressed the European Parliament in Strasbourg with a speech that called for MEPs to stand accountable for the choices made and act in the interest of their "suffering" citizens.
He said European citizens place their trust in parliament when they vote and they "rightly have expectations of parliaments responding to their needs".
Higgins said the EU cannot "ignore the fact that European citizens are suffering the consequences of actions and opinions of bodies such as rating agencies, which, unlike parliaments, are unaccountable".
Higgins said that many citizens see the response to the economic crisis "as disparate, sometimes delayed, not equal to the urgency of the task and showing insufficient solidarity".
They feel that the economic narrative of recent years has been driven by dry technical concerns; for example, by calculations geared primarily by a consideration of the impact on speculative markets, rather than by sufficient compassion and empathy with the predicament of European citizens who are members of a union.
The Irish President said that, in relation to issues like unemployment, the European Union cannot afford to place its singular trust in a version of a logistical, economic theory whose assumptions are "questionable and indifferent" to social consequences.
"There is nothing more corrosive to society and more crushing to an individual than endemic unemployment, particularly among the young," he said, reminding the parliament of the 26 million people across the union who are currently out of work.
He said the parliament needs to ensure that women participate in the workplace as equals, that older workers are not left on the sidelines and that the long-term unemployed are equipped to find their way back into today's workplace.
Higgins added that he believes that the European Unions has the "courage to face all of its past" with honesty and its future with a committment to values that are inclusive of all humanity.