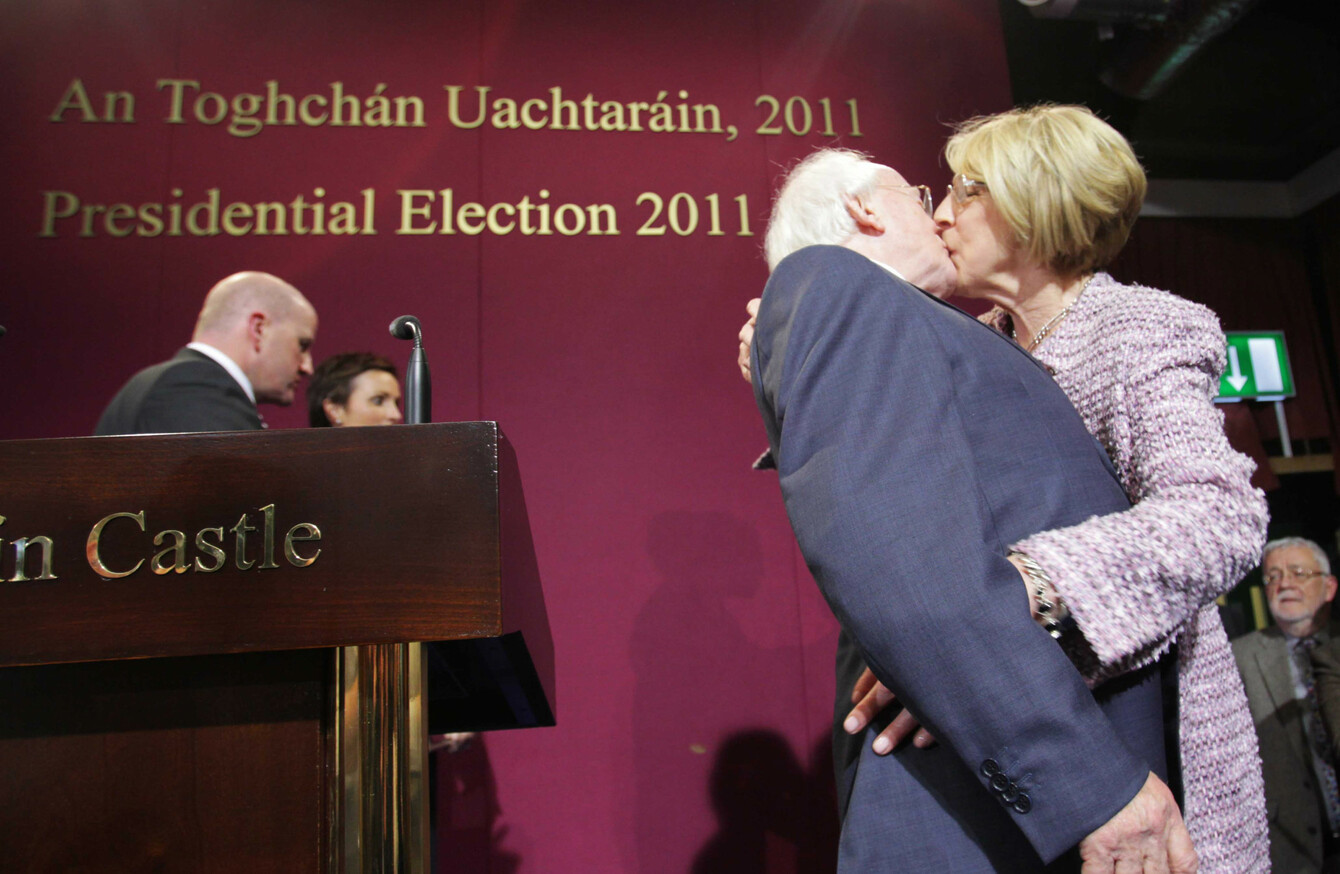 Higgins and wife Sabrina embrace after he is officially made president in 2011.
Image: RollingNews.ie
Higgins and wife Sabrina embrace after he is officially made president in 2011.
Image: RollingNews.ie
Note: President Higgins confirmed on 10 July that he is to run for a second time
PRESIDENT MICHAEL D Higgins is due to announce this month if he is to seek a second presidential term.
While he had previously ruled it out, it's understood that he now feels he has the energy for a second seven-year term, and intends on running in another election.
This could make for a very interesting election – because, for starters, who would want to run against Michael D? He's hugely popular, with almost two-thirds of voters (64%) saying in a poll they would like President Higgins to remain in office. He's widely seen as a great ambassador for Ireland and a force for good. Anyone running against him would face quite the challenge.

Higgins' presidency runs until 11 November 2018. If an election is to take place, it must be held within 60 days of that date, meaning the earliest we could have an election is in mid-September.
We asked political science lecturer at DCU, Eoin O'Malley about what we can expect from this election – and why it might end up being an "odd" one.
Getting on the ballot
In order to get on the ballot, candidates need to get the backing of at least 20 Oireachtas members (members of the Dáil or the Seanad). Alternatively, they need to secure the backing of four local authorities. Fianna Fáil said they won't be backing a candidate, but Sinn Féin would be able to nominate a candidate if they want. The late Martin McGuinness ran in 2011 and got 13.7% of the vote.
Fine Gael are expected to back Higgins for a second term.
Who's nominated so far?
Higgins doesn't need to find anyone to nominate him – he can just nominate himself.
But we are waiting to hear if he's going to do that.
The people who have declared interest in running are Senator Gerard Craughwell, Senator Pádraig Ó Céidigh and artist Kevin Sharkey.
In recent days, the Darkness into Light campaign founder Joan Freeman said that she was seeking a nomination.
Miriam O'Callaghan had been considered as someone who might run, but she announced in April of this year that she wouldn't be.
This could all get a bit "odd"
The last time a sitting president ran for election was in 1966, when Eamon De Valera was president. "I think what happened then was effectively De Valera didn't campaign," explained O'Malley. "And I suspect Michael D Higgins won't campaign. There is no way he would get involved in the debates."
And so he will probably stand above any campaigning, and he may do some postering and that. And even then it will be hard to… I don't see how you would organise canvassing and look presidential.
O'Malley said that if he was Higgins, his thoughts would be: "'Everyone knows me, everyone knows what I've done in the job and I don't need to get involved – and it's up to the others to try and fight it out for attention."
He said that the other candidates "can't promise that much". "All they can do is promise to be reasonably presidential and not completely insane…
I think the likelihood is [Higgins] will step out of any campaign and if there is just one other candidate then it will be very odd. It could be the oddest election ever.
If there was just one candidate, how odd could it get?
"You'll have one candidate shouting a lot – maybe not shouting but making quite a bit of noise; [and] the incumbent staying silent," explained O'Malley. "And then there would be no TV debates probably, and because [there would be] no way in which you see them side-by-side to make a judgement, so it might be odd in that you'd have a one-sided campaign."
"Dev came perilously close to being beaten in 66 by somebody who was reasonably well-known but not as important in stature as Dev. [President Higgins] might be slightly concerned about that."
Media attention
No matter who runs against him, they're guaranteed to get media attention, "even if they are nobodies", said O'Malley. This could be difficult for Higgins, who won't want to be forgotten in the fray.
"I assume [the candidates] couldn't spend time attacking Michael D but they might be able to – they will get attention and say good things about themselves. They are going to do better than the polls currently predict," said O'Malley.
A recent poll said that if Kevin Sharkey, Gerard Craughwell and Michael D Higgins were the only candidates, then Higgins would get 96% of the vote – but O'Malley said this is unlikely to happen.
"Obviously he is not going to get 96% in an election so whoever else comes in will do better than what the polls will say."
He said he finds it hard to think that Higgins could lose, and hasn't seen a potential candidate that comes close to him.
"One of the things we do know from the previous elections is that the presidential election does tend to be a little bit about kind of 'old Ireland versus new Ireland' or 'progressive Ireland versus conservative Ireland'," explained O'Malley. So in that context, a potential candidate like Joan Freeman might "be putting forward that more conservative vision of Ireland compared to Higgins and that might bring out 30% of people who might share that view".
Each presidency has a theme, and O'Malley said any candidates "will have to have an alternative theme [to Higgins] and they will also compete on not quite personality, but personality and stature".
Do they look and sound presidential? Would we be happy for them to meet other heads of State?
But anyone who does run knows they'll have quite battle ahead.
"I think anybody who's sensible or experienced in politics wouldn't do it," said O'Malley of running against President Higgins.
Time will tell. But not too much time – the clock is ticking.