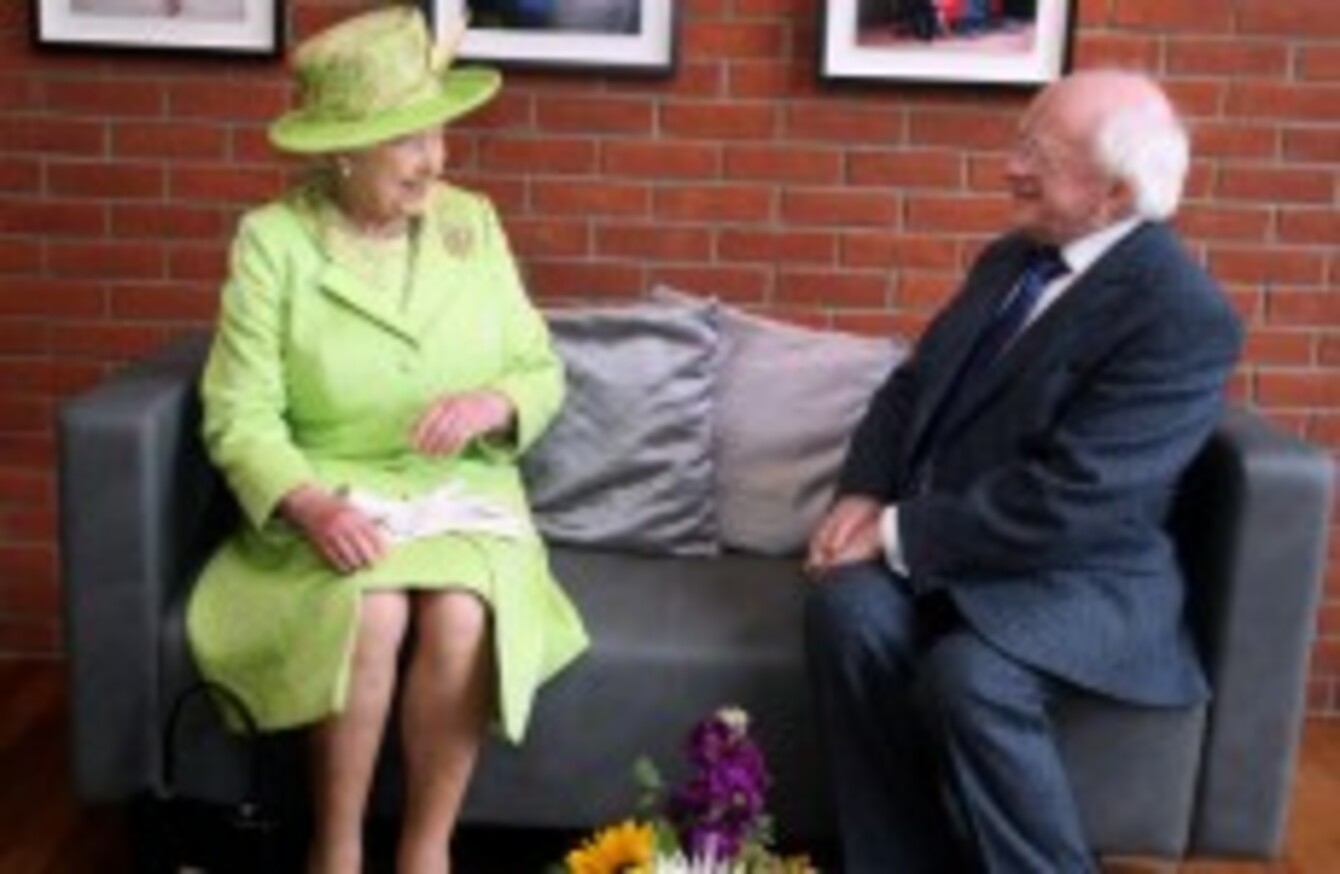 The Queen of England and President Michael D Higgins: BFFs.
Image: Paul Faith/PA Wire
The Queen of England and President Michael D Higgins: BFFs.
Image: Paul Faith/PA Wire
THE PRESIDENT WILL have lunch with the Queen of England when he visits London next month.
Michael D Higgins and his wife Sabina will leave for London on Monday, 7 April in the afternoon, heading into Heathrow Airport.
There will be met by the Ambassador of Ireland, Mr Dan Mulhall and the Viscount Hood, Lord-in-Waiting to Her Majesty The Queen.
On Tuesday morning, the President and Sabina Higgins will be met by The Prince of Wales and The Duchess of Cornwall at the Irish Embassy, after which they will depart together for Windsor.
There, Queen Elizabeth and Prince Philip will formally greet the President and Sabina at the Royal Dais, after which they will travel together by horse-drawn carriage for a ceremonial welcome at Windsor Castle.
In the Quadrangle at Windsor Castle, the President, accompanied by The Duke of Edinburgh, will inspect the Guard of Honour. As part of the formal welcome, the Guard of Honour will give the Royal Salute, and the band will play the Irish and British National Anthems.
After a lunch, the President will view Irish-related items in the Royal Collection. The President will then go to Westminster Abbey before laying a wreath at the Grave of the Unknown Soldier.
He will then go to the House of Commons and meet both the speaker of the House and the House of Lords, before delivering an address to both houses, before getting back to Windsor for a State banquet.
Banquets and farms
Wednesday will see the President and his wife visit University College Hospital in London before lunch with David Cameron at 10 Downing Street.
That evening he will attend a banquet at the Guildhall hosted by the Lord Mayor of London, Fiona Woolf. There, he will address 700 guests.
On Thursday, the President and Sabina depart Windsor Castle for a visit to the Food Animal Initiative (FAI) Farms, Oxford.
The President and Sabina will then visit Park House Stables, Kingsclere, where they will meet horse trainers, jockeys and staff.
That evening will see a Northern Ireland-themed event at Windsor Castle, before attending Ceiliúradh at the Royal Albert Hall with Prince and Princess Michael of Kent.
On Friday, the pair will depart Windsor and visit the Royal Shakespeare Company in Stratford-upon-Avon, before visiting Coventry Cathedral. After that it will be a reception at the Coventry Guildhall for Irish people, before flying back to Dublin.