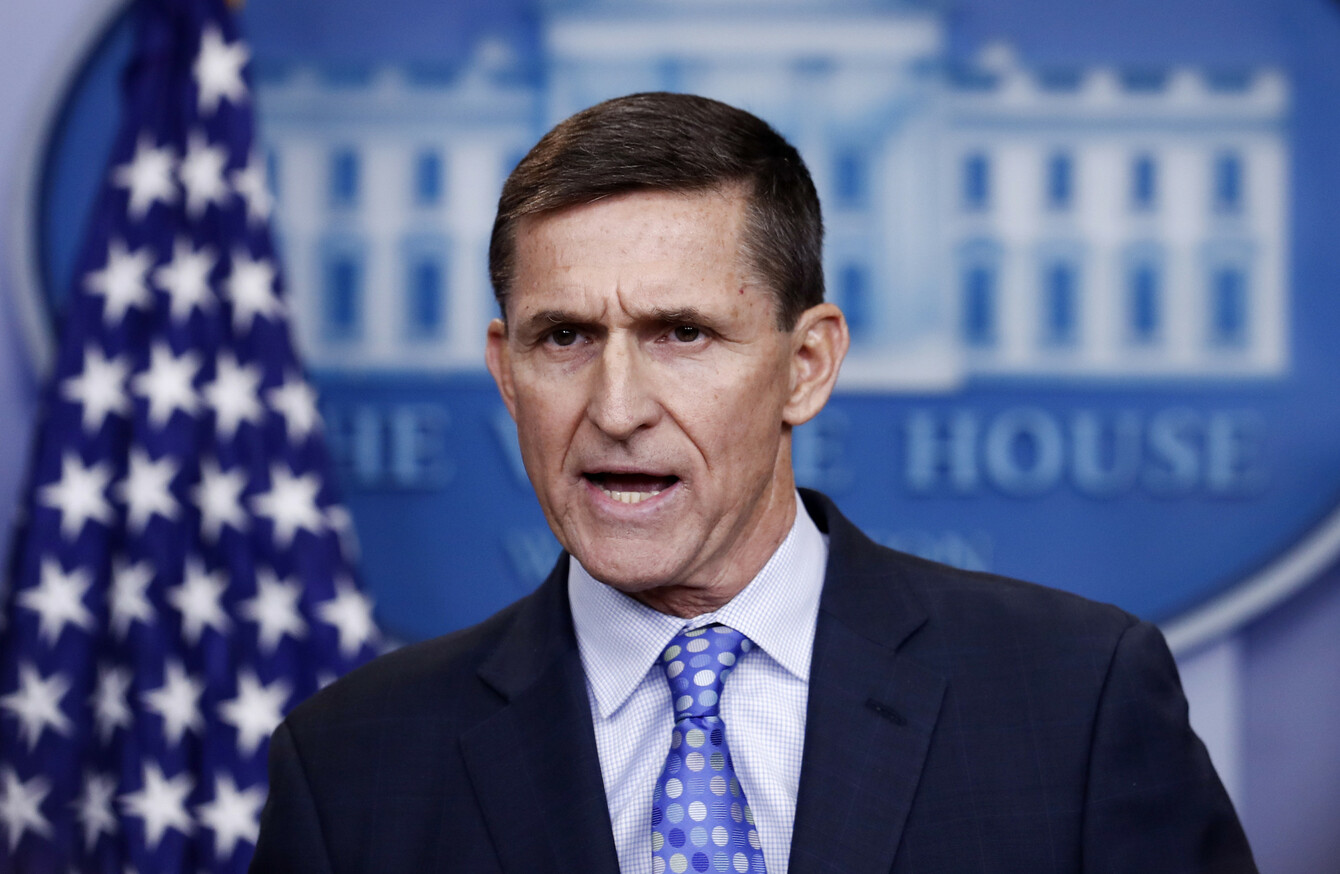 Image: Carolyn Kaster
Image: Carolyn Kaster
Updated at 7.45pm 
US PRESIDENT DONALD Trump's former top advisor Michael Flynn pleaded guilty today to lying to the FBI over his contacts with Russia, in a dramatic escalation of the probe into possible collusion between the Trump campaign and Moscow.
The 58-year-old Flynn – a retired three-star Army general – is the fourth, and so far most senior, figure indicted in the sprawling investigation into Russian interference in last year's election.
He pleaded guilty to one charge of making false statements to investigators, in a deal in which he pledged to cooperate with special prosecutor Robert Mueller's wide-reaching investigation into Trump, his family, staff and advisors.
The White House rejected the idea that Flynn could implicate Trump for collusion with Moscow, even as court documents said that Flynn had been told by "senior" members of the presidential transition team to make contact with the Russians.
ABC News said in an unconfirmed report that the former military intelligence chief will testify that Trump himself had ordered him to reach out to the Russians — a report that sent Wall Street briefly tumbling.
"I recognise that the actions I acknowledged in court today were wrong," Flynn said in a statement.
"My guilty plea and agreement to cooperate with the special counsel's office reflect a decision I made in the best interests of my family and of our country. I accept full responsibility for my actions."
Flynn lied over Russia contacts
Flynn admitted he lied to FBI investigators about his private discussions at the end of December 2016 with Sergey Kislyak, the Russian ambassador, about US sanctions imposed on Moscow by the administration of then president Barack Obama.
At the time, Flynn was a campaign and transition advisor with no official US government role, but it was known that he would likely become Trump's White House national security advisor.
He was forced to resign that post in February, just weeks after the president took office, due to public concerns over his contacts with Russia.
In a 24 January interview with investigators, Flynn denied having asked Kislyak to moderate Russia's response to new sanctions and the expulsion of 35 Russian diplomats, announced by Obama in retaliation for Moscow's interference in the 2016 election.
After the 29 December announcement, the Obama administration was openly puzzled by Moscow's decision not to retaliate, and began investigating possible interference by Flynn and the Trump campaign.
Court documents say Flynn was instructed by "a senior official of the Presidential Transition Team" to discuss holding back on retaliation with Kislyak.
Flynn, who once headed the Defense Intelligence Agency, also admitted he lied to investigators about secretly asking Kislyak on December 22 to defeat or delay a looming UN Security Council resolution to condemn Israel's settlements in Palestinian territory.
The Obama administration, in a rare step that shocked its Middle East ally, planned to abstain on the motion rather than veto it as had been done in the past.
In the Security Council case, Flynn was told by "a very senior member" of the transition team to press Russia to stall or block the vote, the court documents show.
While the two interactions do not indicate a clear instance of collusion, they raise questions about the Trump team's dealings with Moscow before taking office — and whether they actively worked to undermine Obama's policies.
The White House, which has long denied any wrongdoing in relation to Moscow, said Flynn's false statements "mirror the false statements to White House officials which resulted in his resignation in February of this year."
"Nothing about the guilty plea or the charge implicates anyone other than Mr. Flynn," said White House attorney Ty Cobb.
Probe dogs Trump
Today's news made clear that Trump's inner circle, if not the president himself, are increasingly under threat by Mueller's investigation.
Mueller's investigators have interviewed members of Trump's family, his top advisors, business partners and lawyers over their actions. Congressional staff have done the same with respect to their separate probes.
For Trump, the focus is on whether he has tried to stifle the investigation, including by firing FBI chief James Comey in May, which could draw charges of obstruction of justice, the same charges that forced president Richard Nixon from office in 1974.
Since the first allegations of Russian interference last year, Trump has dismissed it as "fake news" and an excuse for Democratic rival Hillary Clinton's stunning loss in the election.
In January, the country's top intelligence chiefs said they had strong evidence showing Moscow had interfered in the campaign, by hacking and disinformation operations, specifically to boost Trump's chances of winning.
But Trump has repeatedly rejected that view.
"Since the first day I took office, all you hear is the phony Democrat excuse for losing the election, Russia, Russia, Russia," he tweeted last week.
A White House lawyer said that nothing about Flynn's guilty plea "implicates anyone other than Mr Flynn".
Lawyer Ty Cobb also pointed out that Flynn worked in the White House for only 25 days and that he was a "former Obama administration official".