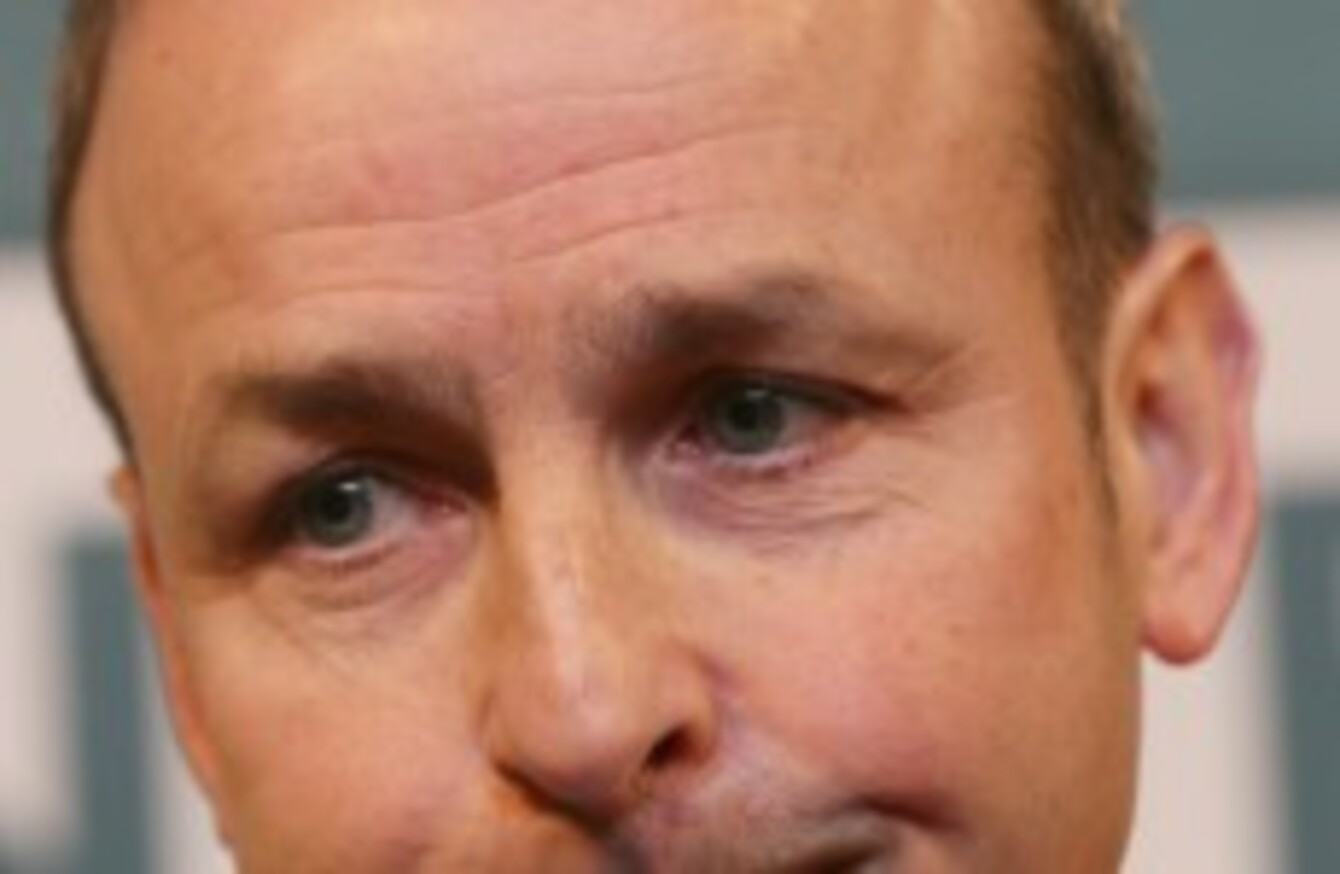 Micheál Martin
Image: Laura Hutton/Photocall Ireland
Micheál Martin
Image: Laura Hutton/Photocall Ireland
DESPITE THE NEAR universal support Micheál Martin has received from the Fianna Fáil parliamentary party for his stance on rebel MEP Brian Crowley, this has not been a good week for him.
The already fiercely independent Crowley has joined a group of "headbangers" – to quote the party whip Seán Ó Fearghail – and there are but few in Fianna Fáil who would support the move.
The only concession that some can give to the currently hospitalised Crowley is that he should at least be allowed explain himself. While Senator Mark Daly has pointed out he did not support the motion.
But the Ireland South MEP's open defiance of the leadership leaves Fianna Fáil without a single MEP in Brussels, a further blow to the party after an already disastrous European election result.
Prior to the poll, one candidate, Thomas Byrne, said that winning two seats "would not be a good result". Winning just one and then losing it is a dreadful outcome for Fianna Fáil.
Almost forgotten is the fact the party has significantly recovered at local government level to become the largest in the State. Though Sinn Féin's success and the government's kicking dominated much of the coverage, Fianna Fáil's recovery should not be overlooked.
But poor Martin has hardly had time to enjoy the result because he has had to deal with a (since resolved) split among party councillors in Limerick, the Niall Collins letter row, and now Crowley's defection in Europe.
These problems underline the extent to which Martin is, increasingly, losing control over his TDs, Senators, councillors and prospective councillors who are happy to defy him knowing that the consequences are, on the evidence so far, never fatal.
Take Éamon Ó Cuív's open defiance of the party line on the Fiscal Treaty in February 2012 which saw him depart as deputy leader, but only temporarily consigned to the backbenches until he was quietly brought back into the fold as agriculture spokesperson in July of that same year.
Then last summer, dozens of the party's TDs and senators defied Martin over the abortion issue voting against the legislation. The party leader allowed a free vote and tried to pass this off as indicative of the party's willingness to consider free votes on matters of conscious.
But in reality he couldn't bring his parliamentary party with him on the Protection of Life during Pregnancy Bill and it was another blow to his authority. Having allowed a free vote, there were of course no sanctions. Even when senator Jim Walsh's graphic description of abortion was criticised by his own colleagues, he faced no sanction.
Then there was the much-publicised Battle of Blackrock where the party, frankly, made a complete balls of the attempts to entice Mary Hanafin to run for a seat on Dún Laoghaire Rathdown County Council before asking her to withdraw her nomination.
#Open journalism No news is bad news Support The Journal

Your contributions will help us continue to deliver the stories that are important to you

Support us now
Despite Martin pleading with her to withdraw three times, his former Cabinet colleague ran anyway and won a seat. Though she was subject of an investigation by the party, no disciplinary action was taken and she is, in her own words, "all official again".
These examples are indicative of Martin's approach to rebels:  They are allowed to defy his leadership, punishment is briefly mooted or not spoken of at all, and then rebels are quietly allowed back into the fold.
The unanimous condemnation of Crowley's defection is perhaps an aberration on this occasion but don't be surprised if at some stage in the future the man who can garner 180,000 first preference votes returns to the Fianna Fáil fold.
Martin didn't exactly close the door on such an event during an appearance on RTÉ News last night, saying that if Crowley returned from the eurosceptic ECR to the more liberal ALDE grouping in the European Parliament, he could be allowed back in.
Some might view this as a mature approach to leadership, whereby party members are allowed to take divergent views, but the political reality is that it only serves to undermine Martin's leadership.
He has done some good work in rebuilding the party – the introduction of one member-one vote is an example – but the Crowley affair and others over the past three years are a reminder that he is far from secure in his role.