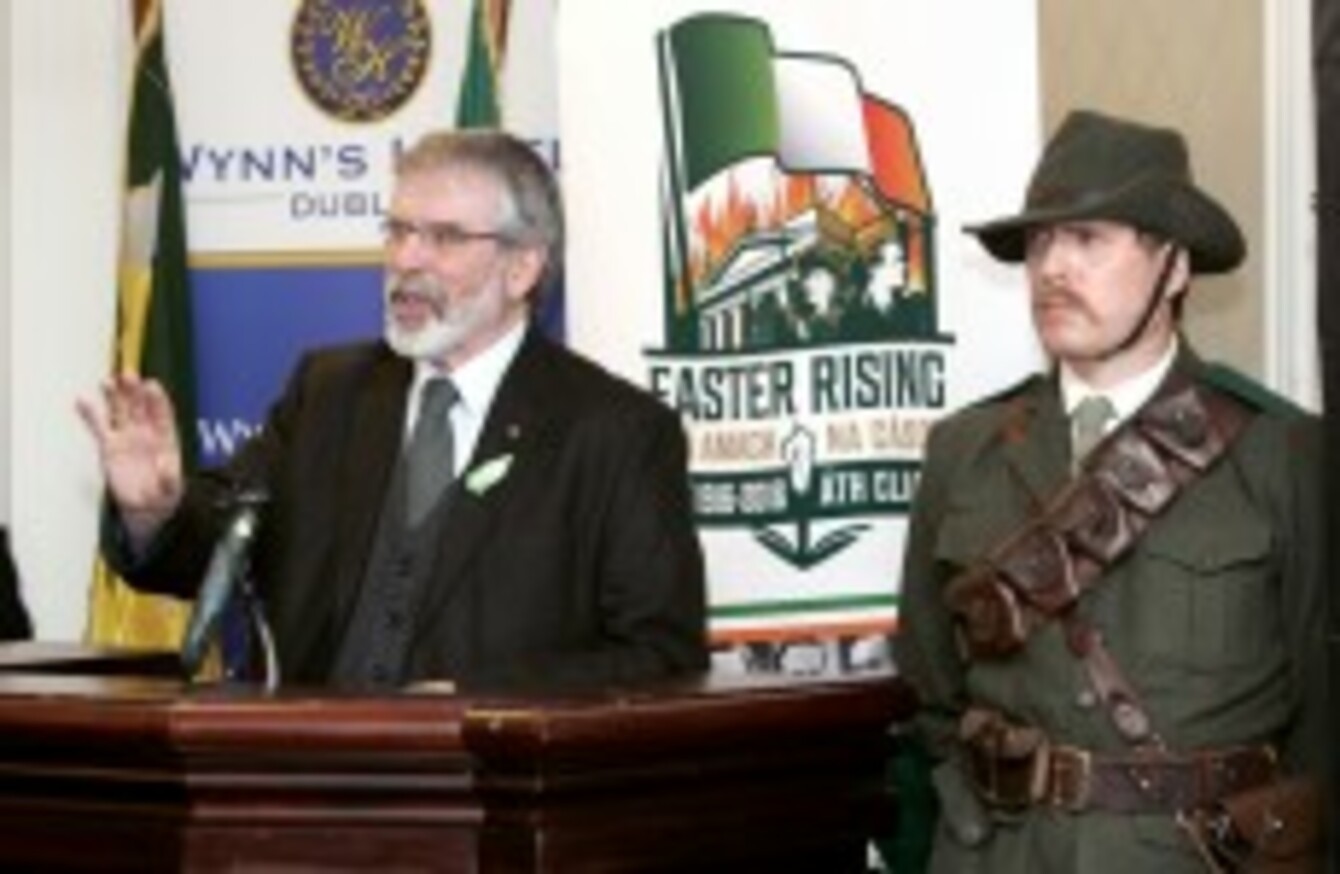 Image: Mark Stedman/Photocall Ireland
Image: Mark Stedman/Photocall Ireland
FIANNA FÁIL LEADER Micheál Martin has claimed in a hard-hitting speech that Sinn Féin has no connection to the 1916 Rising – comments that Gerry Adams dismissed as a "hysterical rant".
Martin made the comments while speaking at his party's annual 1916 commemoration on Arbour Hill today.
Martin described the men and women of 1916 as "heroes which any nation would be proud of", saying that "Fianna Fáil is rightly proud of the fact that it drove forward the successful search for a shared blueprint for the future of our island".
We are a party founded by men and women who fought in 1916 for the freedom of our country.
But he said that Fianna Fáil are "clear in saying that 1916 belongs to no party or movement".
It belongs to the Irish people alone.
Martin had harsh words for Sinn Féin, saying that the Republican party "has aggressively been promoting the false claim that they have some connection to 1916 and to the volunteers who fought then".
This is part of their wider agenda of trying to falsify recent Irish history and claim legitimacy for the sectarian campaign of murder and intimidation which they carried out for 30 years.
Let no one be in any doubt, Provisional Sinn Fein and the Provisional IRA have no connection with 1916. To claim otherwise is a dangerous and cynical lie.
He described Sinn Féin claiming a link with 1916 as "insulting and undermining the place of the Rising in our national identity".
Their claim to historical continuity basically says that 1916 changed nothing – which no new possibilities were opened up, no new methods became available.
Martin said that Sinn Fein have "refused" to "acknowledge that they were always wrong".
By claiming legitimacy for their campaign they refuse to acknowledge the right of the Irish people to oppose and reject them.
Provisionals
With regard to Sinn Fein talking about 'volunteers' and 'Oglaigh na hÉireann', Martin claimed that:
"The Provisionals were never Óglaigh na hÉireann. Óglaigh na hÉireann is now and was during their entire campaign the army of this free independent Irish republic."
He also mentioned the Disappeared, and the death of Jean McConville in his speech.
"We cannot and we must not let these people succeed in their campaign to claim the mantle of republicanism. They are not republicans," said Martin.
He claimed that no member of the Provisional movement has addressed "the widespread abuse of children by their members and the systematic covering up of it up to this day".
#Open journalism No news is bad news Support The Journal

Your contributions will help us continue to deliver the stories that are important to you

Support us now
He said that Fianna Fáil "will not step back from calling them out and pointing to their sinister practices".
I hope that in the year ahead others will start being more vigilant in challenging their agenda of falsifying history. The Sinn Fein of today was founded just over 40 years ago. It has no historical continuity with 1916 or the War of Independence.
Sinn Fein response
In response to Martin, Sinn Féin Leader Gerry Adams TD said:
Micheál Martin's claim that Sinn Féin is not not fit for democratic government is a matter which the electorate will decide.
Sinn Féin has a mandate in both parts of this island. That is what drives the hysterical rant by Mícheál Martin about Sinn Féin at Arbour Hill today.
His remarks are a clear sign of desperation at the growth of Sinn Féin and the stagnation of his own party.
He said that Martin's speech "majors on negativity and invective but offers no message of hope or policy proposals which could build a better future".
"Micheal Martin clearly sees Sinn Féin representing a genuine republican alternative to which citizens are turning in ever greater numbers and his remarks must be seen in this context," said Adams.
For our part, Sinn Féin is focussed on bringing about a united Ireland and a real republic based on the ideals of social justice and equality.