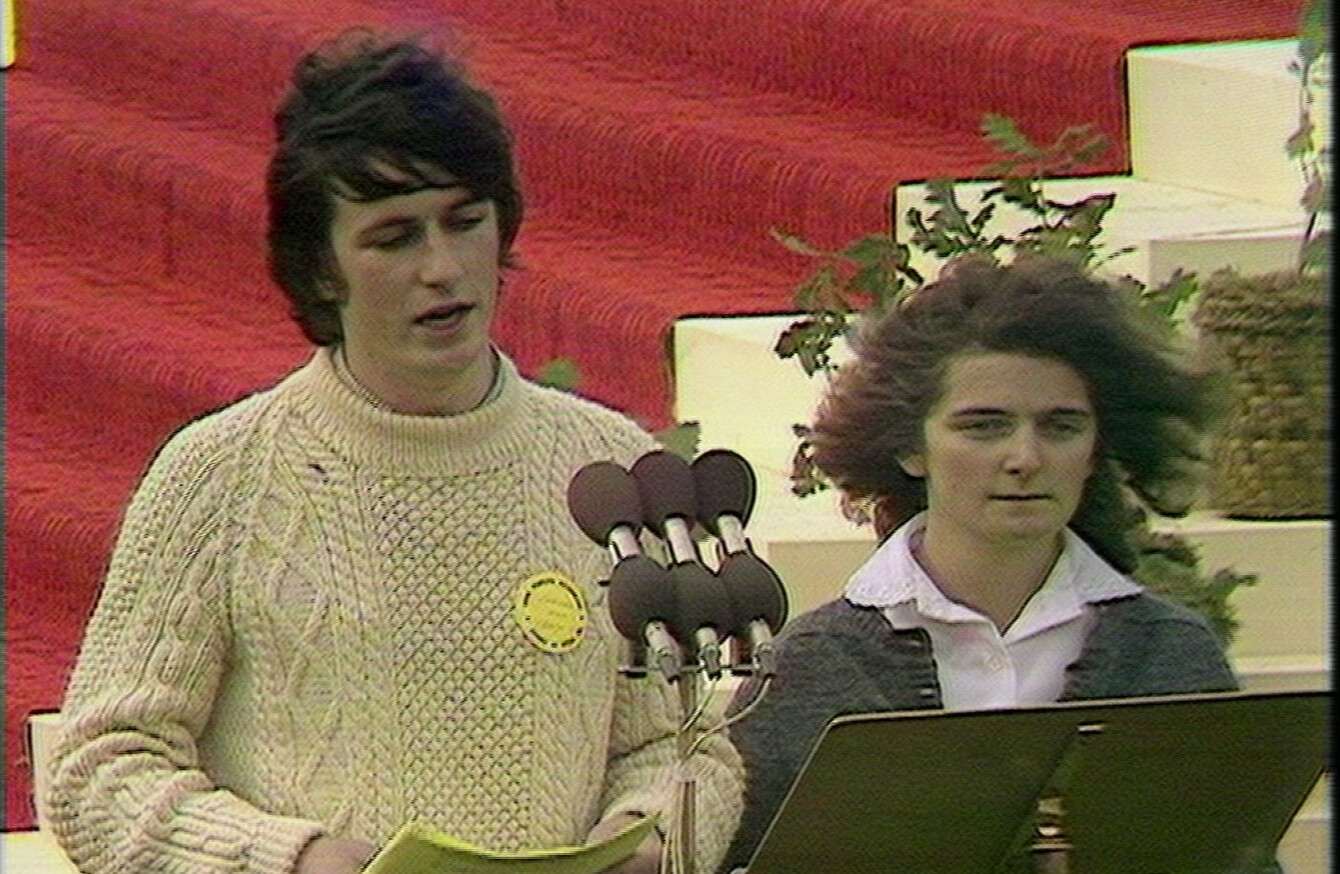 Michael McLoughlin and Anna Caleb singing 'I am the Bread of Life' during the last papal visit in 1979
Michael McLoughlin and Anna Caleb singing 'I am the Bread of Life' during the last papal visit in 1979
"WHEN THE MAIN man arrived, there was a lot of excitement to see him," Michael McLoughlin recalls of Ireland's last papal visit.
"We had the best seat in the house for one of the most important people in the world, and there I was, a young lad from Tipperary, sitting in the middle of it all."
In 1979, less than a year after becoming pontiff, Pope John Paul II spent three days in Ireland on what was one of his first trips abroad.
Over 2.5 million people – three-quarters of the country's population at the time – attended events across Ireland to see the Pope in the flesh.
But McLoughlin got closer than most at the Youth Mass at Ballybrit Racecourse in Galway, where John Paul II uttered the most memorable line of his visit: "Young people of Ireland, I love you".
"I was picked to sing a solo," he tells TheJournal.ie.
"There was about 100 young people who had been assembled to sing in a choir for the Galway mass, and I was one of them."
Folk groups
McLoughlin explains that the opportunity came about while he was a member of a church folk group in his native Thurles in Tipperary.
These groups, in which young people sang folk songs at Mass to replace traditional hymns, were incredibly popular around the country at the time.
When organisers were planning the Youth Mass in Galway during the summer of 1979, they issued a call for members of the groups to help form a choir of young people to sing at the event.
Two people from the Thurles folk group responded, and McLoughlin was one of them, taking part because he was living in Dublin at the time.
"About 100 of us assembled over a couple of weekends in Dublin to rehearse," he recalls.
"At least half the choir was made up of people from these folk groups because they were so popular at the time."
During rehearsals, it emerged that one member of the choir would be required to sing a solo after Communion.
The audition process involved the musical director picking out singers one-by-one and asking them to perform a verse of the hymn 'I am the Bread of Life'.
"He liked the way I sounded," McLoughlin says.
"But he wanted me to do it as a duet with another girl – Anna Caleb, who went on to become a professional soprano. She was a serious singer, whereas I was more of a Big Tom type."
Mosh pit
On the day of the Mass, McLoughlin travelled on the bus alone from Thurles to Galway, carrying a special "high-tech" pass he had been given to gain access to the altar.
"This thing consisted of a piece of cardboard with your name scribbled on it and a photograph stapled to the cardboard," he laughs.
"There was no thumb prints or barcodes or anything like that."
As the 300,000 mass-goers began to descend upon Ballybrit Racecourse, however, the Pope was 75km away in Clonmacnoise in Co Offaly.
McLoughlin explains that the choir's first engagement of the day was to warm up the crowd ahead of his arrival.
He also recalls how two "famous" members of the clergy MC'd events ahead of the mass: Bishop Eamonn Casey and 'singing priest' Father Michael Cleary, both of whom gained infamy years later when it emerged they had fathered children.
When the Pope finally did arrive, the atmosphere was electric.
"He was like a rockstar," McLoughlin says. "It really felt as if we were backstage at a Bruce Springsteen concert.
"Our passes were that good, it would have been like being in the mosh pit of a gig. We got to see him very very close, probably within about 30ft."
Relief
Eventually, after weeks of rehearsals and hours of singing for the exited crowd, McLoughlin's moment came.
He and Caleb took the stage as the Pope tidied the altar after Communion, staring out into an endless sea of people as they began to sing.
"I was absolutely shitting myself," he recalls.
"I was conscious of all the people there, and the fact that millions would be watching on TV, along with the whole town of Thurles.
"I just thought 'I can't screw this up, I've got to get this right'."
#Open journalism No news is bad news Support The Journal

Your contributions will help us continue to deliver the stories that are important to you

Support us now
Despite the initial fear, McLoughlin's anxiety subsided as soon as he began his performance.
"I didn't really have time to stand there," he says.
"We were well rehearsed, and knew we just had to get on with it."
As well as having the words on a sheet in front of him, he and Caleb also alternated verses, giving him some respite while the 300,000-strong crowd stood watching.
When they finally finished, McLoughlin says one feeling trumped all others.
"We were mostly relieved that we hadn't screwed up. It was a daunting enough experience. I don't know of any band nowadays who'd sing to that size of a crowd."
In the days afterwards, however, he says he was "absolutely buzzing".
Neighbours called around to congratulate his parents, while a local newspaper also asked to do a story about him.
"People were delighted for my family. I remember taking the next day off work and meeting people around the town, lapping up the little bit of fame that I could get."
A changed Ireland
This year, McLoughlin says he'll stay away from the Pope.
He no longer sings at Mass, and puts his voice to use by singing with a local group of friends instead.
"It really goes to show you much different Ireland is now," he says of Pope Francis' visit.
"Half a million people in the Phoenix Park might seem like a lot, but it's only a fraction of the amount that were there in '79.
"The time has absolutely flown by. I was 22 at the time, just starting life as an adult, and now I have grandchildren. It's interesting to see how much has changed in that time."
There might be more opportunities for the young people of Ireland these days too, but for McLoughlin, it's unlikely the chance to sing in front of 300,000 people will arise again.
Then again, there are few for whom it will.