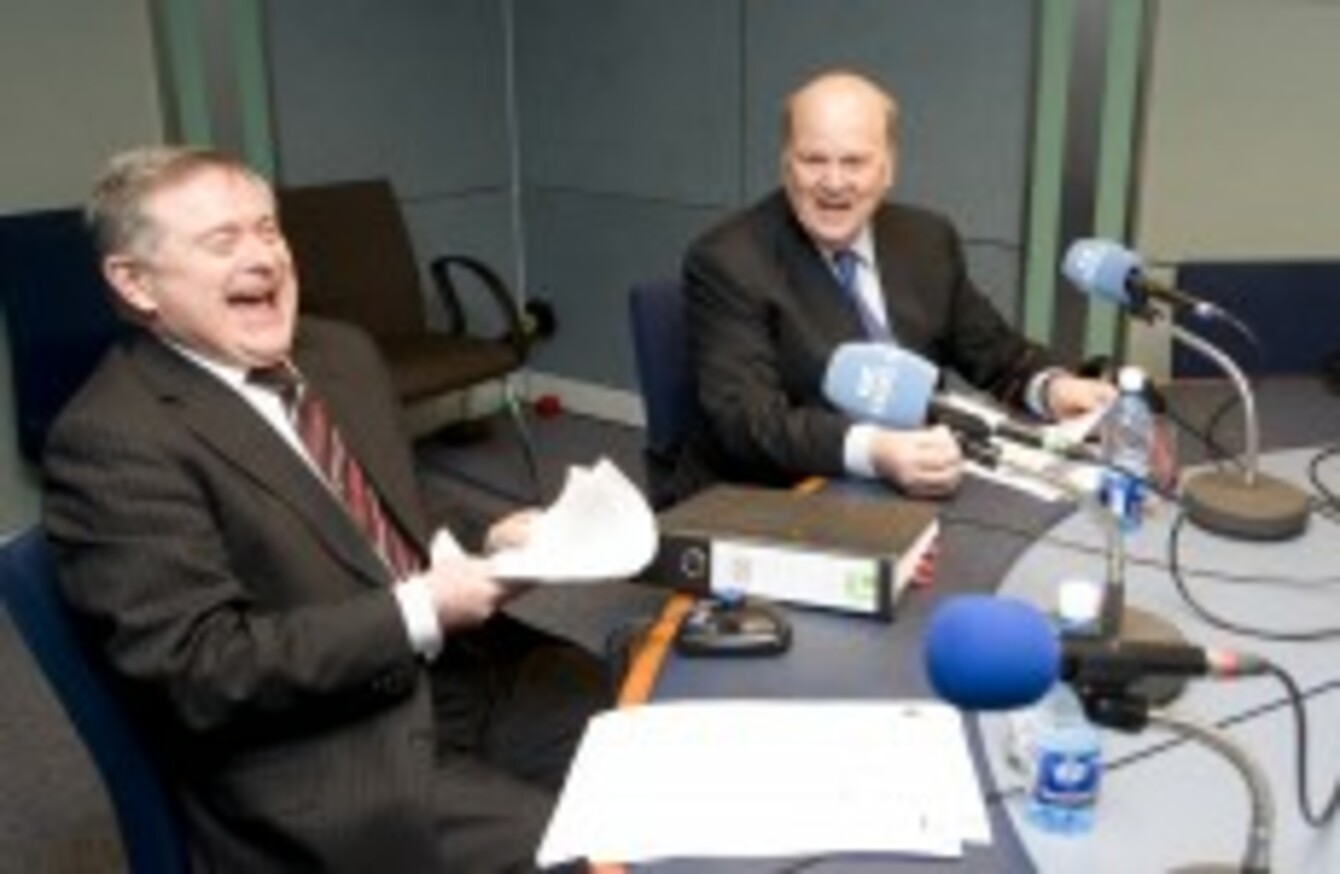 Brendan Howlin and Michael Noonan on RTÉ Radio 1 last year.
Image: Photocall Ireland
Brendan Howlin and Michael Noonan on RTÉ Radio 1 last year.
Image: Photocall Ireland
Updated 6.30pm
FINANCE MINISTER MICHAEL Noonan and Public Expenditure and Reform Minister Brendan Howlin will appear on Newstalk Breakfast before they head to RTÉ Radio 1 as part of their post-Budget day of interviews.
The two ministers currently have no plans to do a similar event with Pat Kenny on Newstalk in the wake of the veteran broadcaster's departure to the commercial station.
But it has been confirmed that they will be speaking to Ivan Yates and Chris Donoghue on Newstalk's Breakfast morning show first that very morning. After that, they will head to RTÉ for the post-Budget phone-in on Sean O'Rourke's Radio 1 show.
There had been some speculation that Kenny's departure to Newstalk would mean the ministers would opt to appear there on the day after the Budget announcement.
But a source pointed out that RTÉ's prominence as the national broadcaster meant it was always going to be chosen over any other station.
Noonan will speak to George Hook on Newstalk on Budget day itself as well as Mary Wilson on RTÉ's Drivetime. Howlin is also due to speak on Drivetime after both ministers make their speeches next Tuesday.
Both Noonan and Howlin will also be on the Last Word with Matt Cooper on Today FM on Budget day.
The post-Budget phone-in on RTÉ will allow the ministers to answer questions from the public on how the Budget affects them and has been a tradition for many years.
The programme begins at 10am next Wednesday on RTÉ Radio 1. Callers are being invited to email questions to todaysor@rte.ie from next Tuesday.
- Additional reporting Aoife Barry.
First posted 3.30pm