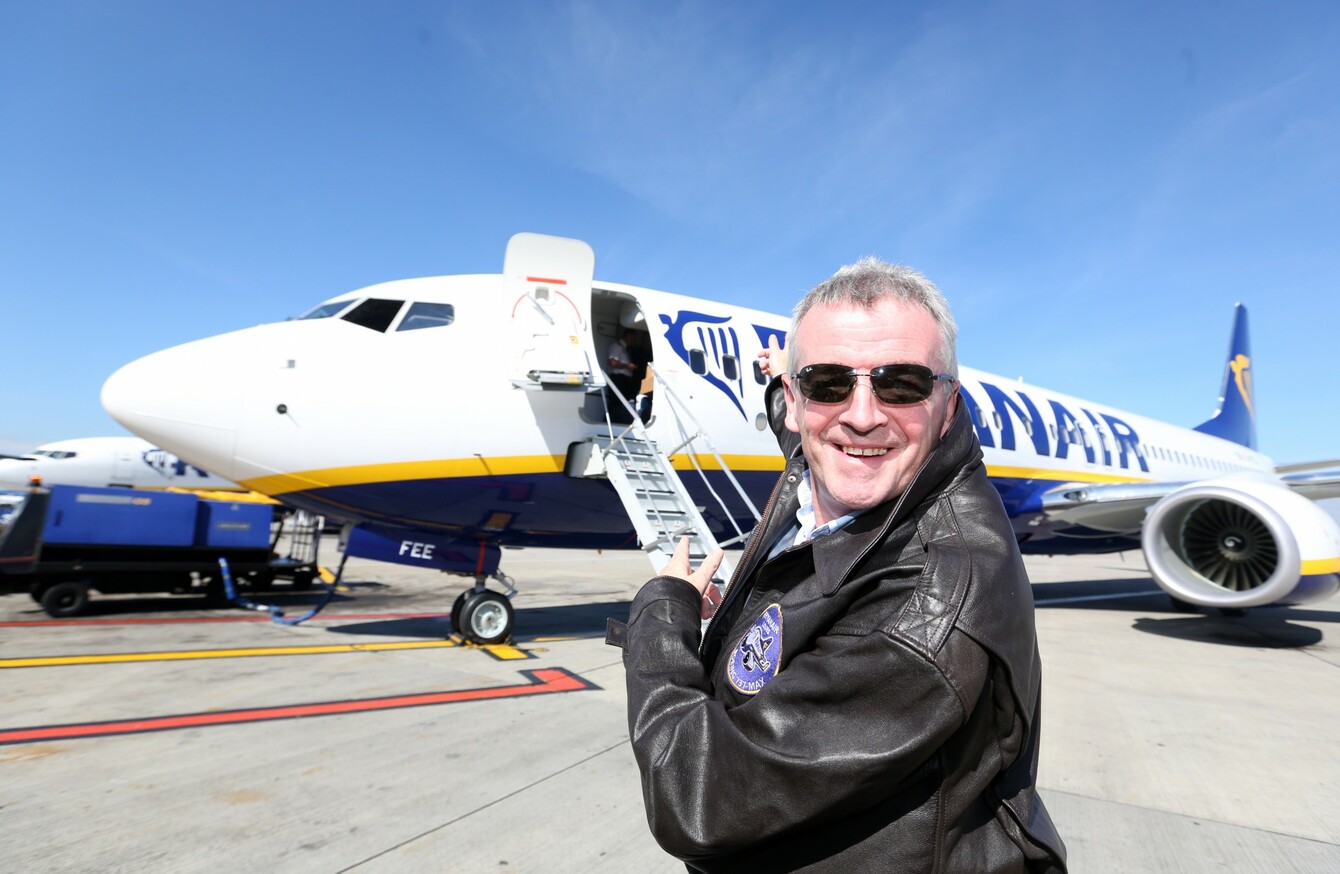 Ryanair boss Michael O'Leary
Image: Sam Boal/RollingNews.ie
Ryanair boss Michael O'Leary
Image: Sam Boal/RollingNews.ie
RYANAIR'S SEEMINGLY ENDLESS stream of good results has turned up another bumper set of figures for the end of the UK financial year – with the airline reporting a 43% jump in full year profits.
The airline reported a profit of €1.24 billion to the end of March, up from €867 million during 2015.
This saw the airline carry more than 106 million passengers in the year, following on from news in January that Ryanair had become the first airline to break the 100 million mark for passengers flown in a calendar year.
The rise and rise of the budget airline has also seen boosts in a number of other key areas, with its revenue increasing from €5.65 billion up to €6.53 billion, and a 48% increase on the amount earned on each of its shares.
The airline's load factor – the percentage of seats filled per flight – also rose by 5% up to 93%.
So why all this success? 
Back in 2014, Ryanair made a commitment to improve its customer service record, and since then its nice-over has been reaping results.
Speaking about its Always Getting Better (AGB) programme, CEO of the company Michael O'Leary said:
Our AGB service programme is attracting millions of new customers to our lowest fare/ lowest cost model.
Ryanair – at one time much maligned for its poor customer service – has made changes in a number of areas.
To try and boost customer services interiors of its aircrafts have been refitted, its website and mobile app have been overhauled and the selection of primary airports on offers has been increased.
This has seen the airline expand into new bases in Belfast, Berlin, Corfu, Gothenburg, Ibiza, Milan (Malpensa) and Santiago.
Plain sailing? 
While it would be hard for the company to be pessimistic after such a bumper set of figures, there could be a few storm clouds on the horizon.
In a statement the company has said that it expects there to be a drop in fares over the coming year, with an Easter holiday not falling in the coming financial year and Ryanair's competitors availing of lower oil prices.
Terrorist attacks and strikes by air-traffic controllers (which have mostly taken place in France) are also things that the airline expect to hit its profits next year.