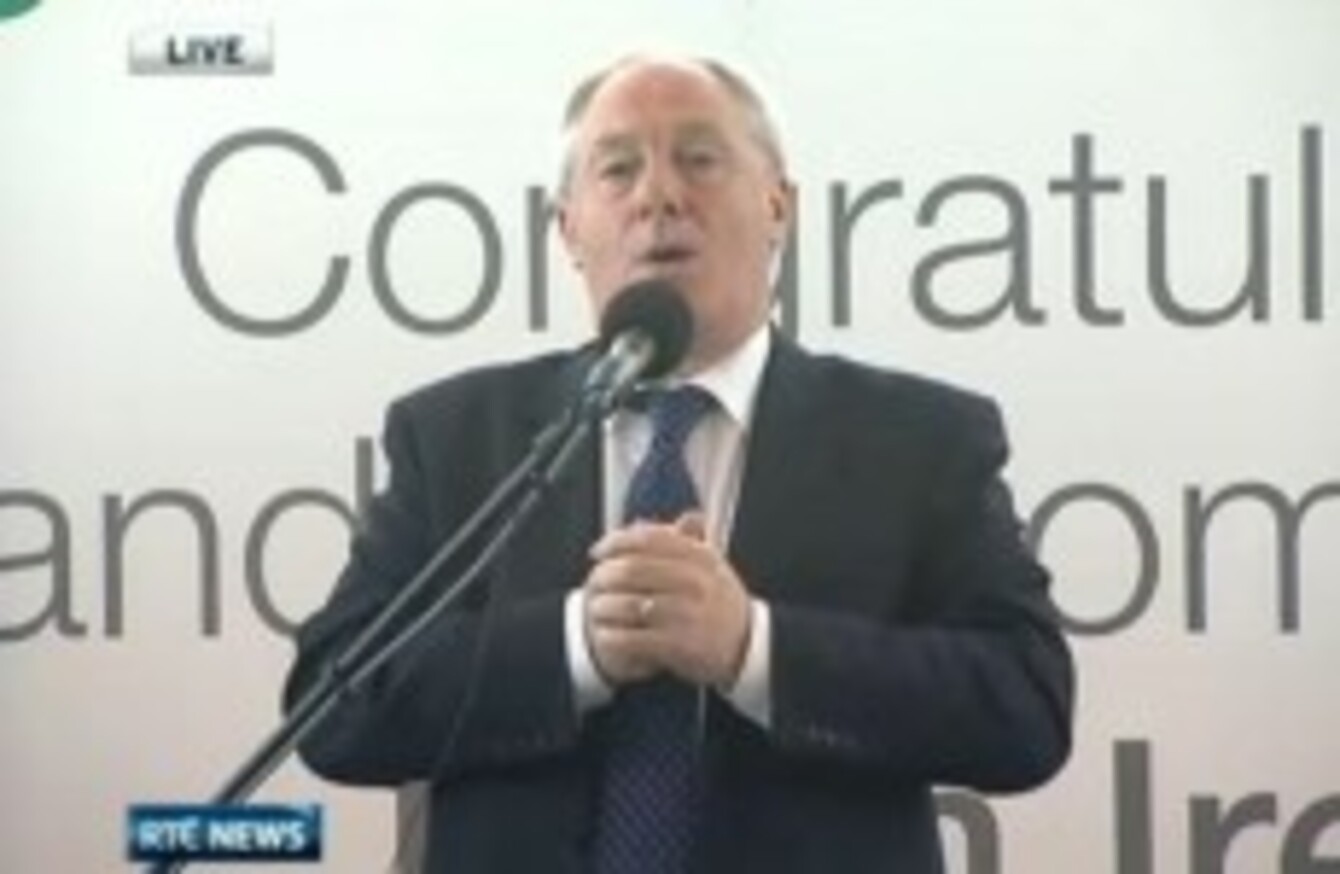 Still of Michael Ring speaking at Team Ireland homecoming yesterday in Dublin Airport as he made his controversial remarks about sports versus health funding.
Image: RTÉ
Still of Michael Ring speaking at Team Ireland homecoming yesterday in Dublin Airport as he made his controversial remarks about sports versus health funding.
Image: RTÉ
Updated 13.16
JUNIOR MINISTER Michael Ring – who takes responsibility for Sport in the Department of Transport, Tourism and Sport – has had to clarify comments he made about health and sports funding at yesterday's Team Ireland homecoming at Dublin Airport.
Praising the achievements of Ireland's Olympic athletes, Ring told assembled media that:
Money spent on sport; it's better than putting it into hospitals, into consultants, into doctors and the more it can get people participating in sport, the better.
Today, the Department of Transport, Tourism and Sport told TheJournal.ie that the Minister "was referring to the huge economic, social and health benefits accruing from sport".  A spokesperson added:
From a health perspective alone, the Minister was referring to the clear and significant benefits for individuals and for our health system in maintaining and increasing participation levels in sport. One of the goals of the Department is to contribute to a healthier and more active society by promoting sports participation.
However, the original comment by Ring at yesterday's high-profile televised event caused confusion and upset in at least one hospital yesterday afternoon. In a crowded waiting room in St Vincent's hospital in Dublin, where both patients and nurses were watching the Olympics homecoming ceremony on RTÉ, there was disbelief at the comment.
One patient who was present at the time told TheJournal.ie said:
The comment was so insensitive. Several patients booed. One elderly man said it was just typical of the way the government thought.

Also, the Olympics had been such a positive experience in the hospital for the past few weeks.  All the TVs were tuned into RTÉ and patients, nurses and medical staff caught the highlights, like the Katie Taylor fight.  It was so uplifting and a welcome distraction from serious medical conditions.

But yesterday afternoon this was all overshadowed by what Michael Ring said and the conversations in the waiting room was no longer about the Olympics but the government health cutbacks.
The minister makes his contentious remarks around the 47-minute mark in this RTÉ stream from yesterday's event.
Brigid Doherty, of patient advocacy group Patient Focus, told TheJournal.ie that the group could understand why patients were upset by the comments. "They are in a very vulnerable state at the moment and to hear a statement like that would be upsetting. On balance he may have put it wrong and we would support that people do exercise, through sport of otherwise." She added:
A balance has to be drawn and treatment for sick people most always take priority.
She said that she would expect the minister of state to come out and clarify yesterday's comment as "vulnerable people are hurt".
A statement from his department added:
Of course there have been cutbacks across every sector of Government because of the difficult economic situation that we have inherited. The position of both the Minister and Minister of State is try to minimise the impact of these cuts insofar as they relate to sport. To this end we have succeeded in maintaining the high performance funding at the same level this year as last year because of the Olympic games. However we cannot make any commitments into the future until the estimates for next year are settled but both Ministers will be trying to minimise the impact on sport.
Michael Ring went on Newstalk radio this lunchtime to say that he accepted that he may not have expressed himself correctly yesterday. He said that he was merely reiterating what he has been saying since he first entered office, that he had been "trying to get people to participate in sport". He said that "over the past year, we have reduced the number of people who don't participate in sport from 15 per cent down to 13 per cent". He said:
Maybe I didn't say it correctly yesterday but that was what I was trying to say.
By sport, Minister Ring said that encompassed people walking, cycling and other forms of exercise.
He added that he wasn't advocating that money be cut in any other department, but that it was important to keep the funding in place for sports. He said he was "upset" yesterday that his comment had been "misinterpreted" but that he wasn't surprised because he felt there "is an element out there" that is just waiting for a politician to "slip up" and to "pounce" on them. He said:
I'm not God, I'm not perfect, I make mistakes.