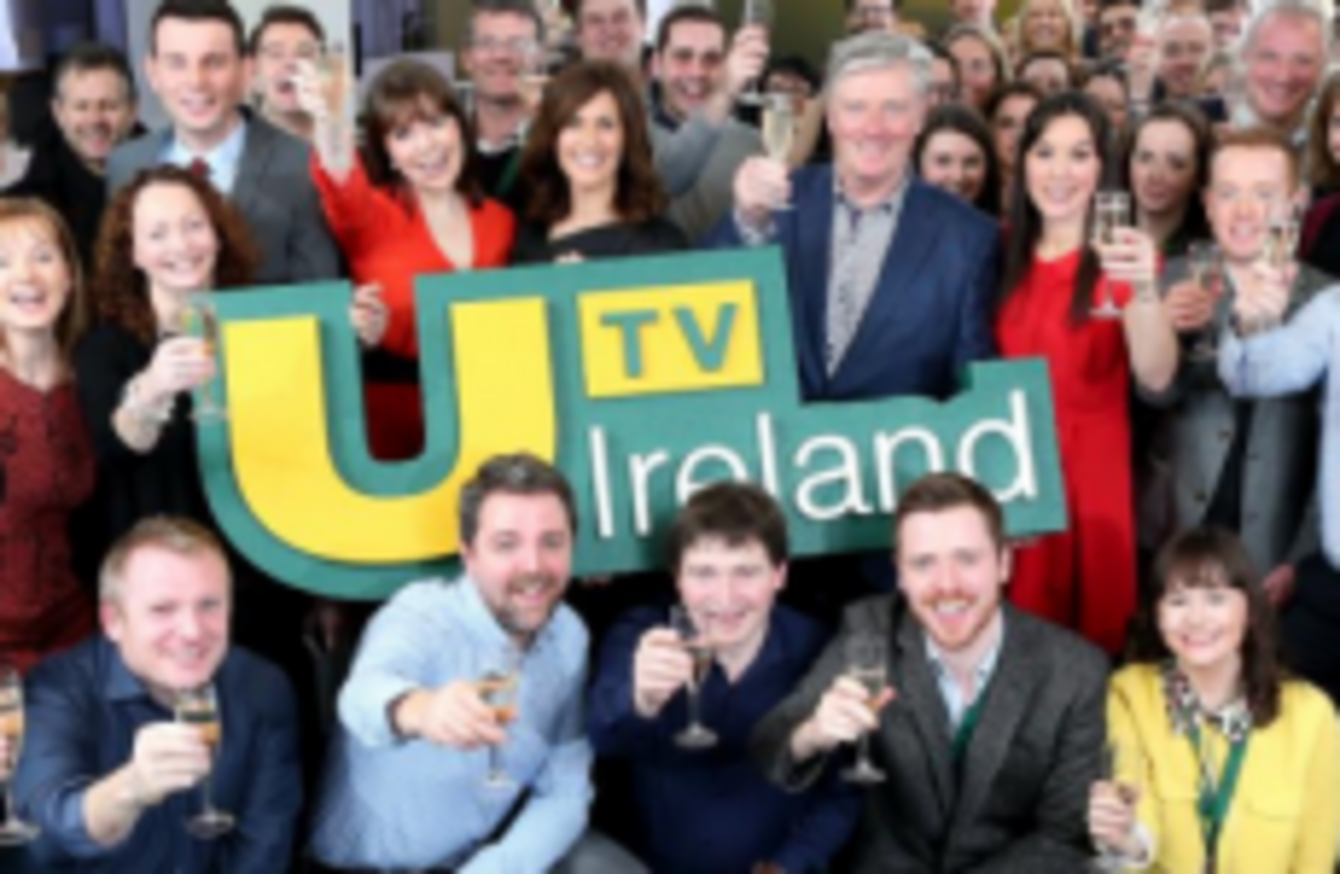 Image: UTV Ireland
Image: UTV Ireland
IT HAS BEEN a bumpy start for Ireland's newest TV channel.
Since launching in January, forecast losses at UTV Ireland for 2015 have nearly quadrupled to £11.5 million (€16.3 million) on the latest estimates.
Audience growth stalled after the first three months and, outside the performance of its marquee UK soaps, Coronation Street and Emmerdale, the fledgling station's ratings have ranged from mediocre to dire.
Its top-rating programme outside the two best performers has been a February episode of farm series Rare Breed, which pulled in an average 230,000 viewers – close to half the figure for the top soap.
This week TheJournal.ie spoke to UTV Television managing director Michael Wilson, who runs its stations in both the north and south, to find out more about the channel's plans to stop the river of red ink.
TJ: You have spoken about having the goal of being the second most-watched station after RTÉ One, do you think that's still a realistic target given your performance so far?
MW: "I think we will be pushing that out a little bit in terms of all times and I suspect it will be next year before we get to that point. But already in peak time we are consistently the second-biggest channel (ahead of TV3). For a station that has been on air for only seven months, that's not a bad place to be and I think most people in the industry … are actually quite impressed by our achievement.
"Our single biggest issues are that we're underperforming in the daytime. You've got repeats of Jeremy Kyle on (TV3) and first-run Jeremy Kyle on UTV Ireland, and those repeats are getting a bigger audience. That's about informing the audience that there's new content. And then there's weekends and (for) peak time we are working very hard to deliver high audience impacts. But peak time Monday through Friday is performing very nicely, thank you."
Are you worried now TV3 has a new, and probably more-committed, owner in UPC that you will face tougher competition?
"Even though they have a new owner … there are only two things you can do. Making new content is not easy, getting quick hits is not easy. UTV Ireland, with new content, has been more successful than other channels in this marketplace this year.
"Or you can acquire new content. We are scouring the world for content that will work on a weekend and, at any price, that content is not out there. So it will be interesting to see what they do, but I don't think there are any quick fixes for anybody's audience ratings."
TV3 has been active in acquiring sporting rights – like the upcoming Rugby World Cup – are you planning to bid for more sport in the future?
"Our response in sport has been the same all the way through. We are a young, startup channel … we need to get the channel into profit and then we will start to look at big ticket items. We have already invested in Irish sport, we have bought two (Belfast boxer Carl) Frampton fights which rated very, very well. We bought the rights to the Irish cricket team's world cup and that actually rated, for a certain demographic, very, very well.
"So we're already dipping our toe into that, but there's no point in us saying we're going to be racing for rights when actually we need to make a return first because sport is very expensive. The other thing, quite simply, is that rights operate on a cycle and nothing has come up since we've been on air that has been of interest and available."
But that sounds like you're not going to be bidding on anything, at least for the time being.
"If the time being is this year, I suspect not. But after that, I wouldn't ever say never."
What would you be interested in?
"I think we would need to do research about what's right for the channel and what's right for the market. Sport hasn't actually come up in (our research) as something that viewers feel like they're missing. But when rights do come up we will look and see what's right and indeed talk to the advertising agencies and see what we think we can do."
So what are the things your research tells you that your audience is missing?
"I think the audience has been confused, we said we were going to offer a new station and I think some of the audience feel that they haven't got a new station, they have got something that has been rehashed. That isn't the case. We're offering a new news and a news that is, according to the research, well-respected. We want to cement the news.
"We want to look at local content and make sure we deliver the right local content. We have got programmes like Rare Breed that has delivered a fantastic result first time into the marketplace. After the soaps, it's the most-watched thing we've done. That's a brand new series into the Irish market and it has got 230,000 viewers. That is an incredible result.
"We need to have a cohesive programme plan that feels much more like UTV in the north, because people do compare it to that and they do compare it to ITV and if you look at what is coming up heading towards autumn we have I'm A Celebrity (… Get Me Out of Here) which is one of the strongest assets on television anywhere, plus we've got Pat (Kenny) coming back, we've got potentially a new (celebrity chef) Kevin Dundon (show), we've got Daniel O'Donnell and his wife with a bed-and-breakfast series, we've got Joe Mahon who has been a major success for 15-plus years for UTV Northern Ireland now doing a programme called Lesser Spotted Journeys where he's going to travel Ireland. So there's an awful lot coming in the pipeline, plus some biggies from ITV."
You mentioned people being 'confused' about UTV Ireland being a new station, but one of the most common perceptions out there seems to be that people liked the content on UTV coming out of Belfast and now they've been given a lesser version of what they're used to. How do you respond to that?
"I think there's some irony in it because that isn't what we aimed to do and I think the reality is that isn't what we have done, but people's perceptions will be people's perceptions. The fact is, we are the second-biggest channel in peak time in Ireland so we are obviously delivering content that the audience likes and is turning in for and that isn't just the soaps.
"We have delivered fresh Irish content … and we've given a new service that our audience research says is comparable in quality to RTÉ. I think what is needed now is time for that audience to bed in, time for the audience to try it and time for us, yes, to address the things that we need to address. A lot of that is around findability and communicating what the channel is about."
Talking about the news programmes, there was a figure out last month that only 4,700 people tuned in on one Monday evening – that has to be disappointing.
"I'm a journalist, I'm deeply disappointed at those figures. But I could also throw other figures at you that say across the day, across all platforms more than 250,000 people, on average, sample our news product. I think that's pretty good going. If I launched a new newspaper in Ireland today, even if I was after the Irish Times's audience, I'm not going to establish an Irish Times-type circulation for many, many years.
"We are very happy with our news product and it will take time to grow. But I will go back to the independent research – those that try it, like it. It's our job now to get more people to try it."
Local drama is another big gap in your programming at the moment, do you have any plans to launch something there?
"I think local drama is one thing, but drama we are laden with – we have fabulous drama from ITV. Some of the programmes that are rating the best are things like Doc Martin, things like Foyle's War … and actually one of the challenges we have is that when you have the production values of some of the world's biggest production companies, local dramas can look just that – a little bit out of context.
"Other broadcasters actually make very little drama as well, they just have some peaks and then it goes away completely. We, I think, have consistent drama content across the year and we're very happy with that. That said, if an independent producer came to us with something that was compelling we would look at it. But it's not on my shopping list as a priority because I think we have enough drama to not only sustain the channel but nourish the channel."
When you look at your schedule, you've got things like Britain's Best Canal Journeys showing in prime time. Do you really think that's what an Irish audience wants to see?
"We brought the channel online to deliver additional choice and we are offering additional choice in the market. When 30, 40, 50, 60,000 people watch that programme there is clearly demand for it. (Those figures), some of the (other channels) would absolutely kill for. So actually some of this content is attracting reasonably strong audiences."
Take you UTV hat off for a minute. What do you think is the best thing on Irish television at the moment?
"I think the really good think about Irish television is not any single piece, I think you have incredible diversity. So you get great pieces of content on TG4 that others wouldn't make, TG4 are great at finding new talent. You've got us as a new entrant into the market offering choice. You've got RTÉ who are innovative, their news service is strong, their current affairs is strong, their drama – when they can afford to make it – is strong, they are the backbone of cultural life in Ireland. And actually, you know what, TV3 does a good job of being a strong commercial broadcaster in a very small territory."
But if you had to pick one programme?
"Well it has to be one of mine doesn't it? I think things like A Rare Breed and The Big House (Reborn) bring real choice that wasn't in the marketplace seven months ago."