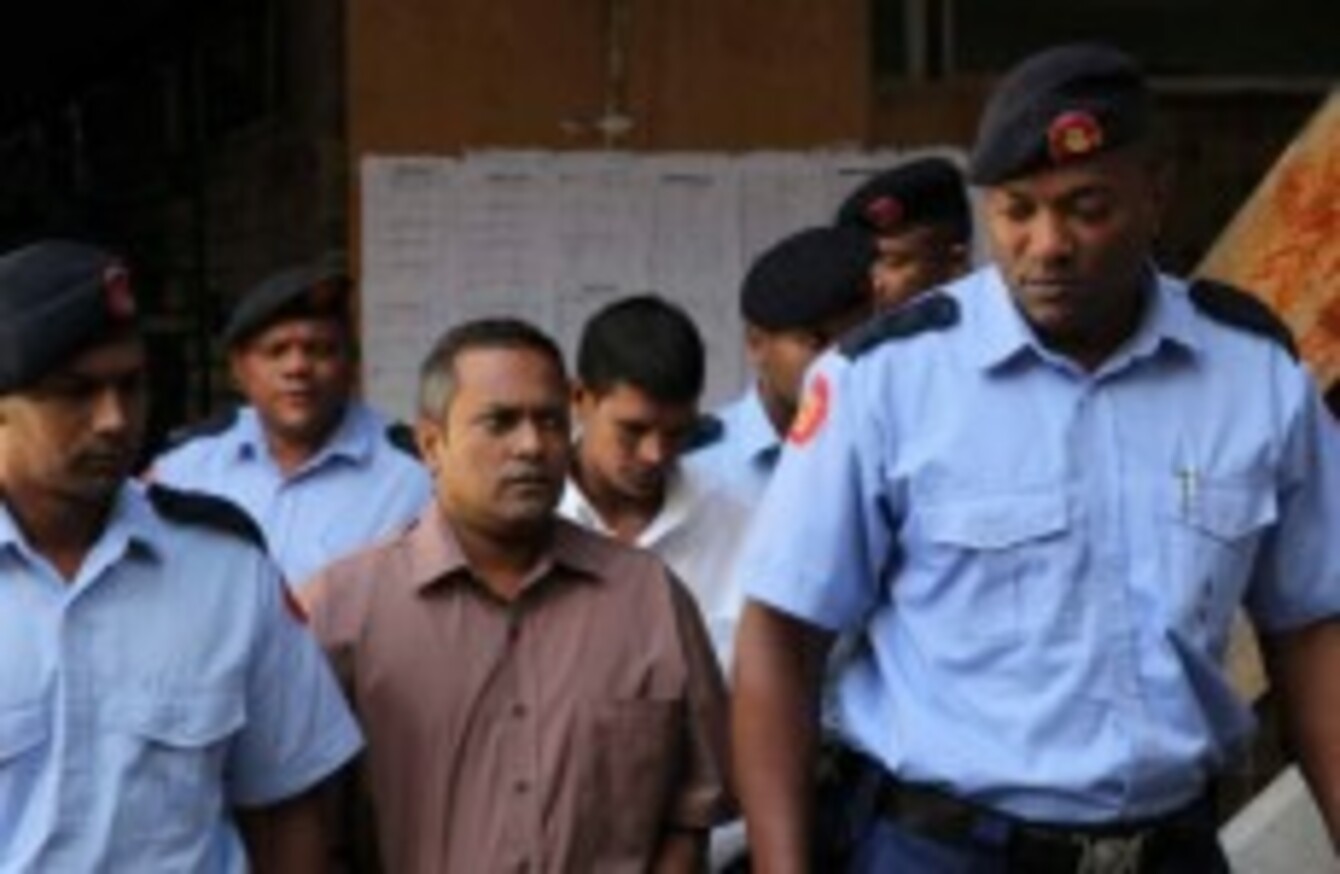 Sandip Mooneea and Avinash Treebhoowoon arriving in court yesterday.
Image: PA Wire/PA Wire/Press Association Images
Sandip Mooneea and Avinash Treebhoowoon arriving in court yesterday.
Image: PA Wire/PA Wire/Press Association Images
ONE OF TWO men accused of killing Irish schoolteacher Michaela McAreavey while she honeymooned at the hotel in which they worked told a Mauritius court today that he "did not kill anyone".
Responding to questions from his lawyer, 42-year-old Sandeep Moneea also said that he had not "conspired for a theft".
The former floor supervisor of the Legends Hotel claims he was talking to his sister on the phone when the 27-year-old daughter of Tyrone football manager Mickey Harte was killed in her room on 10 January 2011.
"I was not in room 1025 in the company of Avinash Treebhoowon [the other accused] at the time of the alleged crime," he insisted.
The witness said he was on a religious fast that day and he had called his sister at 2.45pm. "I wanted to get some news…I also knew that my nephews were going to school for the first time. I wanted to make sure that everything went well."
The court heard that Moneea worked for the hotel for six years, during which he said there had been no problems. He explained that he had seven or eight testimonies of satisfaction from his employer.
Moneea himself married on 5 December 2010, just a month before the McAreaveys arrived in Mauritius for their honeymoon.
The arrest and interrogation
Speaking of his arrest on 11 January 2011, the witness said that investigators had seized his laptop, the chain he wore, his wedding ring, watch and a walkie-talkie he used during work hours.
Counsel for the other accused man, Moneea's former colleague, also had opportunity to question the witness. He questioned the floor supervisor on certain details of his arrest and his client.
In response to a question, Moneea explained that when the two accused were on the premises of the Major Crimes Investigation Team (MCIT), they were both in separate offices. He claims to have heard the other defendant yell 'don't beat me' on two occasions.
When the prosecution's story was put to him – that he strangled Michaela McAreavey after she surprised them while they were stealing from the hotel suite – he exclaimed that it was "totally false".
Moneea told the court he only entered room 1025 after the manager of the hotel – Brice Lunot – asked him to follow him while he was running towards it. The witness testified that the victim was wearing only a blue-and-white bikini and no skirt.
During cross-examination by the lead counsel for the State, Moneea recalled his years spent in England between 1999 and 2005. He originally travelled on a six-months tourist visa but admitted to working without a valid permit. His first employer gave him a French identity card but he says he never used it but kept it with other papers.
He left his first post after six months to take up a job as an evening housekeeper at the Thistle Hotel at the Lancaster Gate, the court heard.
Do not disturb signs
Moneea said his original statement the day after Michaela's death did not contain reference to a Do Not Disturb sign because no questions were put to him on the issue.
He also denied allegations that he called his sister that day to ask for advice after "having committed his crime". The sister in question, Malah Gujadhur, was also called to the witness bar today and confirmed her brother's testimony.
She was accused of lying by the prosecution's lawyer but told the judge and jury that the truth would be seen.
The trial continues tomorrow with five other witnesses due to be called by Moneea's defence counsel.