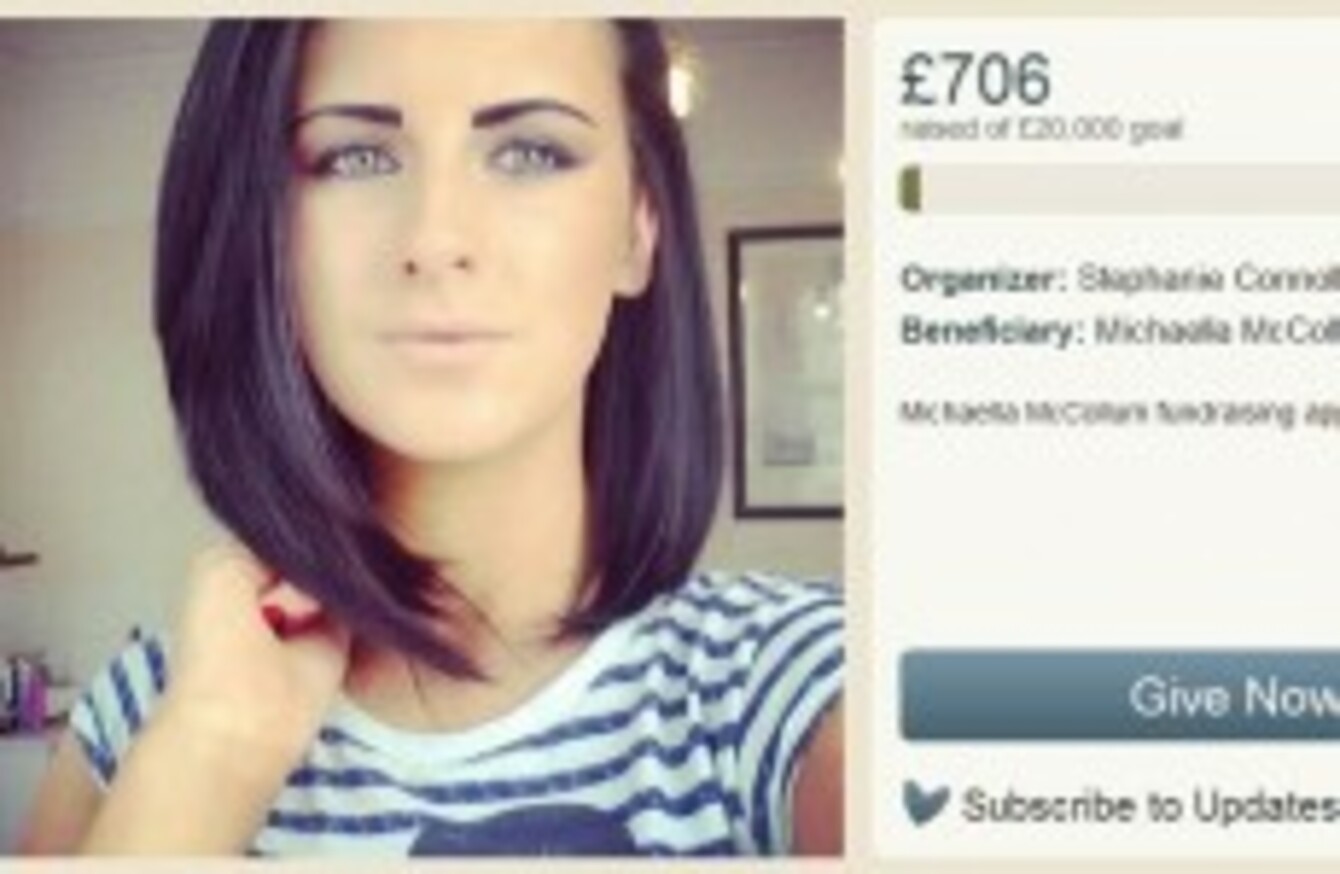 Image: Screengrab via youcaring.com
Image: Screengrab via youcaring.com
AN INTERNET EFFORT set up with the aim of  raising £20,000 towards legal fees for Michaella McCollum Connolly has received just £706 in pledges since it was set up.
The Youcaring.com page – set up by the Monaghan-born woman's sister Stephanie – received its first donation of £20 on Saturday last.
A message to prospective donors says the 20-year-0ld has been in a "living nightmare" since her arrest and that the family had been "overwhelmed with support and kind words from people".
The statement continues:
As I'm sure you all understand to get Michaella home it may be a lengthy process by it all depends on her legal representation.

We plan to visit Michaella as much as we can.

So many of our supporters have asked us if they can donate to Michaella's plight. We appreciate this so much as legal fees etc will be expensive.
McCollum Connolly and her British companion Melissa Reid were found with around 11kg of cocaine hidden in food packages as they tried to check into a flight bound for Madrid almost four weeks ago.
Decision
If the pair plead innocent, they must wait at least two years for a trial, and if found guilty following the trial she could face up to 20 years in prison.
However, if the 20-year-old and her Glasgow friend plead guilty they could be back home in as little as two years.
Her lawyer Peter Madden explained at the weekend that there is a piece of legislation going through Peruvian Congress at the moment which applies to foreigners given around seven years in prison or less.
They get two-thirds remission off their sentences, which means the pair would serve around two years of a six year sentence. The catch: They would have to admit guilt.
Madden told RTÉ's Marian Finucane Show that she must "think very carefully" about her decision.
Hearing
The pair were refused bail and remanded in custody at an initial court hearing last month. The judge rejected defence arguments that they had been threatened with death if they refused to carry the drugs.
Connolly had previously been reported missing from her job on the Spanish holiday island of Ibiza in the Mediterranean, and her family had launched a social media campaign to find her.
Additional reporting, Amy Croffey