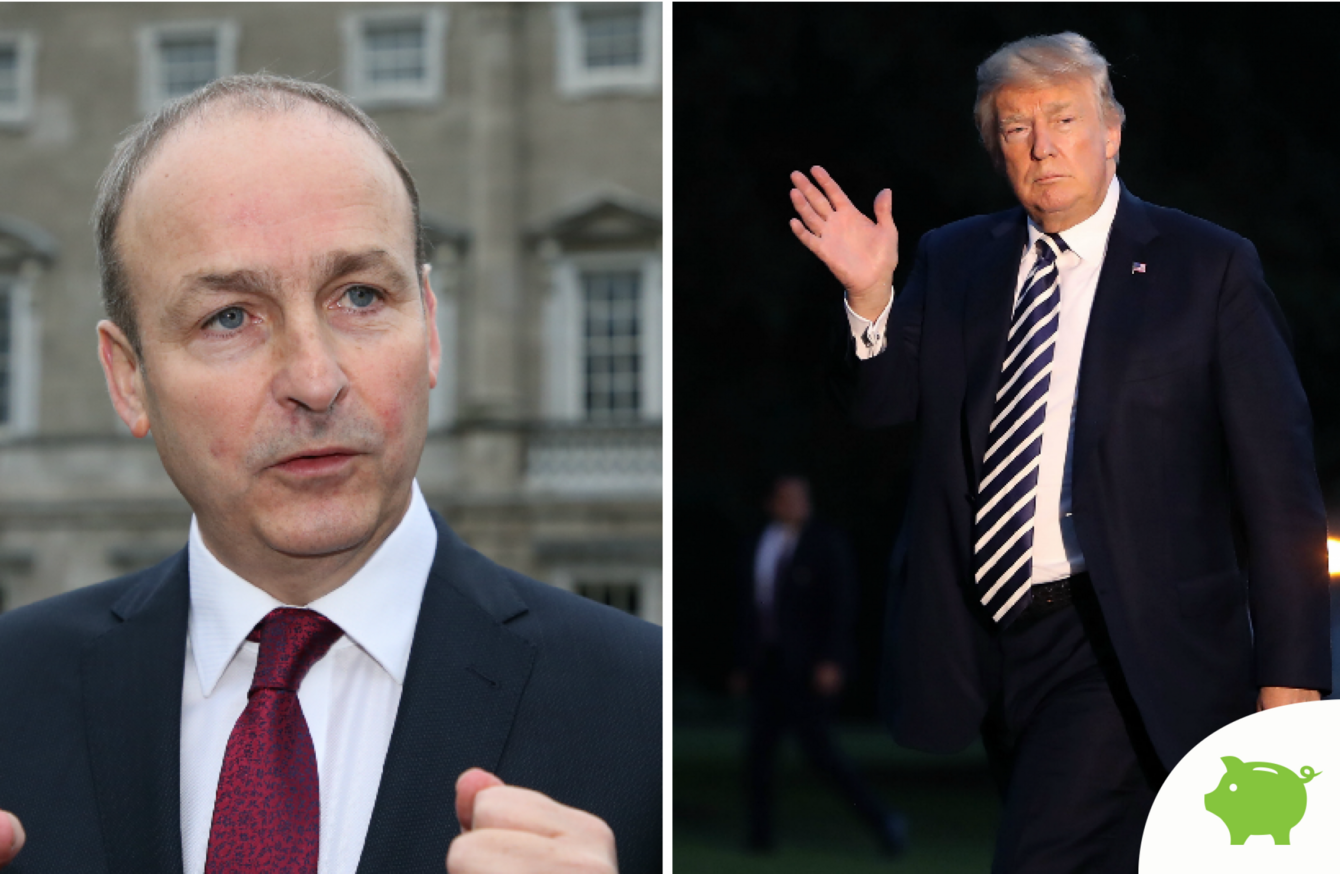 Image: Rollingnews/PA Images
Image: Rollingnews/PA Images
FIANNA FÁIL LEADER Micheál Martin believes Ireland should welcome Donald Trump like any other US President when he visits in November.
Last week, the White House announced that Trump would visit Ireland as part of a trip to Europe to mark the 100th anniversary of the end of World War I.
A number of protests are being planned to coincide with the visit, with many critical of comments Trump has made about migrants, women, and disabled people, as well as decisions such as pulling the US out of the Paris Agreement on climate change.
But speaking on Today With Sean O'Rourke on RTÉ Radio One, Martin said the Government should use the opportunity to meet Trump to discuss trade policies.
"I have no difficulty in meeting Donald Trump," he said.
"First of all, he's the democratically-elected President of the United States, and the Taoiseach Leo Varadkar invited him last March, reciprocating the invitation that we receive every year to the White House …
"Of course we welcome the visit of any US President."
Martin said that rather than criticising Trump, the government could speak him about his protectionist policies and further dialogue between both countries. 
However, he said that those protesting against the visit had a right to do so, saying that tolerance of different views was the "bread and butter" of politics and democracy.
No confidence
In a wide-ranging interview, Martin also revealed that Fianna Fáil would push for more funding for housing and health services in the upcoming Budget.
The party will demand more investment for the National Treatment Purchase Fund to alleviate "out of control" hospital waiting lists, as well as money for social housing from the Government.
"There has to be more construction, and again, there will have to be additional funding for social housing, in terms of the social housing budget, but more critically for affordable housing," he said.
"It's a crisis. Young people are renting at exorbitant prices. They're working Monday to Friday on a treadmill with little to show for it because of the exorbitant levels of rent."
However, asked whether his party would support the motion of no confidence in Housing Minister Eoghan Murphy set to be tabled by Sinn Féin, he said:
No. I've said this before the summer. Motions of no confidence are not going to build a single house. We're going to focus on the budget to get a priortisation around housing.
Martin added that he did not know whether the confidence-and-supply arrangement with Fine Gael would be renewed until a review of the first three budgets had been carried out.
Brexit
Speaking on the same show later, Minister for Finance and Public Expenditure and Reform Paschal Donohoe said health and housing would be "key areas" in the Budget.
However, he also warned that the level of Government investment would also reflect the risk to the economy presented by Brexit.
"We do have to be conscious, as we put this budget in place, that next year I'm increasing investment in our schools, our hospitals, our public transport by €1.5 billion," he said.
"We're making a big investment in our economy and our society at a time that a really big risk could materialise, which is Brexit.
He added that the Government was aiming be to create a better society and more resilient economy as that risk became clearer, with the Budget set to be delivered a week before the European Council meets to finalise its relationship with Britain after Brexit.