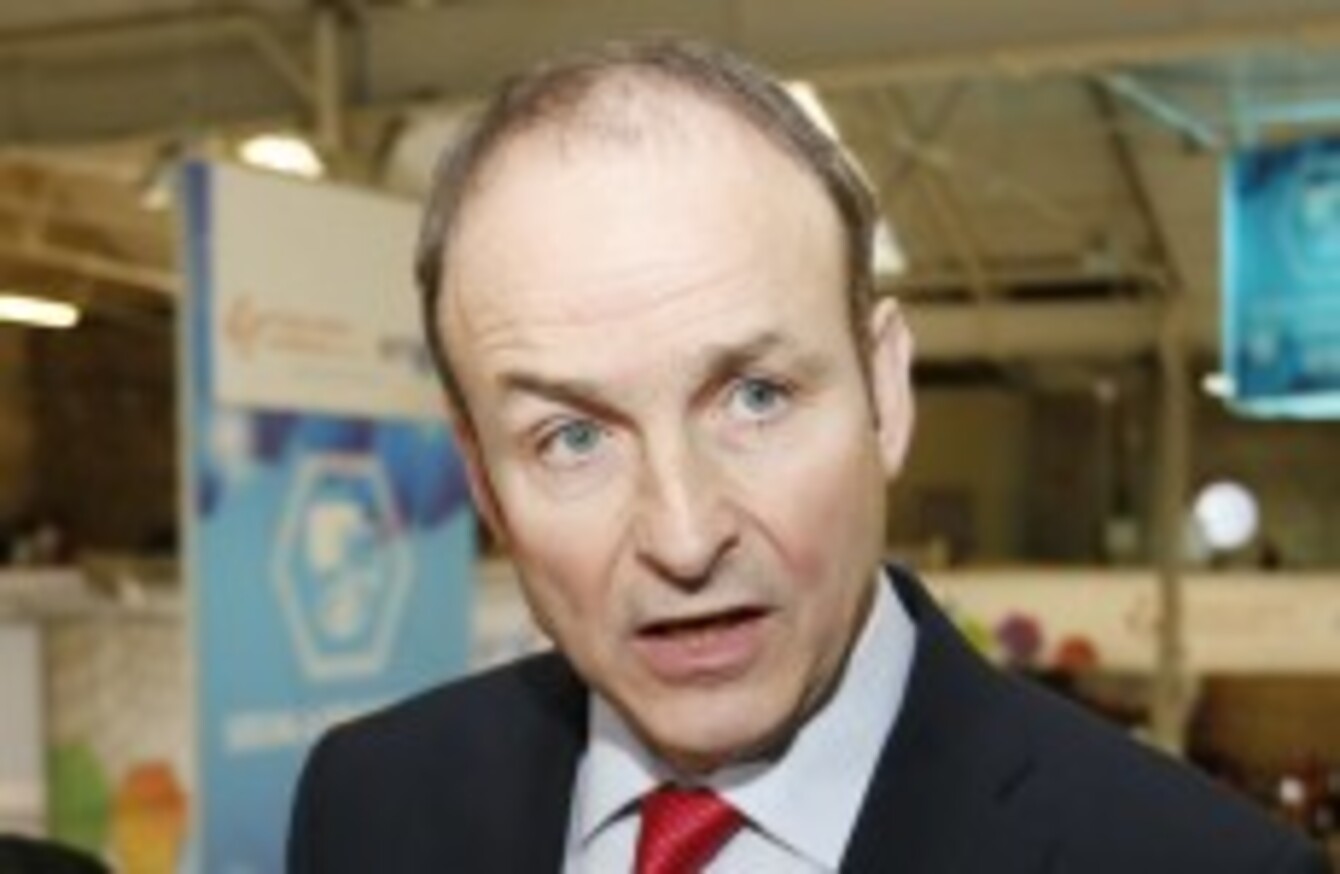 Micheál Martin
Image: Sasko Lazarov/Photocall Ireland
Micheál Martin
Image: Sasko Lazarov/Photocall Ireland
Updated 5.40pm 
MICHEÁL MARTIN HAS said that Enda Kenny is wrong in his assessment that Fianna Fáil wrecked the economy describing this as "overly simplistic".
In an interview with RTÉs Morning Ireland earlier, the Fianna Fáil leader again challenged the Taoiseach to a one-on-one TV debate.
But the Health Minister Leo Varadkar said he saw no reason why Kenny should debate Martin as he is "the leader of the third party".
Martin's comments this morning came after a weekend of heavy criticism at the Fine Gael conference in Mayo where Fianna Fáil was consistently described as the party that wrecked the economy and could not be trusted to take it over again.
Fine Gael sought to undermine both Martin's party and Sinn Féin in a bid to convince voters that only the current coalition can be trusted to continue the economic recovery.
Speaking to reporters today, Varadkar said he didn't really think Kenny should debate Martin one-on-one, saying:
"Fianna Fáil is the third party. It was the third party in the last general election. It'll almost certainly be the third party in the next and is in the polls in the moment so I don't see why Enda Kenny would go head-to-head with the leader of a third party."
Speaking to reporters this afternoon, Jobs Minister Richard Bruton said that Kenny already debates "twice-a-week, one-on-one with the leader of the main opposition" in the Dáil during Leaders' Questions.
"That is where people want to see to the issues of the day debated and the Taoiseach is very adept at handling all of these issues and that's what he's offering. He's offering fully open accountability."
Listen to what Foreign Affairs Minister Charlie Flanagan had to say:
Source: hughoconnellthejournal.ie/SoundCloud
'Big political lie'
Earlier, Martin hit out at Kenny's record in opposition saying that despite Fianna Fáil carrying out two-thirds of the fiscal corrections necessary under the Troika bailout agreement, Fine Gael had voted against many of these measures.
"He [Kenny] was not a force for stability and he attempted to undermine the then government at every step as it sought in the midst of a severe financial crisis to rectify that crisis through a series of budgets," he said.
Martin also accused Kenny of delivering "a big political lie" in his Prime Time interview last Thursday, taking issue with the assertion that the current government had negotiated €50 billion in savings on its debt pile.
"This was a big political lie," Martin claimed.
Finna Fáil has argued that €40 billion of this €50 billion is a result of longer loan maturities, and says that rather than actual savings the repayment of these amounts has just been pushed out to a later date.
Fine Gael hit back at Martin's interview with this press release this morning:
Speaking in the Dáil earlier this month, Finance Minister Michael Noonan explained how the €50 billion in savings breaks down.
"We replaced €9 billion of IMF debt last year with cheaper market debt and the intention is to refinance another €9 billion in the first half of this year. These early repayment transactions alone will deliver a saving of over €1.5 billion over the lifetime of the loans.
"We also restructured the promissory note, reducing the State's borrowing requirement by €20 billion in the next decade or so. We have succeeded in gaining concessions from our European partners in the form of maturity extensions and lower interest rates.
"The maturity extension removes a market refinancing requirement of €20 billion for the period 2015-22 and the interest rate reduction delivers savings each year in the annual budget."
Arrogance
Sinn Féin leader Gerry Adams weighed in on the topic on Drivetime this evening, saying any debate should involve all three leaders.
Adams said his party wants to be in government, but has to remain "humble", adding that he isn't "arrogant enough" to say he wants to be Taoiseach.
He didn't rule out working with any party after the next election, but did say Sinn Féin "will not do what Labour has done".
We will not go in as a junior partner of a conservative government … that would be totally and absolutely counter-productive.
He said Enda Kenny should call an election sooner rather than later, stating: "Paddy and Patricia should have the chance as soon as possible to vote."
Additional reporting by Órla Ryan