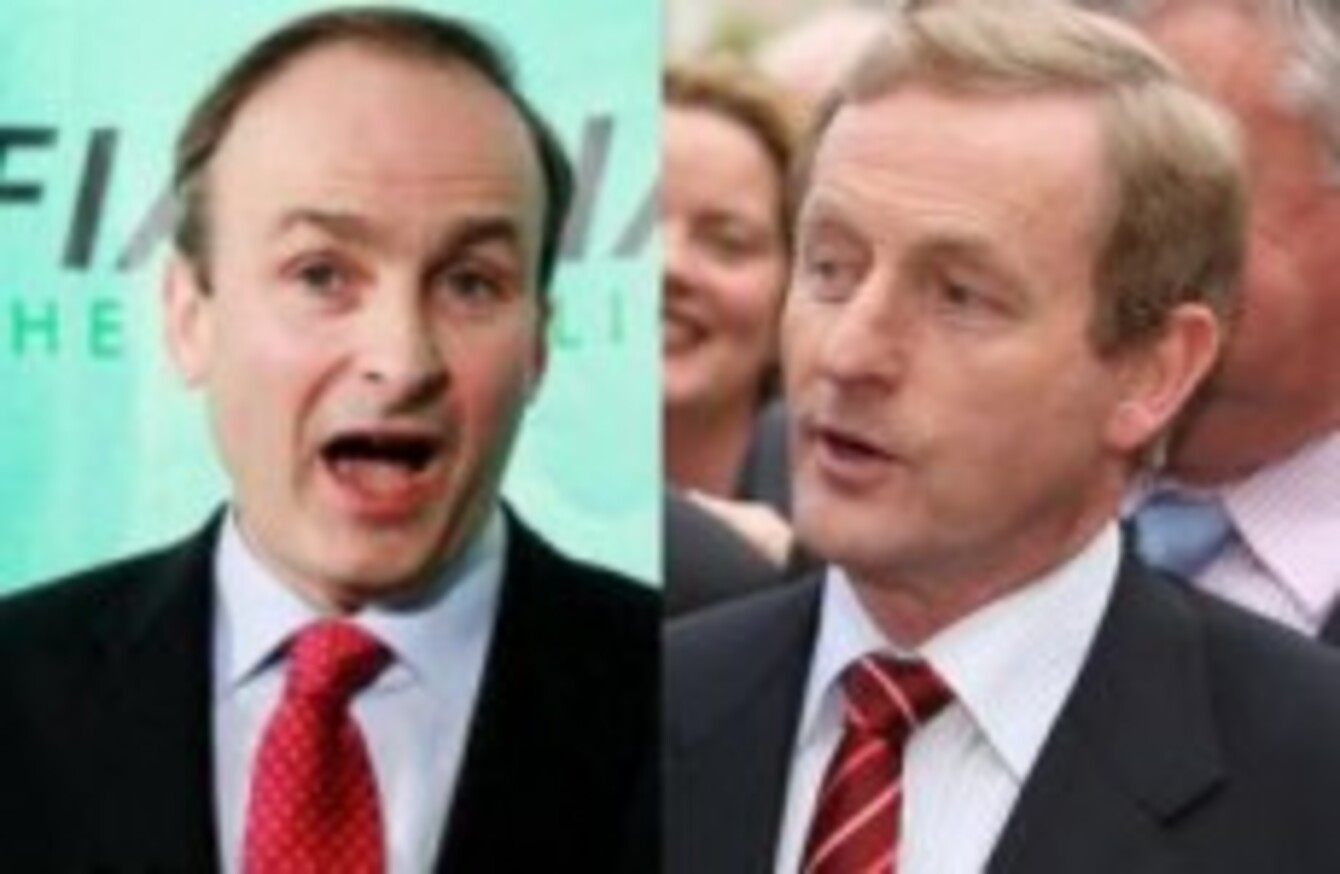 Image: PA Images/Julien Behal
Image: PA Images/Julien Behal
NEW FIANNA FAIL leader Micheal Martin has said he will agree to a five-leader debate on Sky News. However, he also said that he's still convinced that five-way debates "produce an awful lot of heat but precious little light".
In a speech to the Sligo-North Leitrim selection convention yesterday, Martin said that there were "no catches and no tricks" in his proposal to Eamon Gilmore and Enda Kenny that they hold at least two three-way debates during the General Election 2011 campaign. He said that smaller parties would have some role in these debates, "though not at the expense of creating empty shouting matches rather than debates".
Martin said he was happy to agree to Sky's five-leader debate proposal, involving FF, FG, Labour, the Greens and Sinn Fein. However, he reiterated that he had "no intention of backing off from the absolutely reasonable request that the main Dail parties debate each other". He made a personal appeal to Fine Gael leader Enda Kenny to agree to a "fuller" schedule of debates. He said:
Five-way debates produce an awful lot of heat but precious little light. The reason for this is patently clear – there simply isn't any opportunity for real engagement between participants.

I am genuinely amazed by the position taken by Fine Gael on this. They were the ones who called for a new type of politics and signalled a willingness to have a real engagement between the main parties.
Enda Kenny said yesterday that Micheal Martin was in no position to "dictate" the format of television debates between the parties. He said:
There is no Taoiseach contesting this election. If we are going to debate the issues, all the leaders are going to be involved.
TG4 has invited Labour, FG and FF to a three-way leaders' debate on February 16. Yesterday, Micheal Martin said that he would attend the TG4 debate whether Enda Kenny showed up for it or not. On the Today with Pat Kenny show this morning on RTE Radio1, Martin said he would also be open to one-on-one debates with all leaders, including Sinn Fein's Gerry Adams.
Labour's Eamon Gilmore was last night agreeing "in principle" to the series of debates proposed by Micheal Martin. This morning, Labour sent out a press release saying that the proposal from Fine Gael for one five-way debate, "at some unspecified neutral venue, that would be organised by some un-named independent body, and be covered by all broadcasters is a recipe for ensuring that no debate will take place" is "simply not doable".
Sinn Fein and the Green Party both called for inclusive debates that involve the leaders of all parties represented in Leinster House.
The broadcasters' plans
Broadcast media have begun finalising their plans for holding party debates and covering the general election campaign.
TV3 yesterday released their plans. They are proposing a three-way debate between the leaders of Labour, Fine Gael and Fianna Fail, to be hosted by Vincent Browne. The station has also assigned a correspondent to follow each of the leaders of those parties for the duration of the campaign – Brian O'Donovan will follow Martin, Jerome Hughes is on the trail of Kenny and Stephen Murphy is following Gilmore. Aisling Ni Choisedalbha will report on the movements of the other party leaders.
#Open journalism No news is bad news Support The Journal

Your contributions will help us continue to deliver the stories that are important to you

Support us now
TG4's debate is, as mentioned, scheduled for 10am in Galway on February 16. It is proposed to be a three-way debate between Eamon Gilmore, Enda Kenny and Micheal Martin.
Sky News is proposing a five-way debate between FG, FF, Labour, the Greens and Sinn Fein. It would be a 90-minute debate and would be hosted by Adam Boulton.
RTE has not yet finalised its proposals for election leaders' debates. The station yesterday announced some new politics-related changes in their schedule: The Daily Show host Claire Byrne is to present an election-focused Late Debate on RTE Radio1.
A new current affairs programme, The Eleventh Hour, is also due to begin broadcasting on RTE 2 on Monday night next. It will be competing with Tonight With Vincent Browne which broadcasts on TV3 in roughly the same time slot. TheJournal.ie understands that Claire Byrne had also been in the running to front the new RTE2 show. The Eleventh Hour will be hosted by Keelin Shanley.