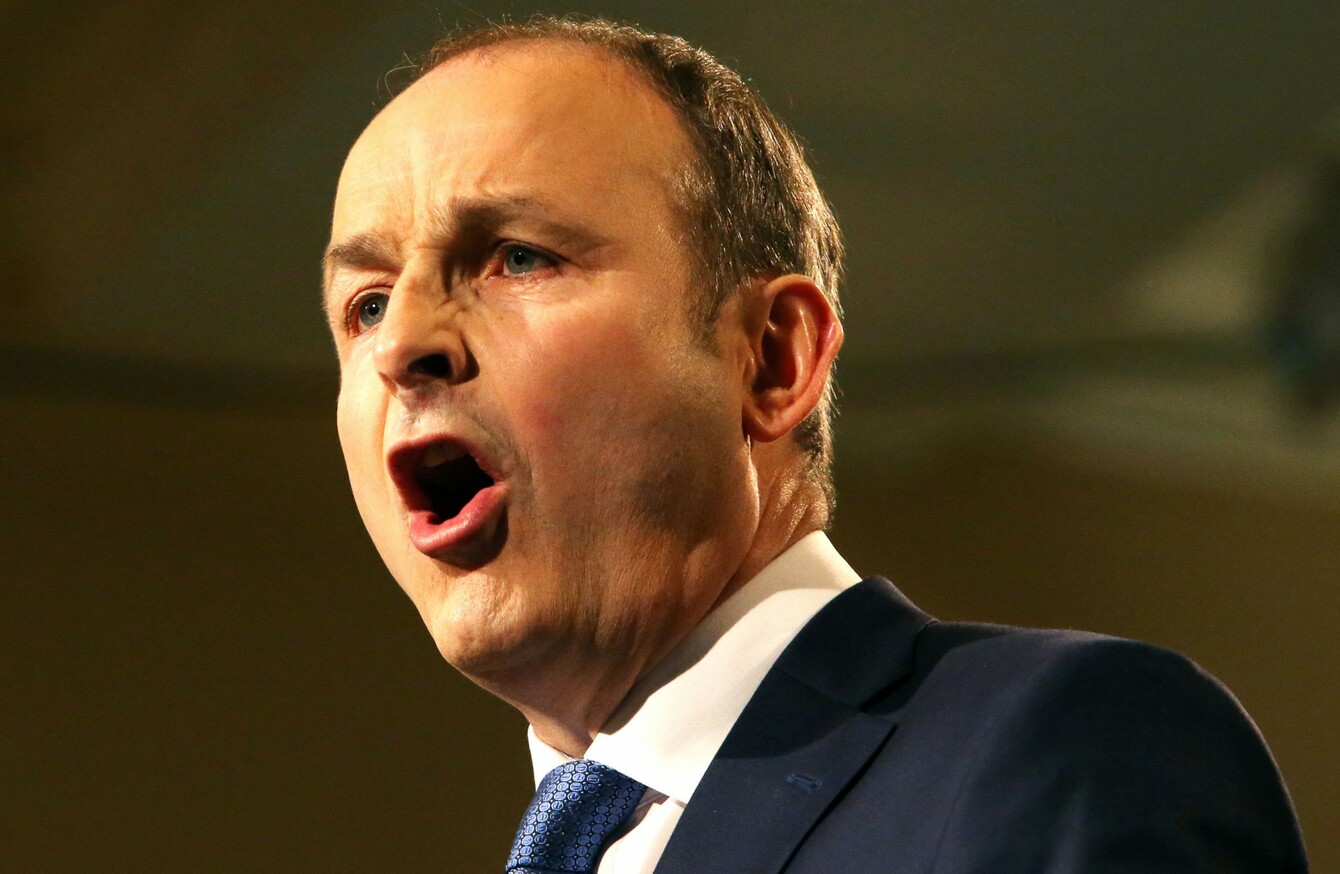 Martin during his passionate Ard Fheis speech.
Image: PA Wire/Press Association Images
Martin during his passionate Ard Fheis speech.
Image: PA Wire/Press Association Images
FIANNA FÁIL LEADER Micheál Martin isn't giving up on winning this general election.
In a robust interview with Cathal Mac Coille on RTÉ's Morning Ireland today, Martin refused to rule out supporting a minority Fine Gael government.
In addition though, he wasn't ruling out Fianna Fáil winning the 26 February vote. Rejecting the suggestion that a triumph for his party would be a "miracle".
The latest opinion poll from the weekend showed Fianna Fáil at 17% with Fine Gael at 31%.
"It will be a fragmented situation post-Dáil, but the bottom line is that Fine Gael have ruled out Fianna Fáil and Sinn Féin have ruled out Fianna Fáil," Martin said.
It's not a miracle or anything like that. Look at the British election, all 11 polling companies were out by 7%.
Mac Coille interjected at this point, saying that "Labour and the Conservatives were far, far closer than you and Fine Gael."
But Martin was unbowed:
Sorry, they were 7% out. There was an opinion poll out last week and there was only about 5% between us. They weren't that far closer.
It's been suggested that on current polling numbers Fine Gael may emerge as the largest party, but without a majority. In a such a situation, Fianna Fáil could choose to support Fine Gael by voting with them in the Dáil without actually being part of their government.
This happened before when Fine Gael did it for Charlie Haughey's Fianna Fáil from 1987. That 'Tallaght Strategy' saw them supporting Fianna Fáil's financial measures.
But could it happen again?
Martin was asked repeatedly and wouldn't say either way.
Mac Coille: Would you be prepared to consider, in the national interest, supporting a minority Fine Gael government?Martin: We don't want to be in a minority situation.

Mac Coille I'm not asking you that.

Martin: Yea, but I'm not going to concede that at this stage. Sorry, we will work in the national interest irrespective of our strength.

Mac Coille: Translate that for us. Would you consider….

Martin: I will translate that if you give me a chance. Irrespective of whether we're the lead party, and we want to be the lead party. The national interest demands a fairer and more decent society.
After some more back and forth, Martin was asked a direct 'yes or no' about whether he'd support a minority Fine Gael government.
He still wouldn't bite.
Martin: I'm not going down that route now because I want to be leading a party that's a majority.
As he has done so previously, the Fianna Fáil leader also voiced his opposition such "horse race" style focus on election results.
Martin again referenced the UK election when attacking this kind of results based focus.
The polls dictated the debate in England to the extent that nobody got to debate what a Conservative majority would do to Britain and social services.