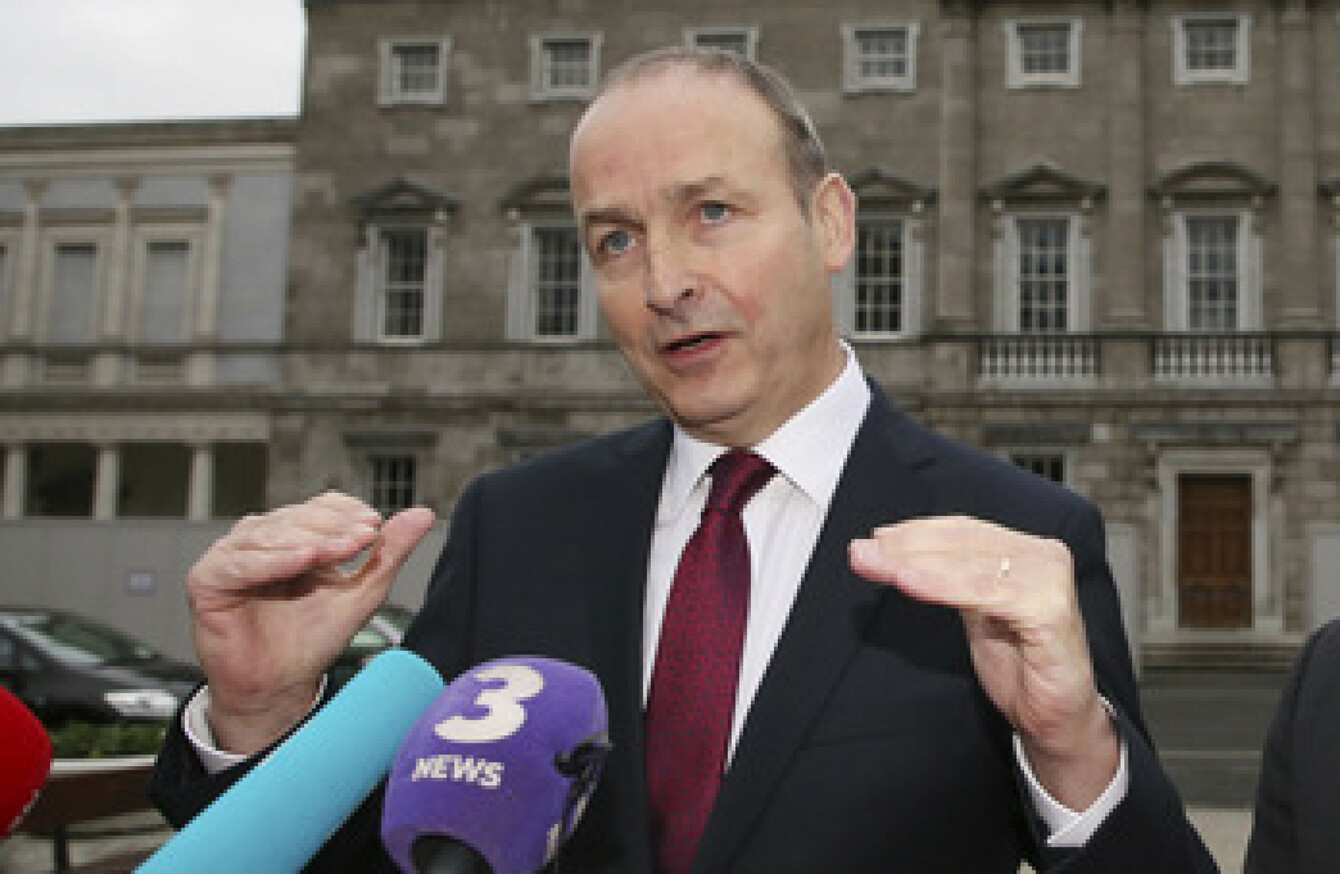 Image: Sam Boal/RollingNews.ie
Image: Sam Boal/RollingNews.ie
FIANNA FÁIL LEADER Micheál Martin has said running for the presidency is not on his horizon. He's not saying just yet either whether his party will run a candidate in next year's expected election.
Michael D Higgins has said he won't declare whether he's seeking a second term or not until after the summer. Either way, given the current makeup of the Dáil, it's expected there will be an election for the role.
Independent senator Gerard Craughwell intends to run, and is beginning to write to fellow Oireachtas members to seek the nomination.
Other figures have also indicated they would be interested in running, and it's likely more prospective candidates will emerge in the coming months.
"We don't have a candidate considered, no," Micheál Martin said in an interview with TheJournal.ie, adding that it would be something for Fianna Fáil to consider in the new year.
I have been very reluctant to comment on the presidential election too early out because I actually do believe, in an old-fashioned way, that the dignity of the office allows the incumbent to conduct their duties in that space.
There have been rumours in political circles that Martin may seek the nomination himself – which would be an unusual move for the leader of a major party.
"I am looking at a completely different position entirely. Not on my horizon," was Martin's response, when we asked if he would ever consider it.
We also asked whether he might back former Fianna Fáil Taoiseach Bertie Ahern for the role. Here's how that exchange went:
TheJournal.ie: What about Bertie?
Micheál Martin: You are being cheeky now before Christmas.
TheJournal.ie: It's a legitimate question.
Micheál Martin: Well as Bertie said 'Michael D Higgins is doing a great job'.
Ahern, when asked most recently whether he would rule out an Áras run, just before Christmas, instead chose to heap praise on the incumbent, and said that he and Michael D were good friends.
Pressed again by RTÉ's Sean O'Rourke on whether he would rule it out, he simply replied "no", and wished listeners a Happy Christmas.
Road to the Áras 
Potential candidates need the backing of 20 TDs or senators to get on the ballot for the election, which is likely to take place in October. They can also run with the backing of four city or county councils.
Fine Gael are widely expected to back Higgins for a second term if he decides he wants one. "Fine Gael will consider the matter of the Presidential Election when President Michael D Higgins makes his intentions known," a party spokesperson told us via email.
It's thought that some party bosses in Fianna Fáil may not want to go to the expense of challenging Higgins.
However, according to a story published in the Irish Independent last Saturday, an overwhelming majority (94%) of the party's councillors want a Fianna Fáil candidate in the race.
Miriam O'Callaghan and former news anchor Anne Doyle were among the names proposed by the councillors, according to the paper.
- With reporting by Christina Finn