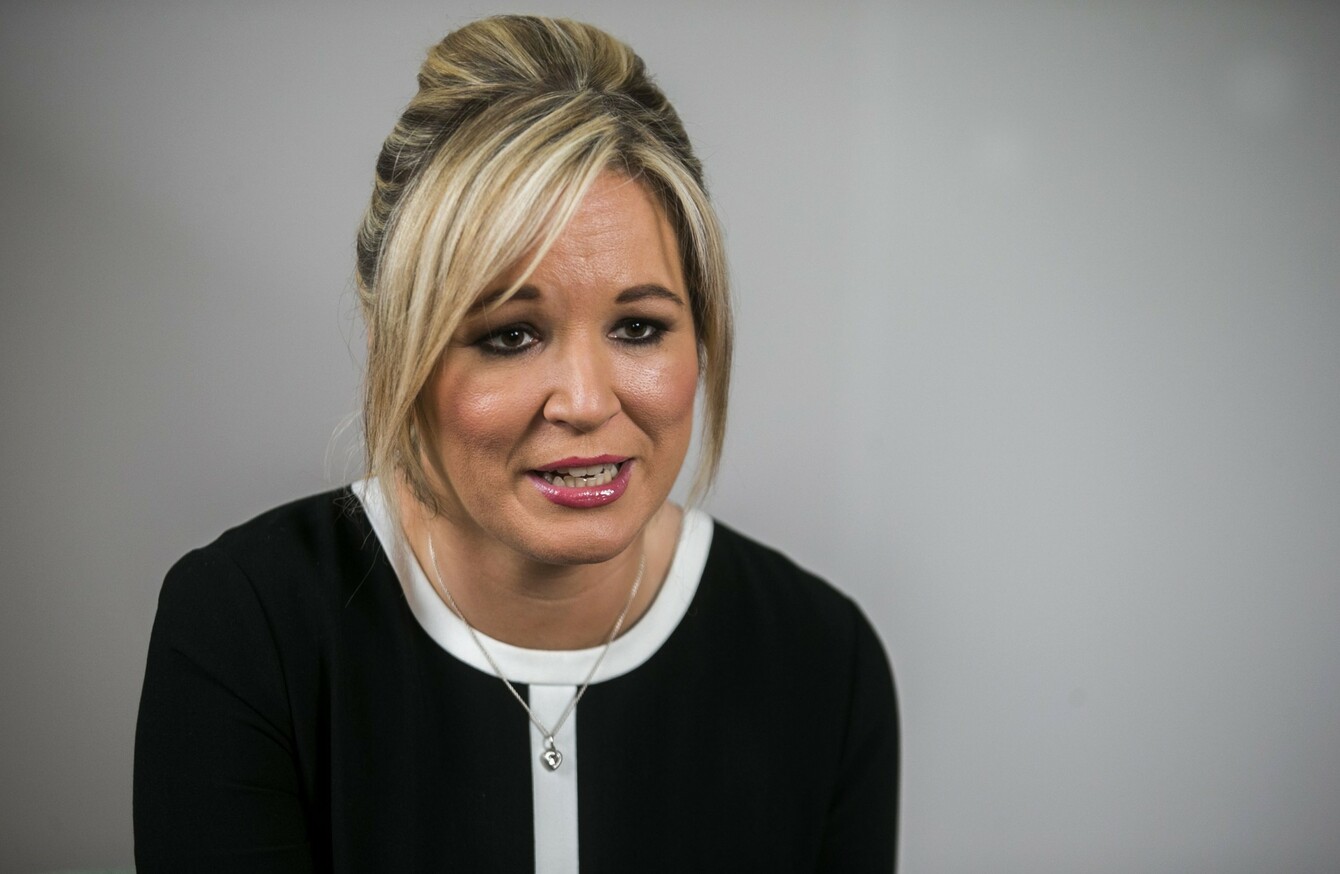 Michelle O'Neill, the new Sinn Fein leader at Stormont.
Image: PA Wire/PA Images
Michelle O'Neill, the new Sinn Fein leader at Stormont.
Image: PA Wire/PA Images
SINN FÉIN'S NEW leader in the North Michelle O'Neill has said there will be no return to the "status quo" in the Stormont institutions.
Should Sinn Fein win sufficient seats in the Northern assembly, O'Neill will become Deputy First Minister.
While she said she "can work with anybody" O'Neill said things will have to change if Sinn Féin are going to work with the DUP again.
"We can't return to the same sort of antics displayed by the DUP," said O'Neill on RTÉ's Sean O'Rourke programme today.
We couldn't tolerate that kind of approach in government… enough was enough.
O'Neill was announced as the new party leader for the North after Martin McGuinness stood down over the 'cash-for-ash' scandal. He resigned because the DUP leader Arlene Foster did not bow to repeated calls for her to step down over the allegations.
After McGuinness stepped down in protest, fresh elections were called for the north in March.
Describing herself as coming from a "strong republican family" (her father is a former Sinn Féin councillor in Dungannon who was imprisoned for IRA membership, while her uncle, Paul Doris, is president of Noraid, a republican fundraising group) O'Neill was appointed leader without election.
Deputy party leader Mary Lou McDonald has previously said the nomination for the role of leader in the North is made by the party leader.
When asked about how she was chosen as leader, O'Neill explained:
I was chosen by the Ard Comhairle  - that is the decision-making body of the party… it was put to the Ard Comhairle and it was unanimously decided that I should be leader.
Martin and Gerry obviously spoke to me about taking on the role, was I up to it. I said I was. Gerry then put it to the Ard Comhairle and there was a full discussion in relation to it and people were able to give their opinion and voice their views on it and the decision was taken unanimously that I should take on the position  - a position in which I have said I am absolutely proud to take on.
While O'Neill said her past is steeped in republicanism, she added she did not think it should define her or the future.
I would prefer the focus would be on the future.
So what will the future look like under her leadership in the North – and will she share power with Arlene Foster?
O'Neill said Sinn Féin won't be returning to power-sharing with the DUP under the same terms that were decided upon after the last election.
You can't share power with people whose only interest is looking after the elite in society or certain sections in society
We can't return to that style of government.
However, O'Neill said she she is very much open-minded and determined to find a way forward.
#Open journalism No news is bad news Support The Journal

Your contributions will help us continue to deliver the stories that are important to you

Support us now
She said any future power-sharing arrangement has to be based on mutual respect and a determination of delivering for all citizens.
Yesterday, ahead of her meeting with Taoiseach Enda Kenny, the UK Prime Minister Theresa May met with O'Neill in Cardiff.
The new Sinn Féin leader said she made the case to May that Ireland should have special designated status in terms of Brexit.
O'Neill said Brexit will be damaging to the Good Friday Agreement, adding that she does not believe Prime Minister May is listening to her party's concerns.
Yesterday, Enda Kenny and May both said they wanted the border between the Republic and the North to be "seamless" and "frictionless".
"I fail to see how that will be the case," said O'Neill, who added that it was "all words, all talk – we need to see the detail".