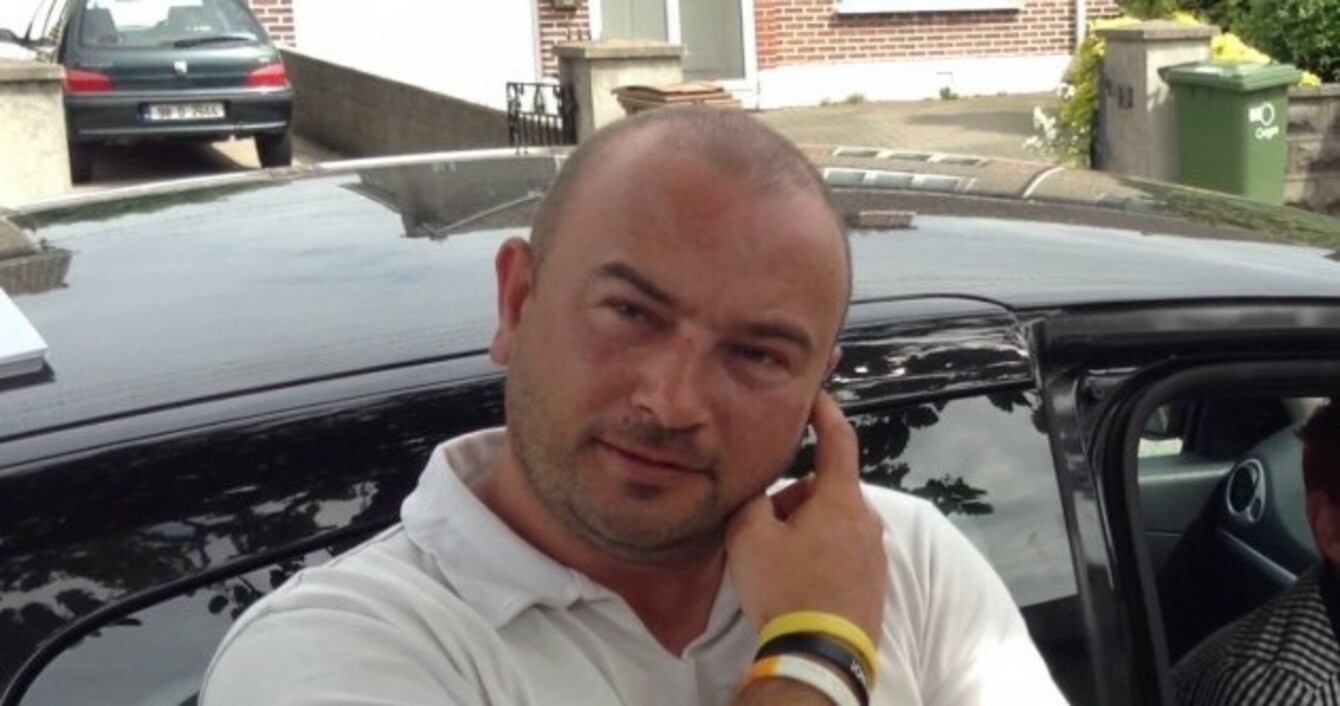 Derek Byrne of 'Dublin Says No'
Image: Daragh Brophy
Derek Byrne of 'Dublin Says No'
Image: Daragh Brophy
Updated at 11.15pm
THE MAN WHO can be heard calling President Michael D Higgins a "midget parasite" in video footage shot outside a Dublin school last week is one of the main organisers of this Saturday's planned mass rally against water charges in Dublin City Centre.
Derek Byrne of the 'Dublin Says No' group admitted making the comments on his personal Facebook page yesterday, writing:
"First of all I am the person in the video who slated the Irish President. He may be your president but he ain't my president."
He added:
I have no shame in labelling Mickey D as a little sellout midget parasite. I couldn't give a damn about irish politicians. They couldn't give a shit about us.
Contacted by TheJournal.ie this afternoon, Byrne said he wouldn't be apologising or backing down from the comments.
"Back down from what?" he said, before ending the call.
Speaking to Niall Boylan of 4fm last night, however, he said "I apologise, Niall, for using the word midget".
Source: Edenmore SAYSNO/YouTube
Byrne's actions, outside Colaiste Eoin in Finglas last week, have been widely condemned by politicians from across the political spectrum.
Taoiseach Enda Kenny said that the protesters had behaved deplorably. Paul Murphy of the Anti Austerity Alliance said that while he believed people had a right to protest against the President, any personal abuse directed against Higgins should be explicitly and strongly condemned.
Saturday protest
Dublin Says No is one of several community groups that have been taking direct action against meter installers since last summer, mostly in northside suburbs.
Byrne was among a group of protesters that appeared in court last November over breaches of a 20-metre exclusion zone around meter installations. Proceedings against him were struck out on a legal technicality.
His group are the main organisers of this Saturday's planned mass rally against water charges in Dublin city centre, planned for O'Connell Street.
The schedule for the event is outlined on their Facebook event page, entitled "Ireland United Against Water Charges (The LockDown Part 2)". 'Dublin Says No' are listed as the hosts.
We are asking all Residents of Dublin South to Gather at Heuston Station and all North Dublin Residents to Gather at Connolly Station. Both groups will march on Either side of the quays. Together they will shut Dublin city down.
"For those who wish to travel from the country side gather at which ever point is closer to you.
There will be NO STAGE, NO SPEECHES, NO CONCERT. Just people standing together to send a message to the Irish Government.
So far, over 7,000 people have signed up to join the demonstration, which is supported by a wide variety of grassroots community campaigns.
Asked whether he thought his comments at the protest in Finglas would discourage people from turning out, Byrne replied:
"No."
A Garda spokesperson said they were aware of plans for a city centre protest, and that some travel disruption could be expected in the area this Saturday.
Source: Video TheJournal.ie/YouTube
'Day of action?'
A number of speakers at the last mass rally against the new charging regime, in December, flagged 31 January as the date for the next large-scale demonstration. However, protests planned for this weekend are not being centrally organised by umbrella group 'Right2Water'.
Local groups are still planning Saturday protests in towns an cities across the country. Many protesters taking part in demonstrations around the Dublin suburbs are planning to travel into the city later in the day to join up with the central event, a number of activists told TheJournal.ie.
Ruth Coppinger, the Socialist Party TD, said she would be taking part in an event organised by the 'We Won't Pay' campaign in Blanchardstown.
While Hugh Lewis, a People Before Profit Alliance councillor in Dun Laoghaire, said a rally would also take place in the south Dublin suburb, and that similar demonstrations were being planned for other parts of the city.
Organisers are using the #Right2Water hashtag to co-ordinate their events, although the steering committee of the organisation — supported by a range of left-wing political parties, trade unions and others — is not officially involved.
"We're not actually organising the protests but we are fully supportive of them," a spokesperson for Right2Water said.
"What happened was the date had been aired at the December 10th Right2Water protest so the day was out there in peoples' minds," Coppinger said.
The Socialist TD said she wasn't expecting this Saturday's protests to be as large as the three 'days of action' that took place between October and December.
"There isn't anything specifically new happening," on the water issue, Coppinger said, adding that there hadn't been a national campaign of organisation this time out.
However, members of different parties have been working together locally in recent weeks to plan future events, the TD said.
"In every campaign there's a lull," Coppinger said.
She said she expected campaigns against the charges would be stepped up around April and May, when the first bills come through peoples' letterboxes.
Her party will be advising people to boycott Irish Water and not pay their bills, she said. As an umbrella group, Right2Water "doesn't really advocate one tactic over another. It's not really calling on people to come out and not pay the bills".
In a statement earlier this month, Right2Water said the group's committee had decided "take a number of weeks to prepare a comprehensive campaign strategy for 2015, including a timetable of events and a sustainable funding model".
A further meeting of the steering committee is planned for later this afternoon.
Dublin Says No? 
Asked whether she would have any concerns about the organisation of the Dublin city centre rally, in light of the insults directed at the President and the subsequent publicity, Ruth Coppinger said Byrne "doesn't represent everyone in Dublin Says No".
The TD was strongly critical of the language used in the Finglas protest, saying it had been "sizeist"
"There isn't room for insulting language like that," she said, stressing that it was something she would "take people to task over".
"I do defend that people have the right to protest, and the protest against the President," she said.