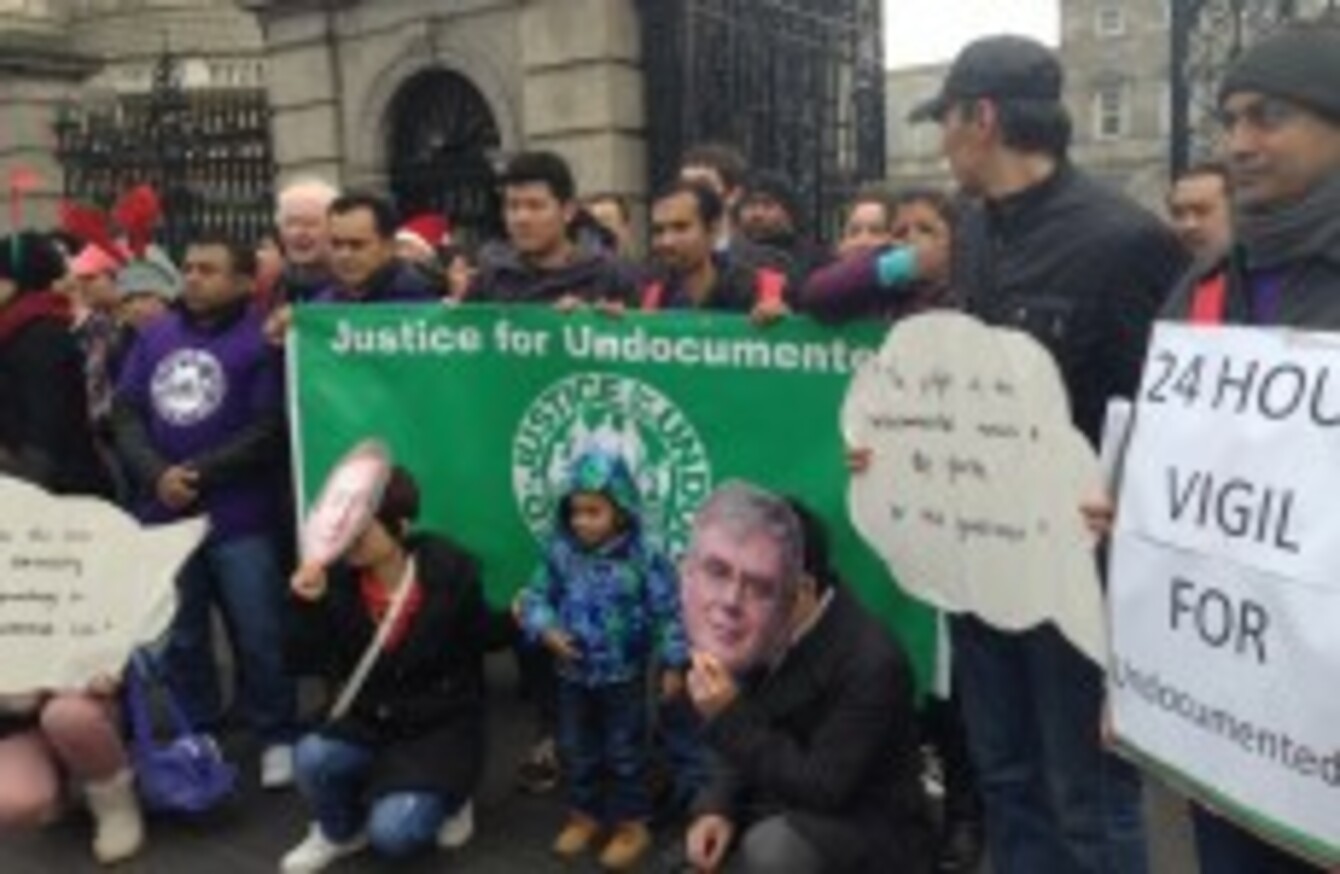 Protestors outside the Dáil yesterday
Image: Paul Hosford/TheJournal.ie
Protestors outside the Dáil yesterday
Image: Paul Hosford/TheJournal.ie
AT AROUND NINE o'clock this morning, a group of 30 or so people will leave the gates of Leinster House.
After 24 hours, some will trudge home and some will go to their jobs. There, they will clock in as normal, be paid as normal and pay their taxes as normal.
However, they won't be able to avail of state services, they are unlikely to report crime and some haven't seen their families in a decade.
These are the undocumented migrants in Ireland and there are as many as 30,000 of them.
Some had come to Ireland on the promise of work permits, some hoping they could find work legally and some who hoped to wait it out long enough to be granted citizenship.
Yesterday, led by the Migrant Rights Centre Ireland, they held a 24-hour "vigil for hope" at the gates of the Oireachtas, calling on the government to implement a system whereby undocumented workers can earn residency.
Edel McGinley of the Migrant Rights Centre says that nobody is asking for an amnesty or for borders to be opened.

The proposal is similar to one that is being touted in the US, which would see thousands of illegal Irish granted a road to citizenship.
An illegal life
Jayson has been in Ireland for nearly 10 years. In that time, he has worked to support his three children and sick father.
He says that he has missed his children growing up.

"I have three kids and cannot afford to give them a good future in the Philippines.
I haven't seen them in 10 years.
He says his kids have grown up without him and he can't leave Ireland to visit them as he would be unable to re-enter the country.

Jayson adds that the road to citizenship should not be about handouts. It should be about earning the right to live in a country that migrants are already contributing to.

All videos: TheJournal.ie/YouTube