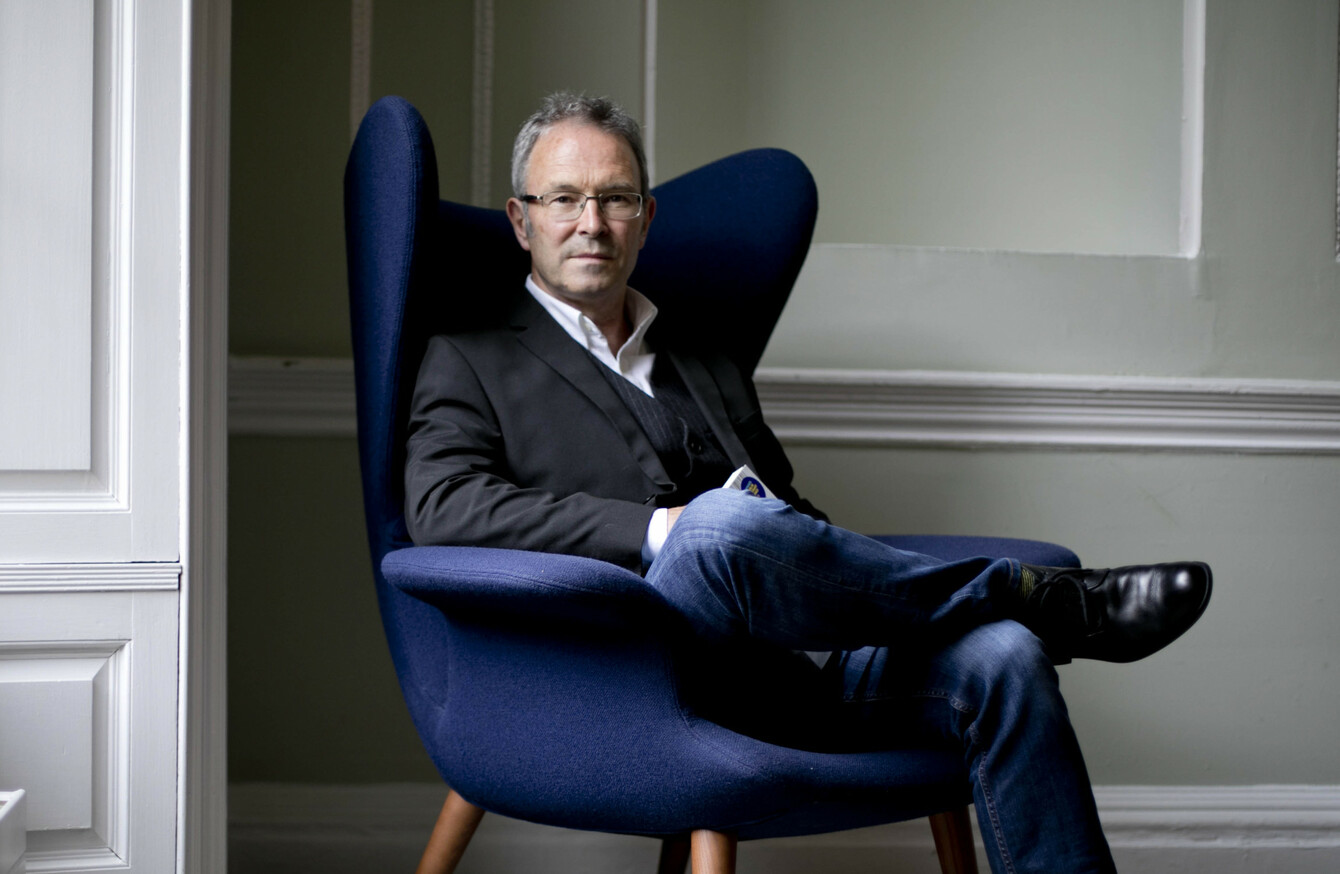 Mike McCormack
Image: Chris Bellew/Fennell Photography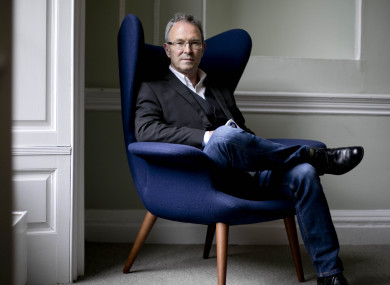 Mike McCormack
Image: Chris Bellew/Fennell Photography
MIKE MCCORMACK'S MULTI-AWARD-WINNING novel Solar Bones gets a lot of attention for being, essentially, one long sentence.
But just as what could be a gimmick isn't really a gimmick (the structure makes so much sense readers recoil at the thought of it being conventionally written), it's also not what its author sees as the most radical part of this particular piece of fiction.
"Everyone talks about the experimental nature of the book, and they always talk about the lack of punctuation and the way the story unfolds, and they see that as the experimental nature of the book. I'm not so certain that that is the experimental part of the book," Mayo-born McCormack tells TheJournal.ie, as we sit down to discuss the fact his novel has just won the prestigious €100,000 International Dublin Literary Award.
"What I think is the greatest experiment in the book is: Here's a book about a happy family, a middle class engineer who has no worries and who loves his wife and his kids and who has no material want. Now, make a novel out of that."
McCormack laughs a small laugh. It feels like he's laughing at himself for having the audacity to attempt such a feat in the first place, but it's a laugh of relief too. For Solar Bones is the little book that could, a book that was rejected again and again and again until two women behind a small Irish independent publishing house – Tramp Press – were so moved by it they told McCormack (by this stage no doubt presuming the book was a dud) they wanted to publish it themselves.
That was some decision. The latest award joins the Goldsmiths Prize and the Bord Gáis Energy Irish Book Awards' Novel of the Year and Book of the Year awards on his award-stuffed mantelpiece, alongside his long-listing for the Man Booker Prize.
For those who have read and fallen for the marrow of Solar Bones, the fact Tramp Press (Lisa Coen and Sarah Davis-Goff) fell for it is a no-brainer. The book is so full of emotion, of life, of love, that it's almost an overwhelming read. You even find yourself moved by descriptions of what mundane everyday work as a civil engineer is like. It's the sheer ordinariness of the protagonist Marcus Conway's life, and how he clutches every part of it so close to him, that punches you hardest in the gut.
Marcus is an everyman. But he's no trope. He is so unique and so himself while also – in what feels like a contradiction – being so distinctly Irish, so distinctly from the West of Ireland that you realise you must know men like him.
"I think it's just it sounds as dull as ditchwater - there's no murder, there's no drama," says McCormack of the everyday elements to the book's plot. "I thought that was the greater experiment at the heart of the book."
Men and women
I put it to him the book is about masculinity, and a certain type of modern Irish man, one who isn't afraid of his emotions.
He agrees, saying that when the book was finished, he looked at it and thought "yeah, that's a portrait of various aspects of masculinity - the dad, the son, the father, the lover, the engineer".
"But you know... here's the thing, there was something about the book that continues to baffle me and that is that once the book was written, women became the hero of the book," he adds. His wife, artist Maeve Curtis, was the first reader, his agent Marianne Gunn O'Connor told him it was the best thing he'd ever given her, and the two women at Tramp Press gave the book new life.
Why McCormack finds this notable is because at first, men just didn't connect with the book at all. After his agent, it fell into the hands of male editors. "They baulk, they lose their nerve... two of them did bring it to acquisitions meetings at major publishers, failed to get it across the line, other men, accountants [didn't connect with it]," recalls McCormack.
And so: enter two Tramps. Enter two women, and they take up the book.
He worries it sounds patronising to say that women are the heroes of the book - "but it's just historical fact, that the people who got on side of the book immediately were four women. I can't explain that, all I can do is just point it out to you."
McCormack learned that "the publishing industry underestimates the willingness of readers to go on adventures".
McCormack is comfortable writing about the lives of men. His own father died when he was barely an adult, and so the topic of fathers is one that he has untangled with his pen. He became a dad himself the day he sent Solar Bones off to his agent.
"In an incident you wouldn't chance as a fiction writer, [my father] went out one night for a pint and a man had a heart attack beside him in a pub and died," says McCormack of his dad's untimely passing. "And he went to his funeral two nights later and came home and had a heart attack and died. He was in his mid forties."
The fathers he writes about are generally decent men, he says, "not sullen, aggressive/passive-aggressive that we're led to believe from a certain scheme of Irish fiction is the way the masculine father, the way the father figure is written".
Marcus Conway is no silent, brooding father. He's an expressive one.
"It doesn't present itself that way to me, it's probably because of a lot of wishful thinking on my own behalf - wishing for still, at the age of 50-something, wishing for a kindly dad."
Fortune favours the bold
McCormack was speechless when told he had won the Dublin Literary Award, to the point where he had to hang up on Lisa Coen of Tramp Press in order to let the news settle inside him.
"I'm surprised at how bowled over I was, I wasn't one bit blasé about it, I was completely stunned about it," he says.
It means a whole lot to me. It's two years since it was published and we're still talking about it. Usually books have a shelf life of three, four months or something - they say it's between bread and yogurt.
He considers himself fortunate, saying that it's all about "your book falling into the right hands at the right moment".
"It fell into the right people's hands, they went with it, they had great faith in it. They also had great faith in the public," he says of Tramp. He describes them as "fearless".
The book had gone through so many hands and people were moaning and griping and pissing about various aspects of it. Oh yeah. Marianne, my agent, still won't tell me how many people turned it down.
It's been a long and unevenly paved road to reach this point for McCormack, and there's still tarmac ahead of him. The beginning of his writing career was smooth: great reviews of his short stories. Then his long-awaited first novel came out, and the cobbles started tripping him up.
"Still to this day it's got the worst review of any book I've read," says McCormack of his debut novel Forensic Songs. "You take these things on the chin."
There were "years literally where I couldn't give a book away", he says. Years where the thought of winning €100k must have seemed like a fever dream. But he says that he wouldn't have it any other way.
"It's ok, we got through, it's fine."
He learned a few things, though, about how to survive when your career is at a point you really don't want it to be at.
"Nothing quite prepares you for that desert campaign that you need in which to soldier on and keep going and everything like that.
"When it's going well you think it will go forever but I'm now old enough to know that and I'm now [experienced] enough to know that these highs won't last forever, so you have to run with them and enjoy them when they're here."
'Our experimental instincts have been woken again'
Ask McCormack about the current condition of Irish fiction and he sits up straight in order to tell you exactly what he thinks. Chiefly, he is full of admiration for the generation just behind him.
"Our experimental instincts have been woken again," he says. "The generation behind me are writing things which are formally and thematically more interesting." He highlights the work of people like Lisa McInerney, Claire Louise Bennett, Rob Doyle, and Donal Ryan.
Why this new resurgence in experimentalism? "One of the reasons for that is they've grown up without the Celtic Tiger and there's something about that. And they look back and see that shambles and they say 'fuck it, the old ways didn't serve us very good'," says McCormack.
He believes, too, that being nurtured by Irish editors has served them well, as Irish writers don't have to feel like they're in translation.
"It shocked me to sit with Lisa Coen on Solar Bones and not have to translate myself and not have to explain myself as I would have to do: context, nuance, idiom, all that sort of thing," says McCormack. "It was a real shock to me to see just how readily we do translate ourselves."
He says that Tramp Press are a generation younger than him, so he benefited from their access to writers like McInerney, Louise O'Neill, and Rob Doyle, who championed Solar Bones online. "I'm so amazed by it and really grateful."
The book has sold steadily - "it's never gotten anywhere near the bestelling list or anything like that", says McCormack. He's grateful to Tramp, but he's also grateful to Marcus Conway.
"There's been a sign out in my imagination for a long, long time and it says 'engineer wanted'. An engineer shows up here, there's work for them. So Marcus came forward," says McCormack.
Now that he's won this latest prize, the author - who has long taught creative writing - is able to work on his next project. "It frees up time to write other books because that's what writers do when they get money. They go away and write another book," he says of the €100k prize.
"That's our livelihood and that's our condition and that's what we do and this prize... actually, people should take note of how imaginative this prize is, there's nothing like it in the world. That's why I'm so proud to win it."
It's unsullied by any corporate involvement. Our civil society doesn't always get it right but it's important to recognise it when it does get it right.
Right place, right time, right writer, right prize. Now to await what McCormack brings to us next.
Solar Bones is out now.