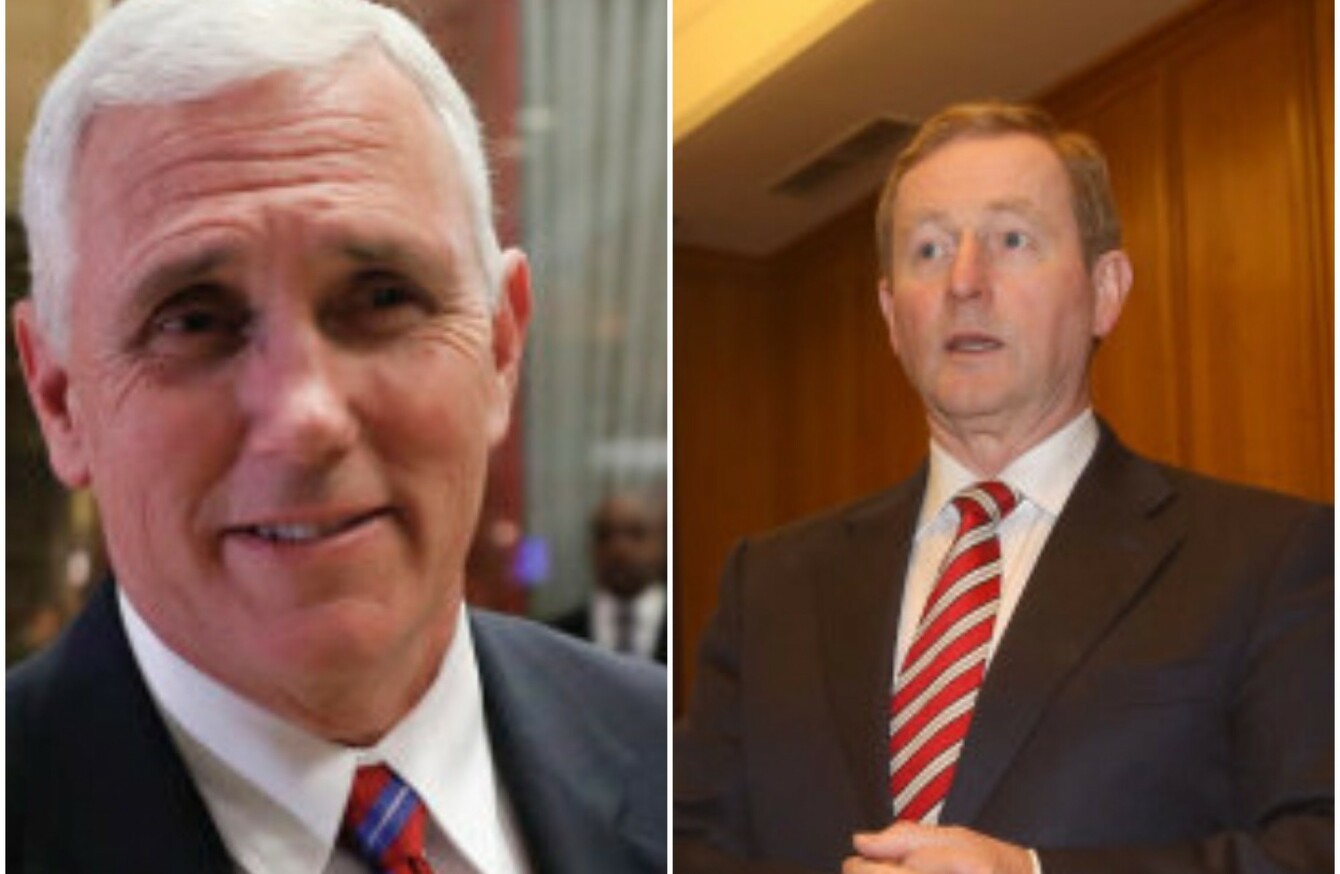 Mike Pence will be the US vice-president in nine weeks' time.
Image: PA Images
Mike Pence will be the US vice-president in nine weeks' time.
Image: PA Images
TAOISEACH ENDA KENNY and US Vice President-elect Mike Pence spoke by phone this evening with the Taoiseach describing their conversation as "really good".
The Department of An Taoiseach has said that Kenny congratulated Pence "on his recent electoral success" during their 15 minute conversation.
"The Taoiseach also expressed that it was his intention to engage positively with the new administration on a number of issues to the mutual benefit of Ireland and the US," the statement said.
Kenny also told Pence that he hopes the Vice President-elect will visit Ireland again in the future.
Pence has a strong Irish heritage with his grandfather hailing from Sligo and his grandmother's parents coming from Doonbeg, Co Clare.
Pence is also the Governor of Indiana and is known as an arch-conservative. Among his most controversial views are his actions in opposing homosexuality and LGBT rights.
Pence has previously advocated that State funds be directed for so-called "conversion therapy" for gay people.
According to Politifact.com, during his first successful run for Congress in 2000 Pence advocated that:
Resources should be directed toward those institutions which provide assistance to those seeking to change their sexual behaviour.
The Indiana-based Indy Star also reported that Pence argued that he wouldn't support federal funding for HIV and AIDS unless money was cut to programs "that celebrate and encourage the types of behaviours that facilitate the spreading of the HIV virus."
Pence has also sought to block extending further rights to LGBT people, including marriage.
In a tweet following tonight's discussion between the pair, Kenny said that Pence "certainly knows Ireland and the issues that matter to our people."
As well as being the Vice President-elect, Pence is also leading the Presidential Transition team which is in charge of the handover of power between the Obama and Trump administrations.
The Department of An Taoiseach also said that Kenny stressed to Pence that he wished to work with Trump administration to "seek a solution to the issue of the undocumented Irish in the US."
The pair are also said to have discussed economic matters:
The Taoiseach also referred to the economic ties between the two countries, including the long-standing and productive relationship Ireland has with many US companies, as well as the fact that there are 100,000 Americans employed in Irish companies across America.