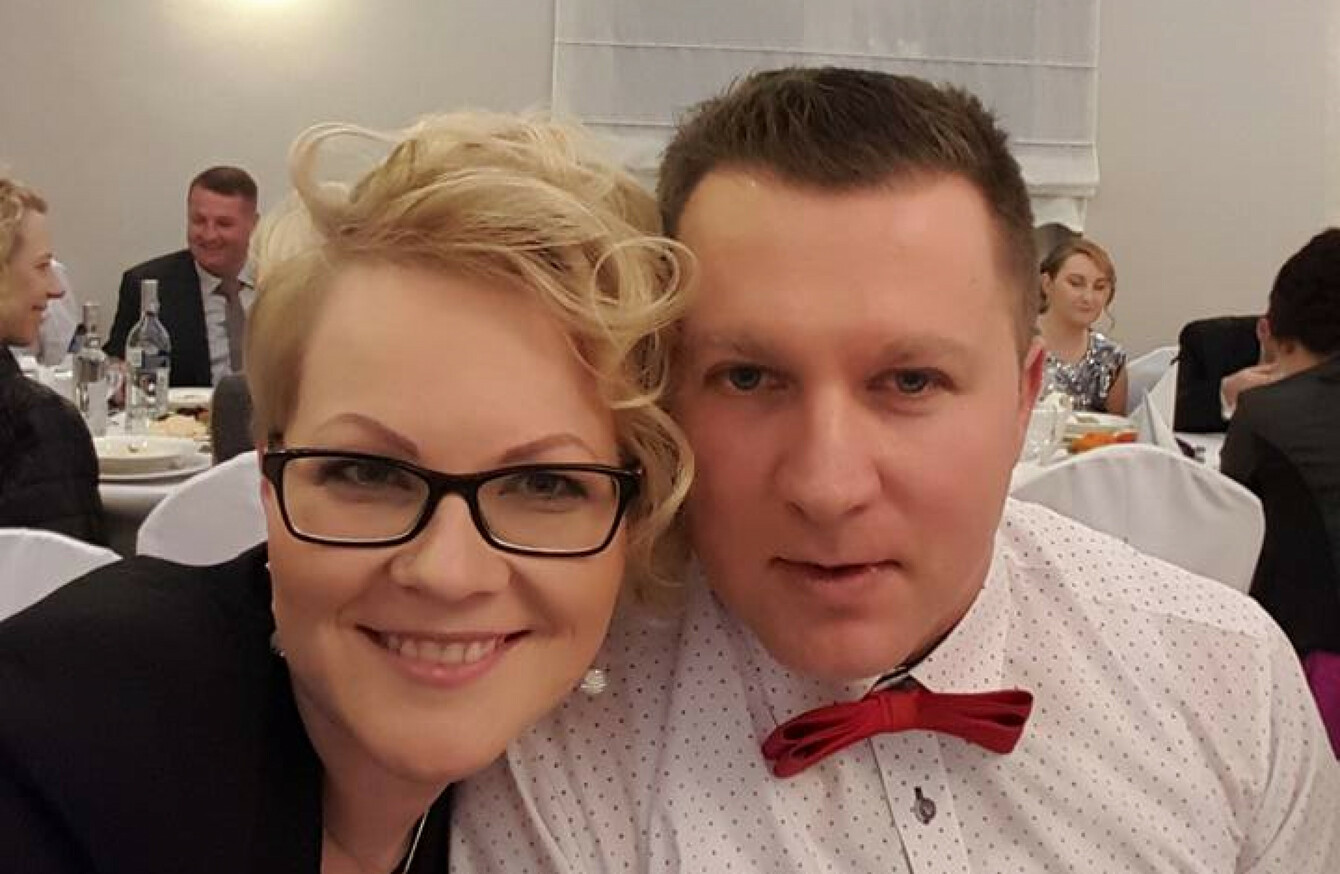 Mikolaj "Nick" Wilk with his wife Elzbieta.
Mikolaj "Nick" Wilk with his wife Elzbieta.
Updated Jun 13th 2018, 10:40 AM
GARDAÍ INVESTIGATING THE murder of a father-of-two at his home in Cork over the weekend believe he was killed by four Irish men as they continue to attempt to understand the motive for the savage attack.
The men entered the house in a rural area of Ballincollig, Cork, on Sunday morning and attacked Mikolaj "Nick" Wilk (35) for up to 10 minutes with machetes. His wife Elzbieta tried to protect her husband and ended up receiving serious injuries to her arms and hands. She is recovering at Cork University Hospital.
Sources have told TheJournal.ie that gardaí are attempting to piece together what motive could exist for why the hard-working father-of-two was killed in such a violent manner. Seasoned gardaí have said that the crime scene was one of the worst they had seen in years on the force.
Since the murder, gardaí have been checking routes out of the jurisdiction for those they consider potential suspects in the crime. They, however, found nobody to fit that profile.
As things stand, gardaí believe the killers are local and that they are still in Ireland.
Officers have ruled out burglary because nothing was stolen from the premises. They have also found nothing to suggest the deceased was connected with any form of criminality.
Sources have said this leaves very little other than there was a personal reason for his murder or he had fallen out with a dangerous person in the course of his work.
Renewed appeal
Wilk owned his own gardening business. Gardaí will now speak to anyone he conducted business within the past six months.
Gardaí have also accessed his social media profiles, as well as his phone records to check if there could have been a personal reason for the attack.
Detectives believe the nature of the murder – a sustained attack with machetes for up to 10 minutes – indicates that the reason behind the killing was personal. Gardaí also recovered a gun from a car which was burnt out close to the murder scene.
The fact the men had access to a firearm and decided not to use it is more evidence for gardaí, albeit circumstantial, that there was a personal motive for the case.
With reporting by Hayley Halpin.