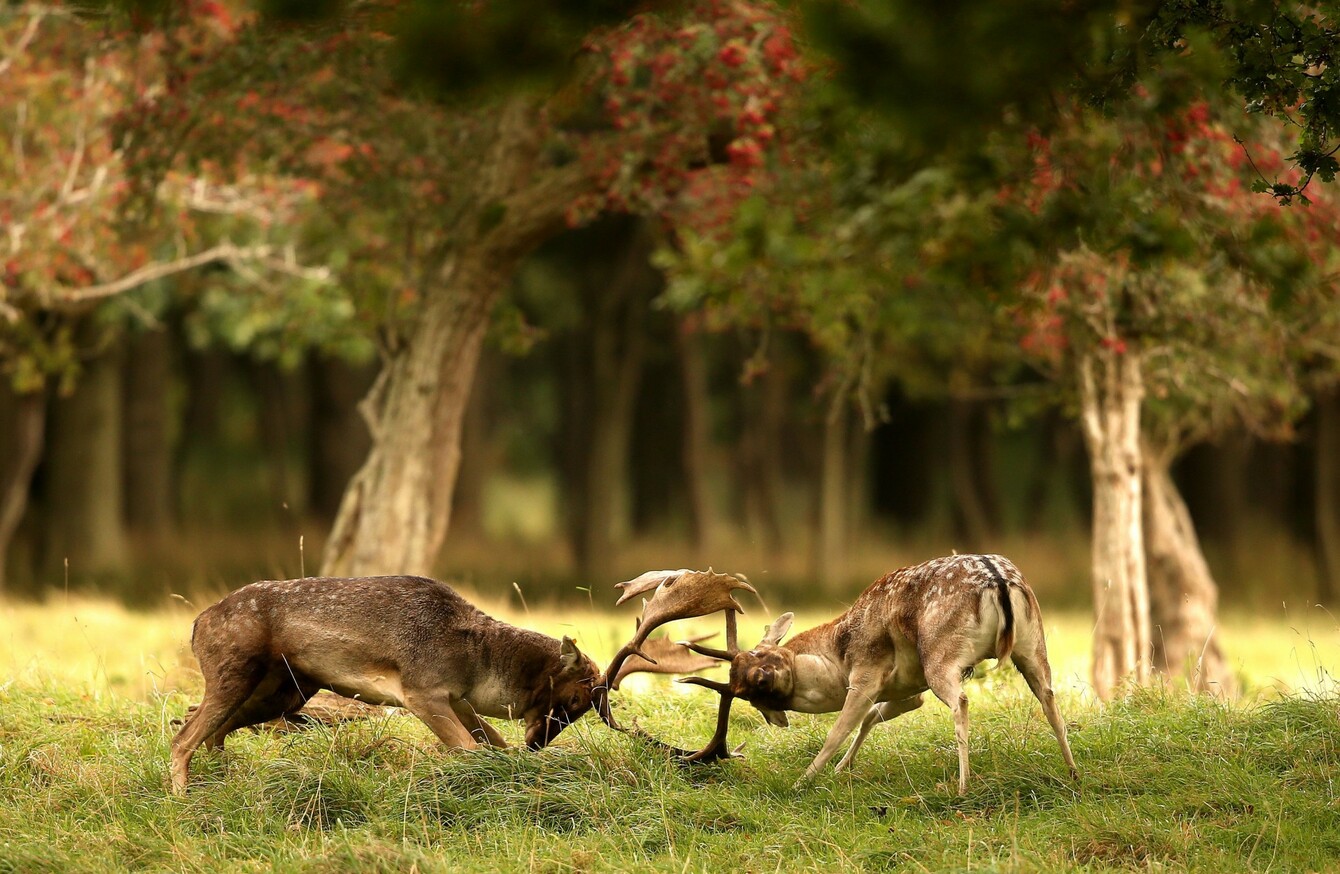 Fallow deer clash antlers during the rutting season in Phoenix Park, Dublin in October.
Image: Niall Carson/PA
Fallow deer clash antlers during the rutting season in Phoenix Park, Dublin in October.
Image: Niall Carson/PA
WARM AIR FROM the Azores has sent temperatures around the country soaring, breaking records in Dublin's Phoenix Park for December.
As of 11am today, the temperature in Phoenix Park was 15.7 degrees – pipping the record, set last year, of 15.6 degrees.
Things are unseasonably mild right across the country, with Finner, south Donegal, equalling its December record, also with a temperature of 15.7 degrees this morning.
"It's exceptionally mild today, and we're breaking a few records around the country, and I'm keeping an eye in Phoenix Park," meteorologist Liz Walsh told TheJournal.ie.
It was 15.7 at 11am this morning, so that's broken the record in Phoenix Park.
This is about as warm as it gets in December. I mean last December we had the warmest December on record. And we're having another warm spell.
The highest temperature ever recorded in December in Ireland was 17.1 degrees at Dublin Airport in 1948.
"We're still a little way off that," Walsh said. "It could happen, but I'm not holding my breath.
The reason why we have the warm air is we have air that's originated from the Azores near southern Spain, and there are southerly winds as well – quite gusty, and they're basically producing warm temperatures for December.
Freezing
It's going to stay mild until Saturday, when temperatures will dip down to close to freezing at night.
Met Éireann are forecasting temperatures of of 12-13 degrees for tomorrow and Friday.
"It could level off later today," Walsh said. "We have a cold front tracking eastwards over the country, but it's taking a little while to meander across. If more records do happen it will be on the east coast.
"When the cold front comes through it will knock the temperatures on their head. We're just waiting.
Temperatures will start to reduce again by the weekend, although not as cold as before this current mild spell. It will be more like average December temperatures, a maximum of 8-10 degrees during the day, dipping to zero at night.
The UN has said that 2016 is very likely to be the hottest year ever recorded – beating the record set just last year. Walsh speculated whether the record depletion of the Arctic icecap has thrown the Jet Stream – which usually regulates Irish weather – off course.
"There is stuff going on," she said. "We've had Arctic ice at its lowest ever. So that could throw the Jet Stream.
"The Jet Stream is not as strong as it was this time last year, so there are things happening alright."