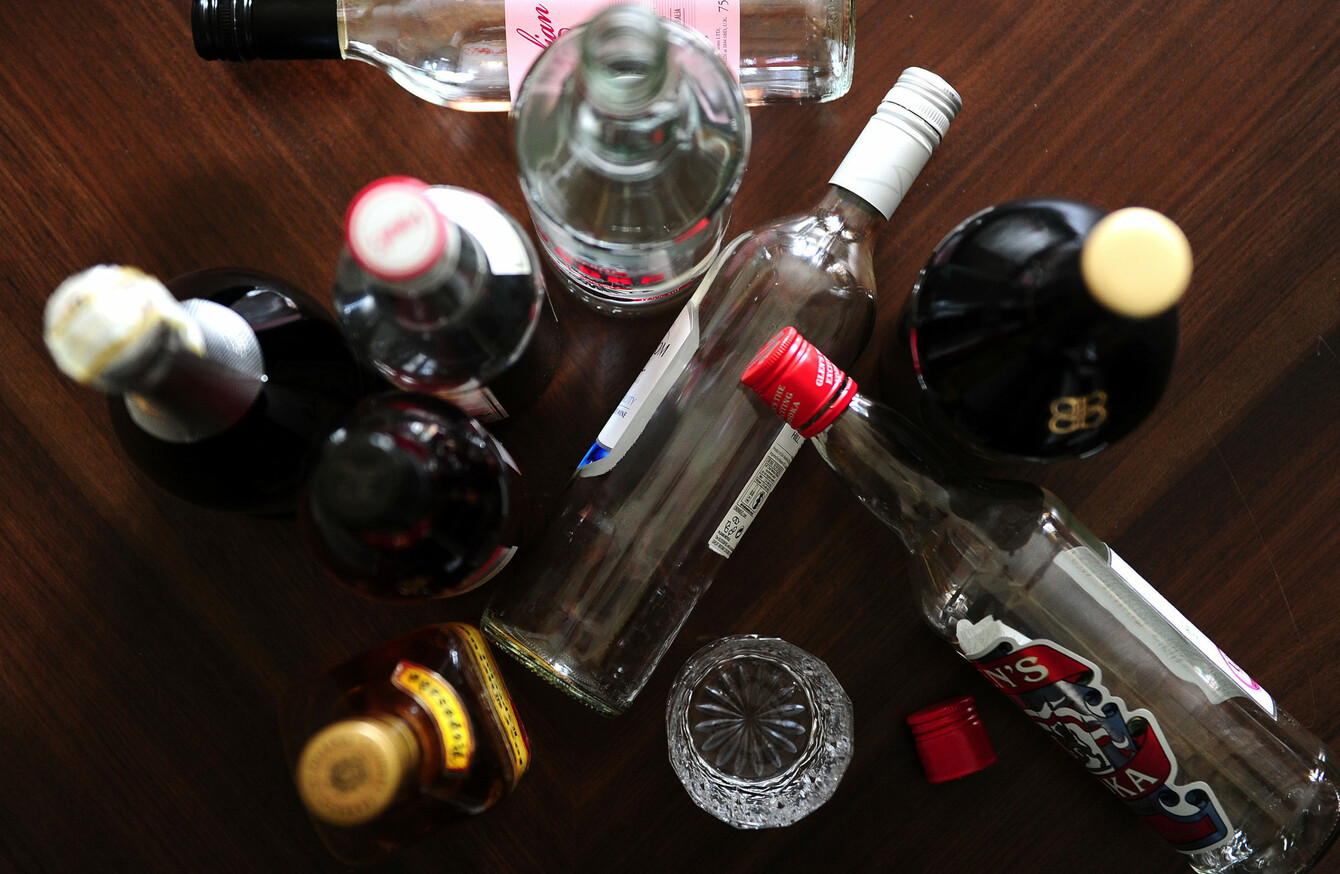 Image: Ian West
Image: Ian West
NEW ALCOHOL LAWS will mean there is a minimum price placed on some of drinkers' favourite beverages.
After a long hiatus, the Seanad debated the controversial Public Health (Alcohol) Bill 2015 for over eight hours yesterday.
There are a number of areas the proposed legislation addresses. The bill will set out minimum pricing – prices beneath which alcohol cannot be sold. It's believed the minimum unit pricing will effectively ban low-cost sales of alcoholic products.
Health Minister Simon Harris was at pains to emphasis, however, that the majority of alcohol products sold in an off-licence will not be impacted at all by the proposed application of minimum unit pricing of 10 cent per gram of alcohol.
So what are the minimum costs under the new rules?
A 500 ml can of Guinness — €1.66
750 ml bottle of Jacob's Creek classic Chardonnay — €7.52
700 ml bottle of Gordon's dry gin — €20.71
700 ml bottle of Smirnoff Ice — €20.71
700 ml bottle of Jameson whiskey — €22.09.
500 ml can of Dutch Gold –  €1.58. (As of May this year, it was retailing at €1.13)
"We need to debunk the accusation that we are trying to increase the price of a pint and that the Minister will put up the price of the gin and tonic of the man or woman on the street. Let us debunk that myth as well because we have a lot of myths but not many facts in some of the arguments put forward by industry," said Harris.
In pubs the proposed minimum unit pricing of 10 cent per gram of alcohol will mean the following:
Heineken will have a minimum unit price of €2.25
A pint of Budweiser will have a minimum unit price of €1.80
A pint of Bulmer's will have a minimum unit price of €2.02.
A measure of Jameson whiskey will have a minimum unit price of €1.12
A measure of Huzzar vodka will have a minimum unit price of €1.05
"This is about targeting the cheapest drinks which have high alcohol content and, in the session we just had, we all noted it is about ensuring that we are having a particular impact on our younger citizens and the next generation of citizens and decision makers in this country," explained the minister.
However, the introduction of minimum pricing will be delayed until the Northern Ireland Executive and Assembly are back in operation
Harris said he would implement it "at an appropriate time" as there were concerns that  jobs could be lost in border areas due to people crossing the border to buy cheaper drink.
Northern Ireland is set to introduce similar measures.
The introduction of labelling on alcohol products is also included, which will result in clear warnings about the danger alcohol poses to our health.
Yesterday, the minister accepted an amendment by Labour's Ged Nash that all alcohol products will have labels warning of their links to cancer.
"There is absolutely a causal link between alcohol and cancer, there is also a causal link between alcohol and many other diseases," said the minister, adding that between 2001 and 2010, one in ten breast cancer cases were attributable to alcohol.
"It is a very real risk, and it is estimated that alcohol related cancers will more than double for females and increase by 81% for males up to 2020," he said.
The bill will also make it illegal to market or advertise alcohol in a manner that is appealing to children or that makes it look glamorous.
This will include restrictions on broadcast marketing and advertising, cinema advertising, outdoor advertising, print media and the regulation of sponsorship by alcohol companies.