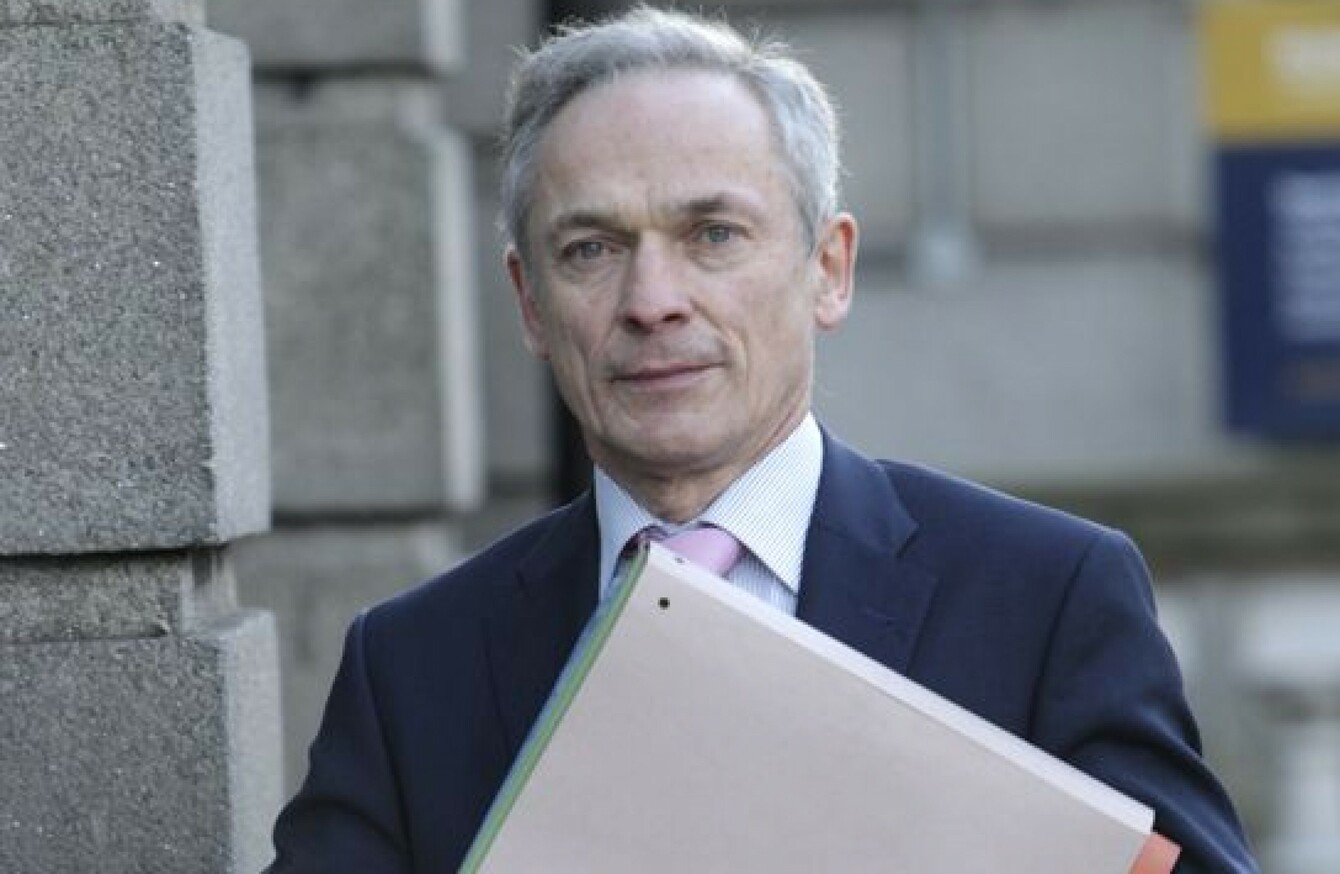 Updated 7.41pm 
RELEVANT RELIGIOUS BODIES have given a cautious welcome to Education Minister Richard Bruton's plans to legislate on the controversial school admissions system.
The Catholic Schools Partnership has said that it will "actively and positively" contribute to a new consultation process but claims that the "vast majority of Catholic schools accept all applicants".
As it stands schools are legally permitted to select students based on their religion. With 96% of Irish schools being run by a religious patron, this means that non-religious children can be denied access to their local school under the so-called 'baptism barrier'.
This morning the Minister set out four possible approaches for discussion:
A 'catchment area' approach which would prohibit religious schools from giving preference to children of their own religion who live outside the catchment area ahead of non-religious children who live inside the catchment area.
The 'nearest school rule' which would allow religious schools to give preference to a religious child only where it's that child's nearest school of that religion.
A quota system which would allow a religious school to set aside a certain number of places for children of its own religion and the remaining places would be allocated on proximity to the school or a lottery.
Or an outright prohibition on religious schools using religion as a factor in admissions.
The Minister for Education said, "It's time for a solution. Young people are marrying completely outside the denomination of religion where we have 96% denominational schools so there's clearly an issue but we have to deal with this on a number of streams.
One is we have to offer more choices – more schools that are either non-denominational or multi-denomination. We need to make sure that children who are a minority within that school get properly and fairly treated within the school … we also need to deal with fair rules for denominational schools admitting children that doesn't unfairly discriminate against a parent who lives in the locality.
The Education Minister says he is inviting submissions following the announcement of his plans and, pending further consultation, he is aiming to move towards 'detailed decision making' in June.
Education Equality says it is concerned that the announcement of public consultation is a worrying indication that progress will be further delayed. Education Equality Chairperson Sarah Lennon said:
Three of the four proposals laid out by Minister Bruton continue some form of religious discrimination and only option four, an outright ban on religion being used as a factor in admissions will remove the discrimination.
However the Minister said the consultation will be "short and sharp" adding, "the Oireachtas said June is the period when there will be a legislative move in this area … my view is that we have a confidence and supply agreement for three years and we will comfortably deal with this issue in that period".
Frustrated 
The Minister made the announcement at an EQUATE press conference this morning where parents and teachers turned up to hear what was being suggested.
One teacher told the conference that he believes the Minister's suggestions would be detrimental to religious schools that aren't Catholic – describing how children come for miles around to make up a Church of Ireland school in Drogheda and that these plans would destroy such schools.
Meanwhile, a mother told the Minister that she had a very difficult time finding school places for her twin girls because she is non-religious and that she had to move to a different area to get places. She added that she is still concerned that something could change before her girls start school.
EQUATE is a children and family rights organisation which works for greater equality in primary and second level schooling in Ireland.
#Open journalism No news is bad news Support The Journal

Your contributions will help us continue to deliver the stories that are important to you

Support us now
New research by the campaign group shows that almost one in four parents of children of school-going age would not have baptised their child if they didn't need it to gain entry to their local school.
Speaking about the findings EQUATE Executive Director, Michael Barron said,
 It is really not acceptable in a modern, pluralist society that parents feel they have no choice but to baptise their child in order to ensure access to a publicly funded school.
"There is an opportunity to make the reforms happen alongside the Admission to Schools Bill which is currently going through the Dáil. We believe that the Oireachtas has the power and ability to legislate for the end of the Baptism Barrier in the coming year."
Speaking on Morning Ireland on RTÉ 1 this morning Bruton said, "A parent who lives next door to a school is rightly frustrated if a child from 10 miles away gets religious preference over their child.
I don't believe it's satisfactory that parents are having to baptise their children, even if they don't believe in the ethos of the religion, in order to copperfasten their position, but equally I recognise that it's desirable that people have the ambition to bring up their child in their own faith.
Cautious welcome
The Catholic Schools Partnership welcomed the minister's consultation period, saying that "education policy must be carefully thought through".
It claimed that, for most of its schools. students are not selected based on religion:
The fact is that be baptised is not a criterion for entry into a Catholic primary school which is not oversubscribed.  Anecdotal evidence suggests that the number of Catholic primary schools that are oversubscribed is low, estimated to be between 4% and 5%.
There was a similar caution welcome from the  the Church of Ireland Board of Education (CIBE).
The group said that it was "grateful" to the minister for highlighting the issue but that the role of religious minority must be respected.
"The ability of religious minority schools to continue the key role they play in educational provision in modern Irish society is vitally important to safeguard," CIBE said in a statement.
Church of Ireland and Protestant schools at primary and second level exist to serve their students who are entitled to receive their primary and second level education within an ethos that is conducive to their own beliefs.
- With reporting by Rónán Duffy