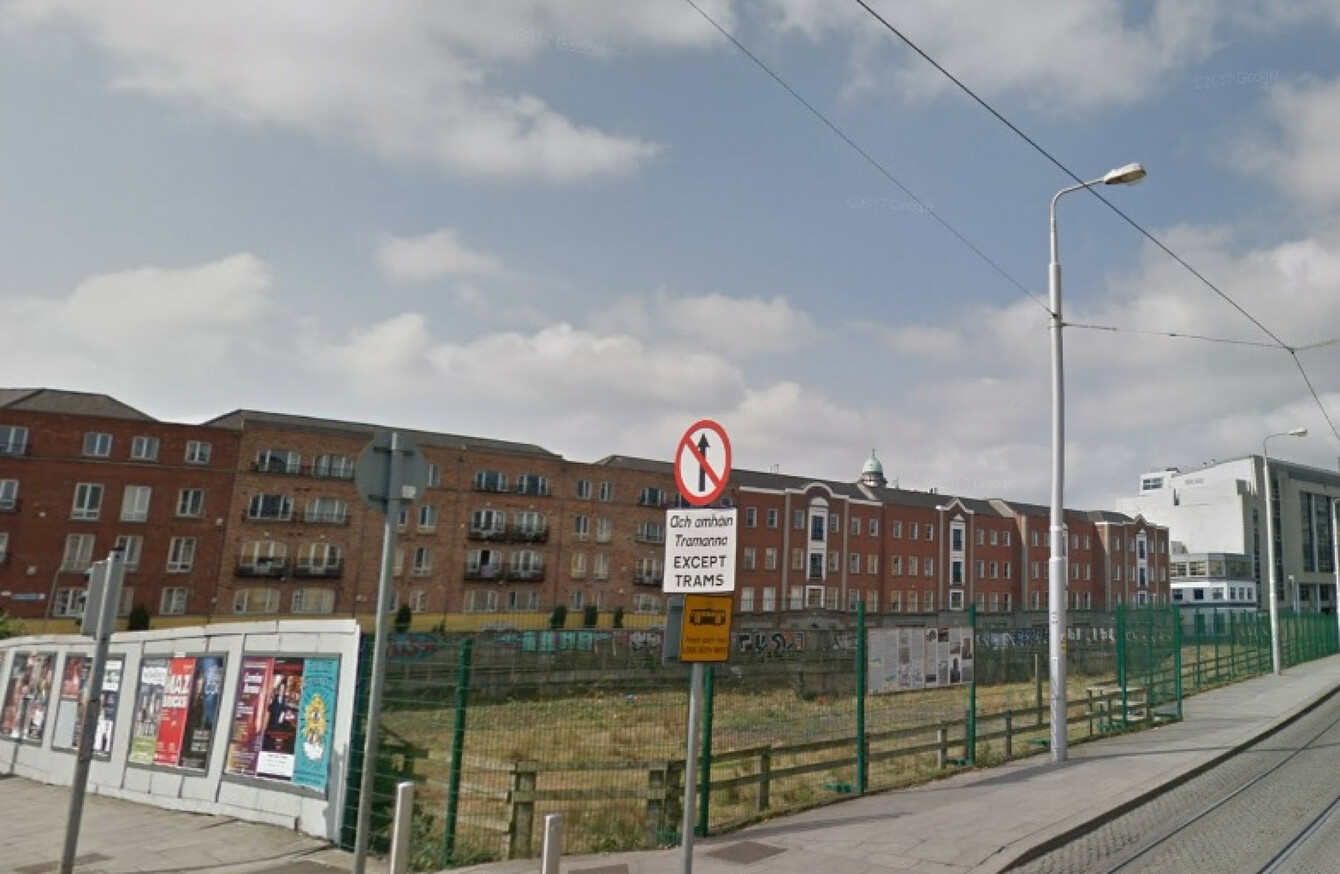 Hammond Street, Dublin
Image: Google Maps
Hammond Street, Dublin
Image: Google Maps
THE PROPOSED FAMILY and Children's Court complex on the Hammond Street site in Dublin is close to getting approval.
The family court deals with sensitive and personal matters, including (but not limited to) divorce, custody, child maintenance, domestic violence and children in state care.
The development has been hampered in delays ever since the Courts Service announced its plans to build the courts complex a number of years ago.
The 0.45 hectare site is located close to the Luas Red line near Smithfield and was expected to open in 2020.
However, in 2016, the plan was delayed due an amendment to the draft Dublin development plan seeking to rezone a portion of the site as a public park.
Concerns over court facilities 
Speaking about family court services at the launch of the Courts Service annual report this week, Justice Minister Charlie Flanagan he is "very conscious" of the concerns expressed by the judiciary, legal practitioners and victims groups about many Family Court facilities around the country.
"I know you are aware that a dedicated and integrated purpose-built Family Law and Children's Court complex, together with a new Supreme Court and Courts Offices on the Hammond Lane site was included as one of the key justice sector projects in the government's Infrastructure and Capital Investment Plan 2016 to 2021.
"I can tell you that an updated project appraisal and business case with revised costings was submitted to the department recently. It is being actively considered, and in due course, if it is approved, it will also require sanction from Department of Public Expenditure and Reform," said the minister.
Hammond Street complex
Flanagan added that he plans to push the project forward, stating that he will be discussing the issue of cost with the Finance and Public Expenditure Minister Paschal Donohoe in the next few weeks.
I am really keen in the course of my ministry that we can advance that project in a way that is really required and necessary and I intend to do so.
In addition to establishing the large court complex in Dublin, the minister acknowledged the need to invest in family court facilities around the country.
Currently, family law cases are held in special court offices in Dublin, but regionally, they are held in District Courts on certain days of the month.
Calls have now been made by the Law Society of Ireland for the government to roll out improved family courts.
In its annual report, the solicitors' regulatory body said a key area of concern was the lack of government action on creating a network of dedicated family law facilities.
"The personal and vulnerable nature of this area of law demands a 21st century approach to catering for the needs of those dealing with some of life's most challenging circumstances – divorce, custody and child safety," noted the Law Society of Ireland report.
Separating family courts 
Flanagan said it is also important that the family law system is separate and distinct to the other courts.
While family court hearings are held on specific days in local courts around the country, he wants to see special, dedicated family court judges in areas that are solely reserved for hearing family law cases.
The minister said he recognised the "personal trauma and upset visited upon people using our family court", adding that he wants to ensure family law cases are held separately from criminal and civil cases.
Currently, these cases are held in the same courts as all other court cases, with many not having adequate supports or resources for families and children attending.
He said he also wanted to ensure that family law cases "are not backed up" for days.
Family law deserves to be prioritised, said Flanagan.
The minister said the government is committed to the establishment of a family law court structure that is streamlined, more efficient, and less costly.
He added that his department is developing a proposal for a dedicated Family Court which would be supported by the provisions of the Mediation Act 2017, within the existing court structures.
Its objective would be to promote mediation as a viable, effective and efficient alternative to court proceedings, including proceedings relating to maintenance of children – that in turn would reduce legal costs, speed up the resolution of disputes and relieve the stress involved in court proceedings.