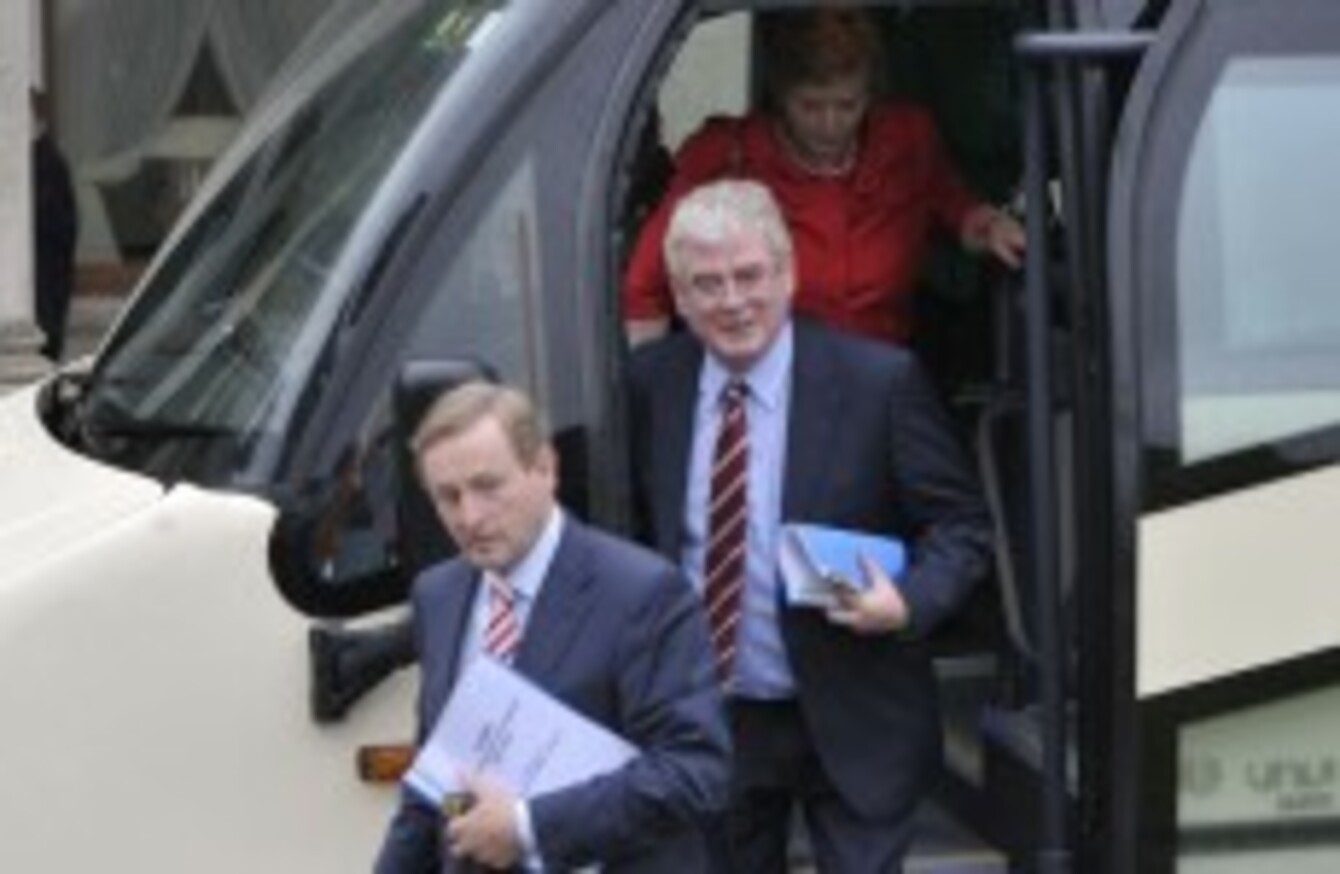 A more frugal government.
Image: Photocall Ireland!
A more frugal government.
Image: Photocall Ireland!
THE PREVIOUS ADMINISTRATION spent an average of €280,000 per Cabinet member per year on ministerial travel.
On coming into office, this coalition promised to reduce that spend. How has it done?
Deputy Seán Fleming put together a series of parliamentary questions to find out. Here are the figures:
In 2012, a total of €4,818,000 was spent on ministerial travel costs, including salaries, mileage and other associated costs.
Altogether, 27 Ministers and Ministers of State charge travel costs to the taxpayer.
The Department of Justice said it spent €2,201,000 on providing garda-driven office holder cars to the President, Taoiseach, Tánaiste, Minister for Justice, Chief Justice and Director of Public Prosecutions.
The average cost per minister for 2012 was €99,690.
The Department of Jobs spend was the highest at €318,081, broken down between Minister Richard Bruton and two junior ministers.
The lowest spend was by Joan Burton and the Social Protection Department. Using her own car, she charged €74,296.
Finance Minister Michael Noonan's travel expenses were €123,955.
The Department of Education ran up a bill of €198,600 for the Minister and Junior Minister.
The mileage for Arts and Heritage ministers was €46,004, bringing total costs to €252,829.
In the Transport portfolio, Leo Varadkar saw costs of €263,145.
Total savings of €2.16 million were achieved.
Drivers, of which there is one for each minister, receive an average weekly salary of €631.75.
For a 1400cc vehicle, the expense rate is 46.25 cent per kilometre.
From 1 May 2011, the use of State cars was confined to just three members of Cabinet. The use of State cars by former office holders was also restricted. The total cost of providing transport has been reduced by 65 per cent as a result.