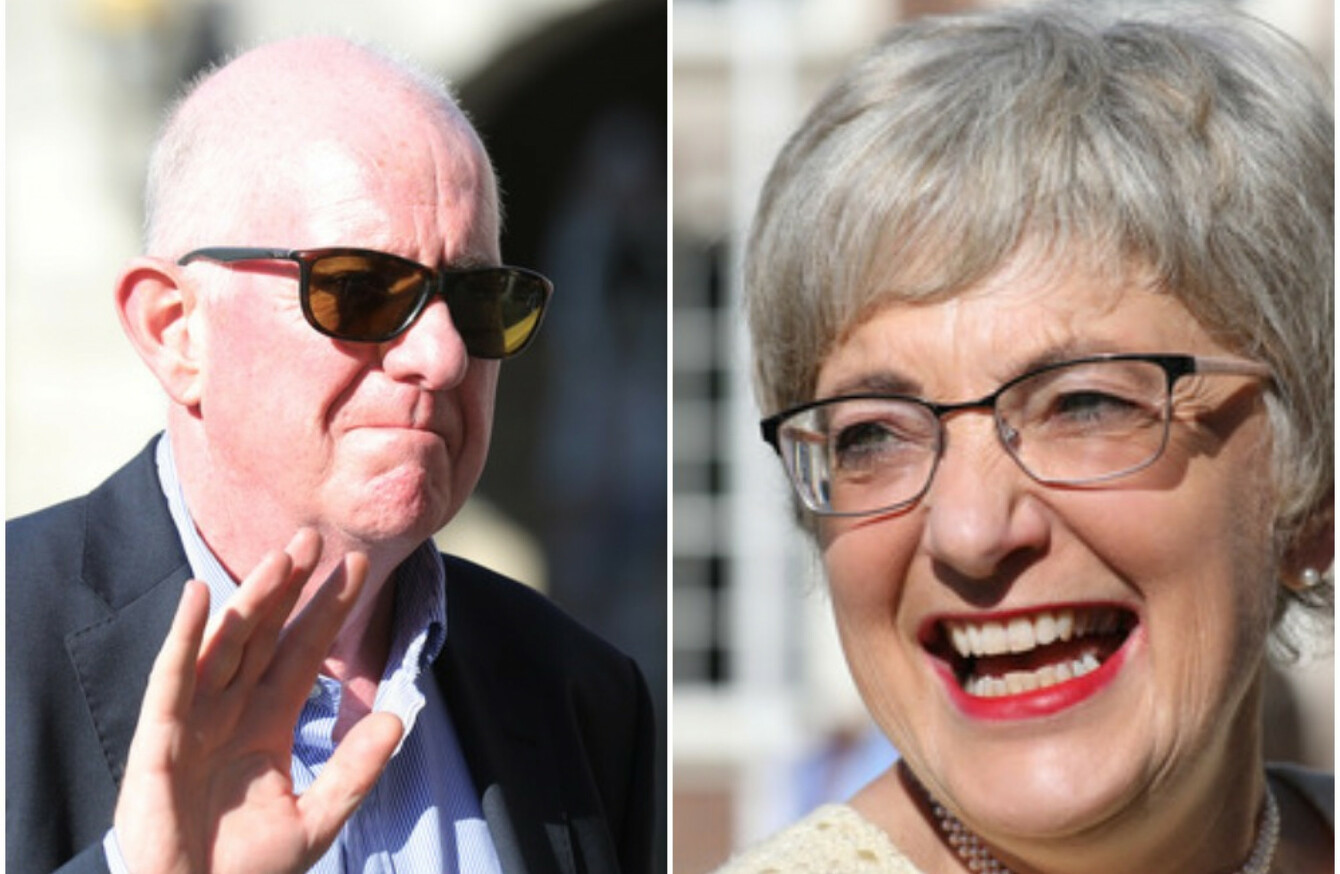 Charlie Flanagan and Katherine Zappone are going back to school.
Image: Rollingnews.ie
Charlie Flanagan and Katherine Zappone are going back to school.
Image: Rollingnews.ie
JUSTICE MINISTER CHARLIE Flanagan and Children's Minister Katherine Zappone are heading to Irish college this summer to brush up on their Gaeilge.
The two ministers are due to spend a week in the Gaeltacht in a bid to improve their Irish.
While Flanagan has been to Irish college as a child, this will be Zappone's first time.
Dáil business permitting, Flanagan and Zappone will be joining Government Chief Whip and Minister for the Irish language, Gaeltacht and the Islands Joe McHugh in Gleanncholmcille in Donegal.
When taking responsibility for the Gaeltacht office, McHugh was criticised for not being fluent in Irish.
At the time, he admitted his grasp of the teanga was "not great".
But instead of letting it hold him back, McHugh asked the public to join him on his "journey" to bring his standard of the Irish language up to scratch. The minister is now fluent.
Flanagan told TheJournal.ie that he is looking forward to his few days in Donegal.
I'm really looking forward to casting the suit aside and immersing myself in Gaeltacht life. I love the Irish language and I don't use it enough.
I did 5th and 6th class in Ring and even did a court case in Irish at one stage. I have become rusty since.
Flanagan said he is excited at the prospect of brushing up on his Irish. adding:
I am just hoping the busy justice schedule will allow me an uninterrupted few days.
Brushing up on their Irish
The news that two members of Cabinet want to learn more Irish comes as the government launches its five-year action plan for the Irish language 2018-2022.
Launching the nine action areas today, McHugh said the implementation of the plan is critical to the survival of the Irish language.
"The spirit of cooperation is central to this endeavour. By supporting each other, we, and the Irish language and the Gaeltacht, will thrive and prosper," he said, adding:
And in a symbol of that deepening interest at Cabinet level both Minister for Children and Youth Affairs Katherine Zappone and Minister for Justice and Equality Charlie Flanagan will join me at the Gaeltacht summer college run by Oideas Gael in Gleanncholmcille in the coming weeks.
There you have two ministers leading by example and taking the plunge and coming to Donegal, for the crash course in our language.
McHugh said that like him, he expects the ministers to pick up a few extra words as Gaeilge.
"I've no doubt they'll go away with more than a cupla focail and an important story to share with family, friends, colleagues and constituents. There's plenty to learn in Gleanncholmcille and no shortage of craic – and anyone who ever spent any summers in the Gaeltacht will tell you that's what it's all about," he said.
This is the kind of leadership you need to inspire revival. We hear talk about grassroots revival and here you have three members of Cabinet becoming part of that, taking the initiative themselves and trying to act as an inspiration for others.
Five-year action plan 
Within the plan itself there is a deep focus on education and early years.
New initiatives will see €3 million in support packages for the use of Irish in creches, nurseries, naonraí (playschool) in the Gaeltacht, schools and parents wishing to raise families in the Gaeltacht through Irish.
In addition, there will be two Irish language Early Years posts created within the Department of Children and Youth Affairs to further the development of Irish language provision in the early years sector in non-Gaeltacht areas.
A new grant system to cover 95% of cost of building a crèche in the Gaeltacht will also be established.
A digital strategy for the Irish language will also be set up, and RTÉ are to set up a new Irish language section on the RTÉ Player. A new RTÉ Irish language APP for kids will also be launched.
TG4 will continue to commission content from the independent sector in Gaeltacht areas,
with the expectation of establishing 300 jobs.
Publication of a new dictionary
Other aspects of the plan include a publication of a new English/Irish dictionary, and the establishment of an Irish language centre in Dublin.
Targets, which are contained in the 20-year strategy for the Irish language 2010-2030, have been incorporated into the five-year action plan.
In the next twenty years, the government wants to increase number of Irish speakers outside education circles from 83,000 to 250,000. It also wants to see a 25% increase in Irish speakers in Gaeltacht.
By 2030, the aim is to have two million people competent in Irish.