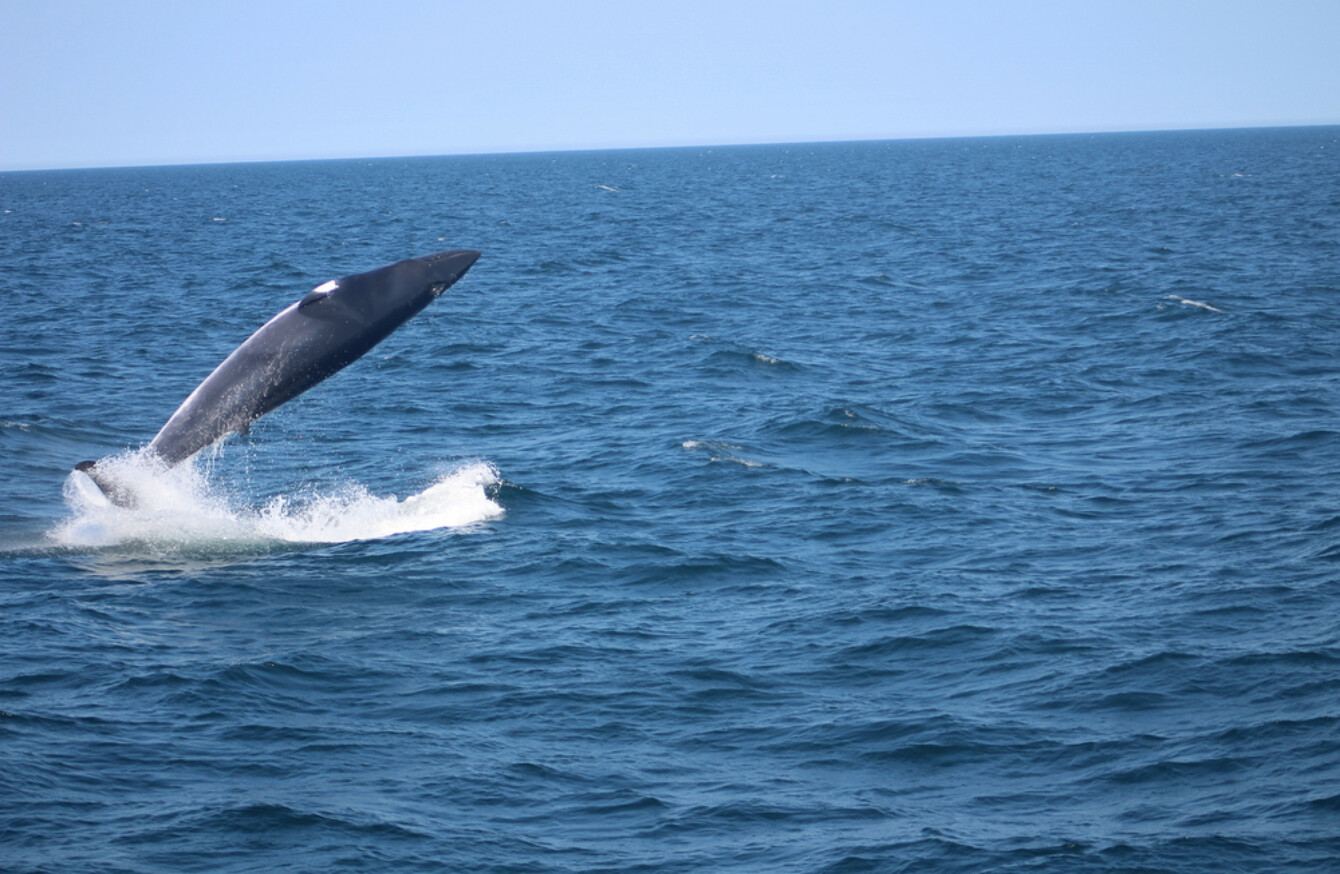 A minke whale breaching in the wild
Image: Shutterstock/JMarieL
A minke whale breaching in the wild
Image: Shutterstock/JMarieL
THE LARGEST GATHERING of minke whales has been sighted in the waters off Galley Head in West Cork, according to the Irish Whale and Dolphin Group.
Throughout April, sighting reports from skipper Colin Barnes of Cork Whale Watch routinely estimated between 20 to 40 minke whales per trip.
On Sunday 29 April, when the seas were calmer, Barnes estimated even more mammals, in excess of 50 minkes at some counts.
According to Pádraig Whooley – the IWDG's sightings officer – there hasn't just been an increase in minkes. Barnes last trip also recorded three or four humpback whales and 100s of common dolphins.
"It is remarkable how the month of April extending into May, which was once considered by us whale watchers to be low season for any species, is rapidly becoming one of the busiest times of the year."
Whooley says the reason there are so many minke whales here is that there is plenty of food for them.
"The whales have found an area where there is an abundance of prey, underpinning that they may be a far more complex reasoning behind it, that probably nobody on the planet understands.
There is an abundance of food at the moment, it seems mostly the food is sand eels.
The minke whale is Ireland's most frequently observed whale species with Irish waters serving as a good feeding ground for them.
But the breeding grounds for the minke whales in the North Atlantic remains a mystery according to Whooley.
"Whales similar to other mammals, tend to give birth in warmer climates, but no one knows where these whales are actually born."
The IWDG has recently identified the same individual whales in both Irish and Icelandic waters, often in the same year.
Later this month the group will spend a month exploring Icelandic waters, aiming to locate humpback whales and other whale species to obtain more photo identification.
"We know that Ireland and Iceland share a whale population, and this expedition aims to build on these findings. We will sail to Iceland at the end of May on the IWDG research vessel Celtic Mist."
There are a number of whale watching events around the country, as part of biodiversity week, which are free to everyone. Find out more here.