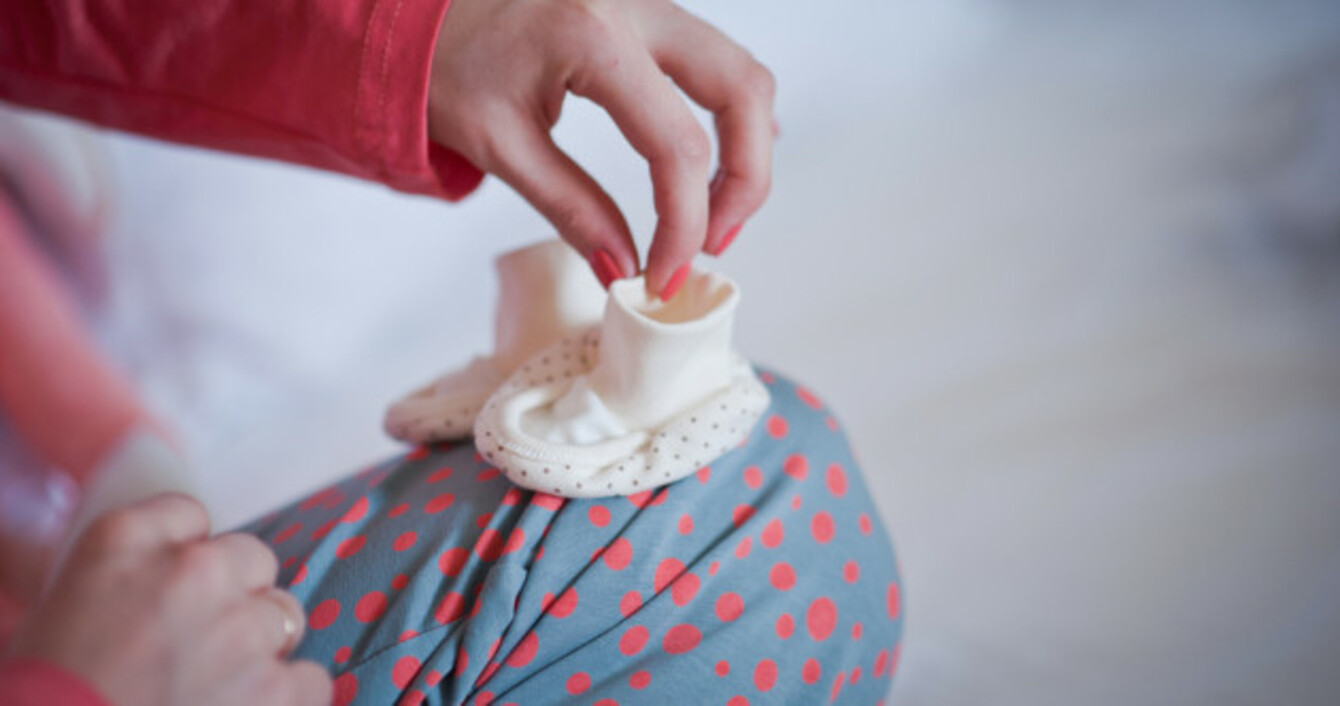 Image: Shutterstock/SoNelly
Image: Shutterstock/SoNelly
I was was 11 weeks into my pregnancy when I saw the spotting. It was August 2015.
During the scan that followed shortly after, the nurse told me she could see "something resembling a six-week-old foetus". Did I have the dates wrong? At that point, it was hard to tell.
"There is usually no detectable heartbeat at six weeks, so you'll have to wait another week. Just to be sure," she told me. "If there's no heartbeat at seven weeks, then we can discuss a D&C."
A D&C, I would learn, is a common term in the world of miscarriages, standing for dilation and curettage, "a surgical procedure which can be used to clear the uterine lining after a miscarriage."
So that was that. We find a heartbeat, or we don't. 
In the end, there was no need to wait. I started haemorrhaging at home two days later.
After that came a week of medical procedures, all attempts to remove the "retained products of conception" from my womb: a non-surgical evacuation, abortion pills at home, and eventually, the D&C.
Overwhelming emotions
Prolonged physical ordeal aside, it was the free fall of emotions that really floored me during those days.
With no control whatsoever over what was happening physically, I struggled mentally with what was unfolding. We'd been trying for this baby. What was going to help us deal with the feeling of loss? Did we have even have a right to these feelings considering it was merely "something resembling a 6-week foetus"?
The pamphlet placed on my hospital breakfast tray, along with the mumbled "sorry for your loss" unfortunately, wasn't sufficient. At that point, the urge for oblivion down the bottom of a bottle of wine was strong. But it wasn't really an option, especially considering I already had another little person to look after back at home.
It's okay to feel like this
Looking back now, I would have relished some practical advice and reassurance. 
For example, I'd love to have been told that some things are simply beyond control. That it was important to focus on helping myself. That there is no definitive answer. That beating myself up over the 'ifs' and 'buts' was a bad idea. But that it was also okay to feel despair and helplessness. 
Psychologist Niamh Fitzpatrick says it's crucial to let yourself accept and recognise the grief that follows a pregnancy loss.
"Appreciate that whatever you feel is normal. Just because you may not hold your baby, or bring them home from hospital, it doesn't change the fact that your baby died."
Thinking back on what I'd like to have known back in August 2015, I asked Fitzpatrick to share her vital steps for dealing with the aftermath of a miscarriage.
1. Acknowledge the pain
"You need to grieve," she tells me. "Don't get stuck in it, but don't deny it either. Name your feelings, tell yourself that this is grief, and it hurts, but you're feeling it because you loved your baby. Even if your pregnancy ended in the very early stages and you never met your baby face to face, you met them in those first signs of pregnancy."
2. Share the loss with your partner, if you have one
"One person will carry the baby, but their partner also carries the hopes for that baby and for a new family," says Fitzpatrick.
You're both grieving. If you are the person who has lost a pregnancy, turn towards your partner rather than away from them; you share the loss. If you are the partner of someone who has lost a pregnancy, know that you matter too and that it's OK for you to grieve, indeed it's vital.
In time, if it feels right, think about how you might like to remember your baby. It may be a location that you visit where you think of them or a piece of jewellery to celebrate them, whatever feels right.
3. Take it a day at a time
"Grief is huge and often overwhelming. It changes us forever," explains Fitzpatrick. "Not necessarily in a bad way, but we are most definitely different people after we experience loss. So, be kind to yourself and simply aim to put one foot in front of the other. Know that each day you are learning to carry your loss and trust that, at some point, you will feel lighter alongside it."
4. Don't push yourself to return to normal life
"If, for a while, you need to stay away from christenings or kids birthday parties, then do so," suggests Fitzpatrick. "Give an excuse, or tell the truth, whatever feels right for you."
You don't owe anyone anything; you need to mind yourselves right now. Know too that conflicting emotions are normal. For example you may, on the one hand, be happy for friend who has just given birth, but you may also feel angry that it wasn't you. Remember, this will pass.
5. Let others support you
"When a baby dies during pregnancy, people often don't know what to say," Fitzpatrick reminds me. "It's best to allow for their discomfort and clumsiness in this regard. Guide those close to you as to what may need by way of help. Do you need space, connection, or distraction? Take the lead here, and the chance to be supported through this time of loss." 
Whether it's 8 weeks, 13 weeks, 24 weeks, no one experience is comparable. One thing does ring true throughout, however, we are entitled to grieve.
Talking is paramount. Sharing is important. That way, we can learn to support each other rather than soldiering on regardless.
If you need advice or support or have been affected by any of the themes in this article, you can contact the Miscarriage Association of Ireland on 01 873 5702, visit miscarriage.ie, or contact a health professional.

Fancy a luxury family getaway to Cork's five-star Castlemartyr Resort? Enter right here – and don't forget to subscribe to our Family Newsletter below!