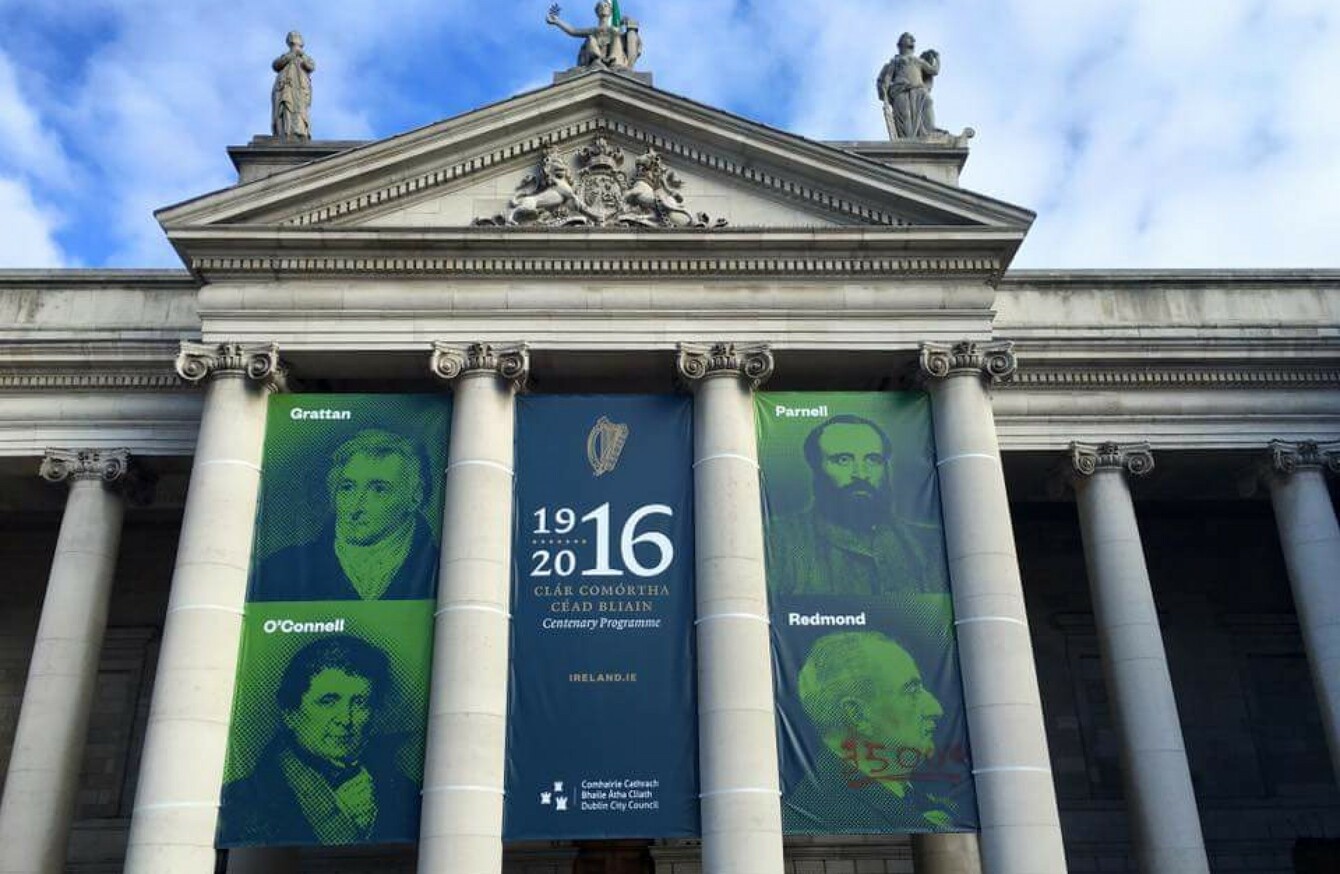 Image: Misneach
Image: Misneach
AN IRISH LANGUAGE group has defaced a Dublin City Council banner featuring moderate nationalist John Redmond on the Bank of Ireland building at College Green.
The banner was erected earlier this month as part of the city's 1916 commemoration programme.
Redmond, who condemned the Easter Rising, is one of four constitutional politicians pictured on the banner.
The other three figures – Henry Grattan, Daniel O'Connell, Charles Stewart Parnell – died decades before 1916.
Activist group Misneach said it drew over Redmond's face last night in a protest against "revisionist propaganda".
The group said it painted the figure 35,000 on the banner to represent the number of Irish people estimated to have died during World War I.
Redmond had called on his fellow countrymen to join British forces during the conflict in the hope of strengthening Ireland's case for Home Rule.
A spokesperson for Misneach told TheJournal.ie that they believed this reasoning was to blame for the needless slaughter of Irish soldiers.
Misneach said it was opposed to Dublin City Council "trying to promote a narrative of the Rising that includes constitutional nationalists".
One of its members previously tried to cover Redmond's picture with a copy of the 1916 Proclamation but was stopped by security officials at the bank.
The group, which says it has no political affiliation, is understood to have defaced the poster after the building closed to customers yesterday.
Dublin City Council defended the banner last week following widespread criticism. In a statement, it said the figures displayed at College Green were "as much a part of the historical narrative of Irish nationalism as anyone else".
Gardaí confirmed they were investigating the matter. The council did not immediately respond to a request for comment.