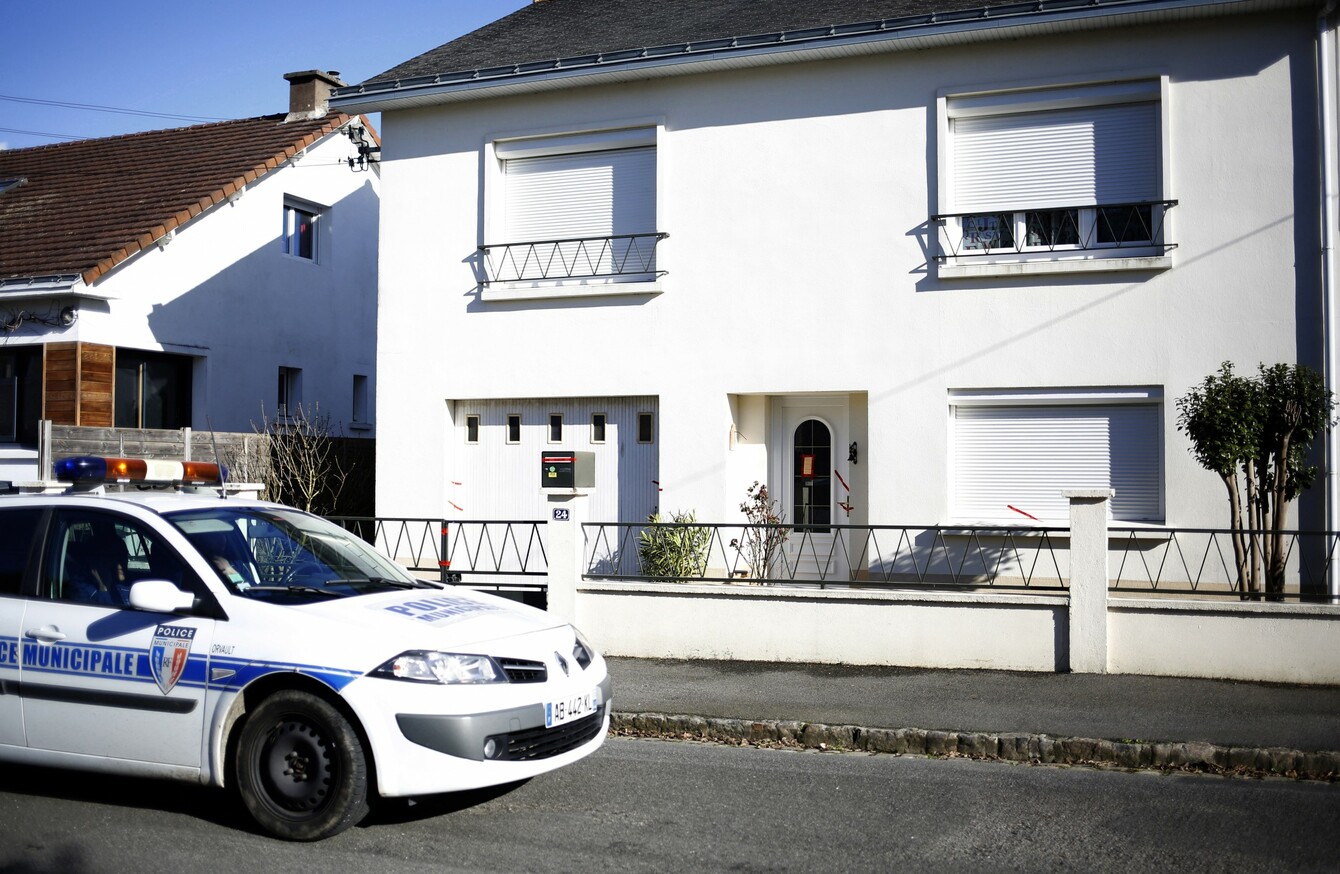 This file photo shows a police car parked outside the house belonging to the missing Troadec family in Orvault, near Nantes, western France.
Image: Laetitia Notarianni
This file photo shows a police car parked outside the house belonging to the missing Troadec family in Orvault, near Nantes, western France.
Image: Laetitia Notarianni
THE BROTHER-IN-LAW of a Frenchman who went missing with his wife and two children more than a fortnight ago has admitted killing all four family members, the Nantes prosecutor said today in a case thought to centre on a dispute over an inheritance.
Pascal Troadec and his wife, Brigitte, both 49, and their son Sebastien, 21, and daughter Charlotte, 18, had been missing since February 16 in a mystery that gripped the nation.
Suspicions had initially centred on Sebastien, who had suffered psychological problems and had been ordered to carry out community service in 2013, when he was a minor, for making death threats on his blog.
But the focus shifted after traces of his uncle's DNA were found at the Troadecs' home in Orvault, a suburb of the western city of Nantes, and then in Sebastien's car.
The suspect, whose name has not been released, had already been quizzed for nearly 21 hours at the start of the probe, when he told investigators he had fallen out with the family over an inheritance dispute.
One investigation source said Monday that he admitted that the argument over divvying up the large inheritance was the motive for the murders.
He and his wife, Pascal's sister, were taken into custody in the northwestern port of Brest yesterday.
The suspect will be charged and jailed later today, Nantes prosecutor Pierre Sennes told AFP, adding that he would hold a news conference at 5pm (4pm GMT).
The role of the suspect's wife remains unclear, with a source close to the inquiry saying she maintained her silence yesterday.
The murders were carried out in especially "sordid" conditions, a source close to the probe said.
Initial searches at the Troadecs' home in Orvault found traces of blood from Sebastien and the parents, but not from Charlotte, as well as signs of efforts to clean them up.
Investigators also found Sebastien's cellphone and his mother's watch covered with blood.
A judicial probe into murder, abduction and illegal confinement was opened on 27 February, 11 days after Brigitte's sister raised the alarm.
Few clues had emerged since the family's mysterious disappearance.
The first breakthrough came on 1 March when a jogger found a pair of grey jeans in a forested area by the Brittany town of Dirinon, near Brest, that contained Charlotte's national health card.
Search teams with sniffer dogs have been combing the area, which is 280 kilometres northwest of Nantes.
Divers have also taken part in the search because the zone lies between two estuaries.
The next day, two children's books belonging to Pascal were found some 500 metres away in the area near where the suspect and his wife once lived.
'Morbid treasure hunt' 
Also on 2 March, investigators found Sebastien's car in the port of Saint Nazaire, some 60 kilometres from the parents' home to the west.
Sennes said last Friday that the perpetrator might have sought to plant clues in a "morbid treasure hunt".
Before the arrests, police said in a bulletin dated February 24 that Sebastien was suspected of "putting in place a macabre plan aimed at snuffing out the members of his family and maybe himself".
Neighbours and sources in the investigation said that Sebastien, a computer sciences student, had suffered psychological problems and that his father, who works for a company that makes shop signs, had a history of depression.
But classmates of Sebastien's interviewed in the French media described a quiet, friendly youth, with one saying he was "always ready to help out".