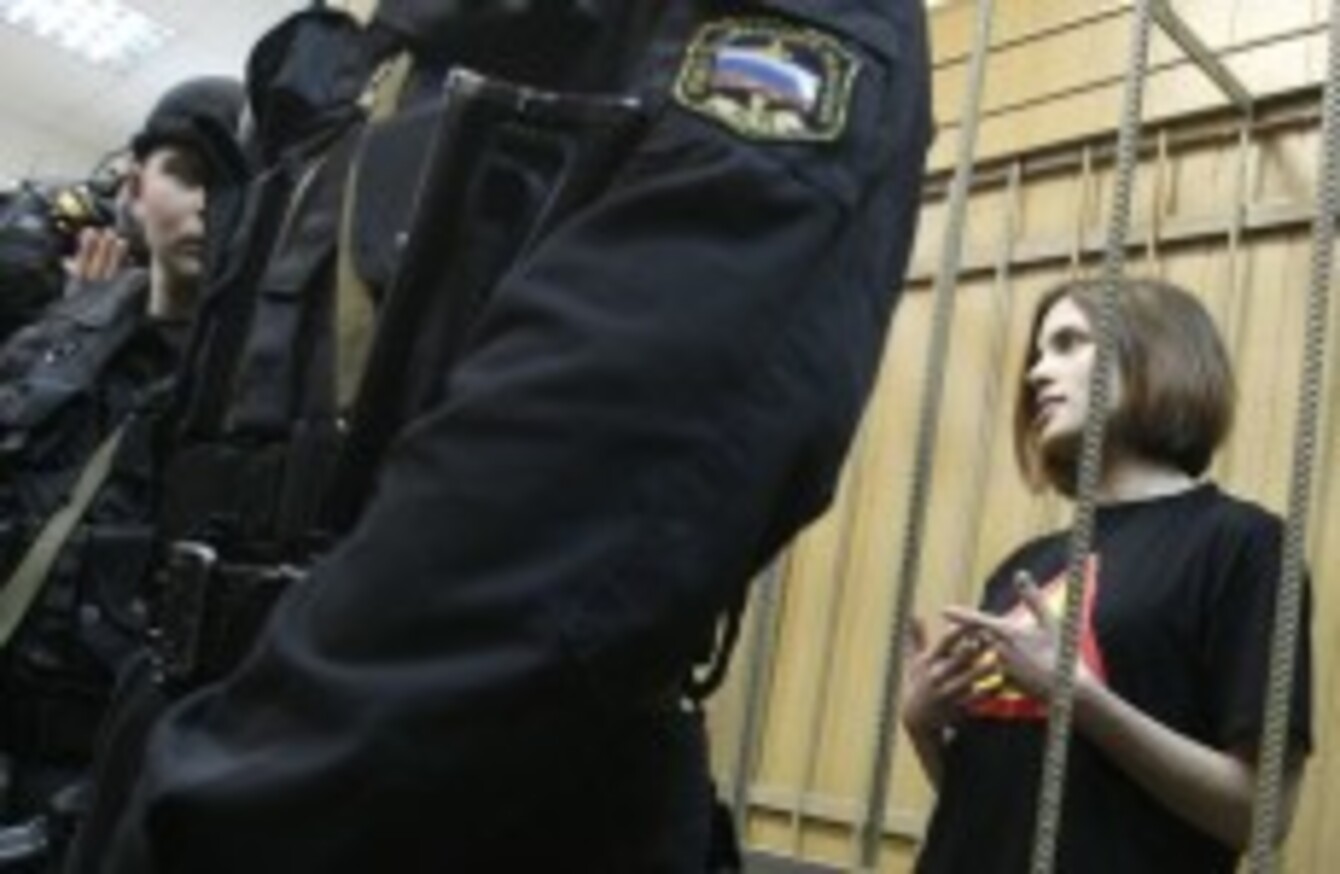 Nadezhda Tolokonnikova in the defendants cage during a court hearing in 2012.
Image: AP Photo/Ivan Sekretare
Nadezhda Tolokonnikova in the defendants cage during a court hearing in 2012.
Image: AP Photo/Ivan Sekretare
FEARS OVER THE whereabouts of jailed Pussy Riot member Nadezhda Tolokonnikova have abated after she was found to be on her way to a new penal colony in Siberia.
Her husband Pyotr Verzilov wrote on Twitter that a reliable source informed him that she was in the middle of being transferred to the new prison.
The penal colony number 50  lies about 300 kilometres from nearest regional city, is four time zones away from Moscow, and sits on Russia's Trans-Siberian railway.
"Essentially, she is transferred 4,500 kilometres from central Russia to the heart of Siberia as punishment for the resonance of her letter [that alleged abuses]", Verzilov added.
Tolokonnikova alleged major prison abuses in her previous colony in central Russia.
"Punk prayer"
With just months left of her two-year term for performing a "punk prayer" in Russia's main Orthodox cathedral protesting ties between the Russian Orthodox Church and the Kremlin, Tolokonnikova had demanded to be transferred from her prior colony in Mordovia region.
She went on a hunger strike in protest of conditions she described as "slave labour" and constant harassment by colony administration. The strike ended when she started having health problems and was placed on a drip in the prison hospital.
Verzilov then said he had lost sight of his wife after October 22nd, and complained that his queries to Russia's prison service as to her whereabouts only received a response that she was being transferred.
Russia's rights ombudsman Vladimir Lukin said Tuesday that he had been assured that Tolokonnikova was in good health and had a doctor accompanying her on her long transfer.
'Interests of security'
"She is eating and they say her health is acceptable," he told Interfax. Her transfer has her completely isolated "in the interests of security," he added.
Russian prison service takes days if not weeks to transfer prisoners, usually on trains, and says it is standard practice not to inform the convicts' families of the process.