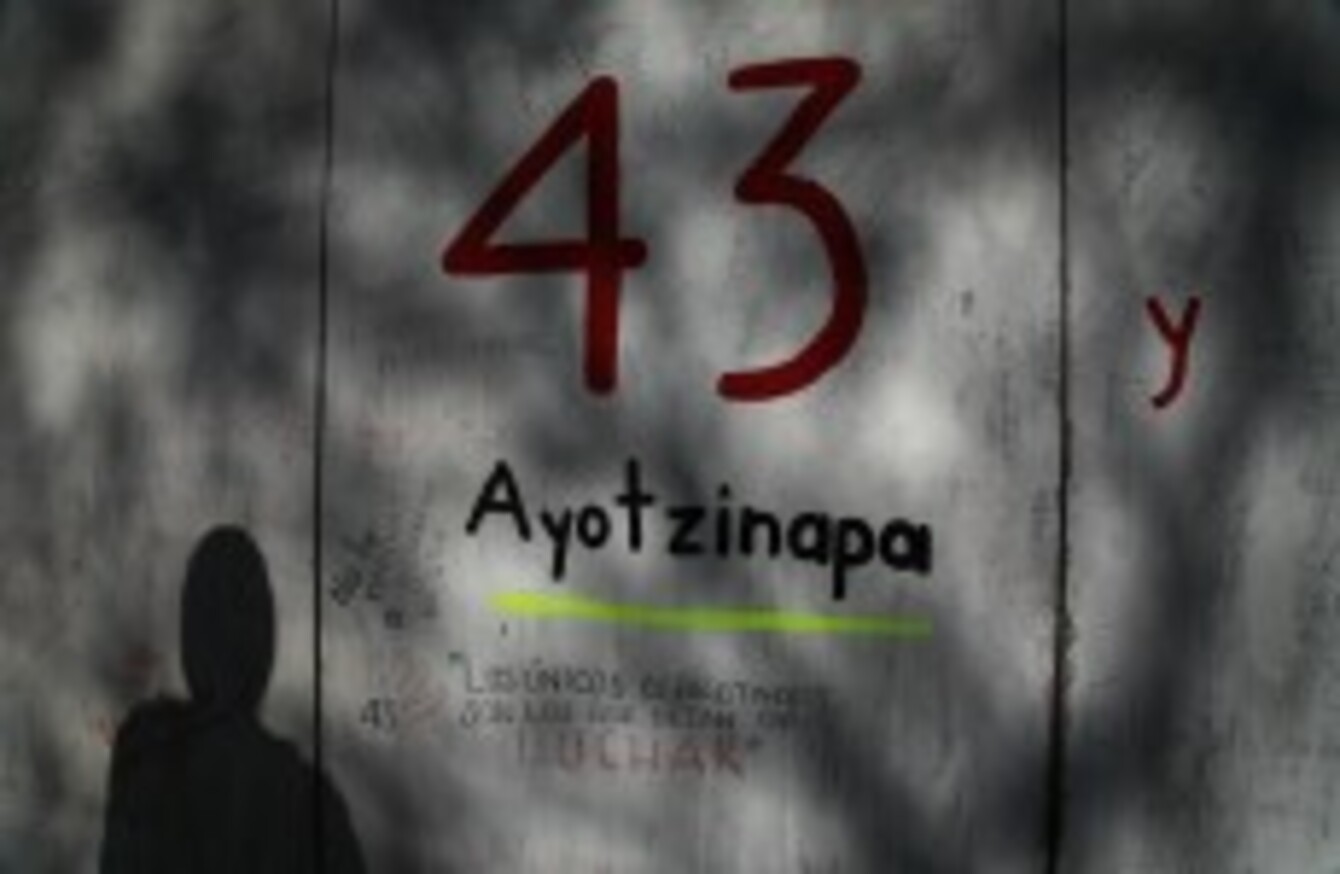 Image: PA Wire/Press Association Images
Image: PA Wire/Press Association Images
SOME DESPERATE PARENTS of 43 missing Mexican students have turned to a drug gang leader for help to locate the young men, saying the government has failed them.
A group of parents have put up a sign outside the southern city of Iguala, where the students vanished in September, asking alleged Rojos gang leader Santiago Mazari for his assistance.
Bernabe Abraham, whose phone number appears on the sign, said parents decided to put Mazari's name because he had posted his own signs earlier this year offering to help.
"We don't know if he's a Rojo or a drug trafficker," Abraham told AFP.
It's a message to citizens (of Iguala) for them to tell us if they know where they are.
Abraham said he has not received any phone call from Mazari.
Parents of the 43 students have rejected the government's conclusions of what happened in southern Guerrero state on 26 September, insisting that they believe their sons are still alive.
"We are desperate. The government is doing nothing. We have to act," said another father, Epifanio Alvarez, who said the sign was directed at "civil society" in general.
The handwritten sign says:
Mister Santiago Mazari Hernandez. We parents read the message in (your) sign. We ask you to help us locate our sons because this bad government has not been serious with us. To the contrary, it has harmed us with its lies.
A picture of the message was published by Reforma newspaper.
Prosecutors say Iguala's mayor ordered police to confront the young men, who were riding stolen buses, a common practice among students of their rural teacher training college in Ayotzinapa.
The officers shot at the buses, killing six people at the scene, abducted the 43 and handed them over to the Guerreros Unidos drug gang, which slaughtered them, prosecutors say.
Witnesses told investigators that the Guerreros Unidos (United Warriors) believed that the Rojos (Reds) were among the students. Some 100 people, including officers and Iguala's mayor, have been arrested.
The case has become the biggest challenge of President Enrique Pena Nieto's two-year-old administration, which has faced a series of protests over the handling of the investigation.