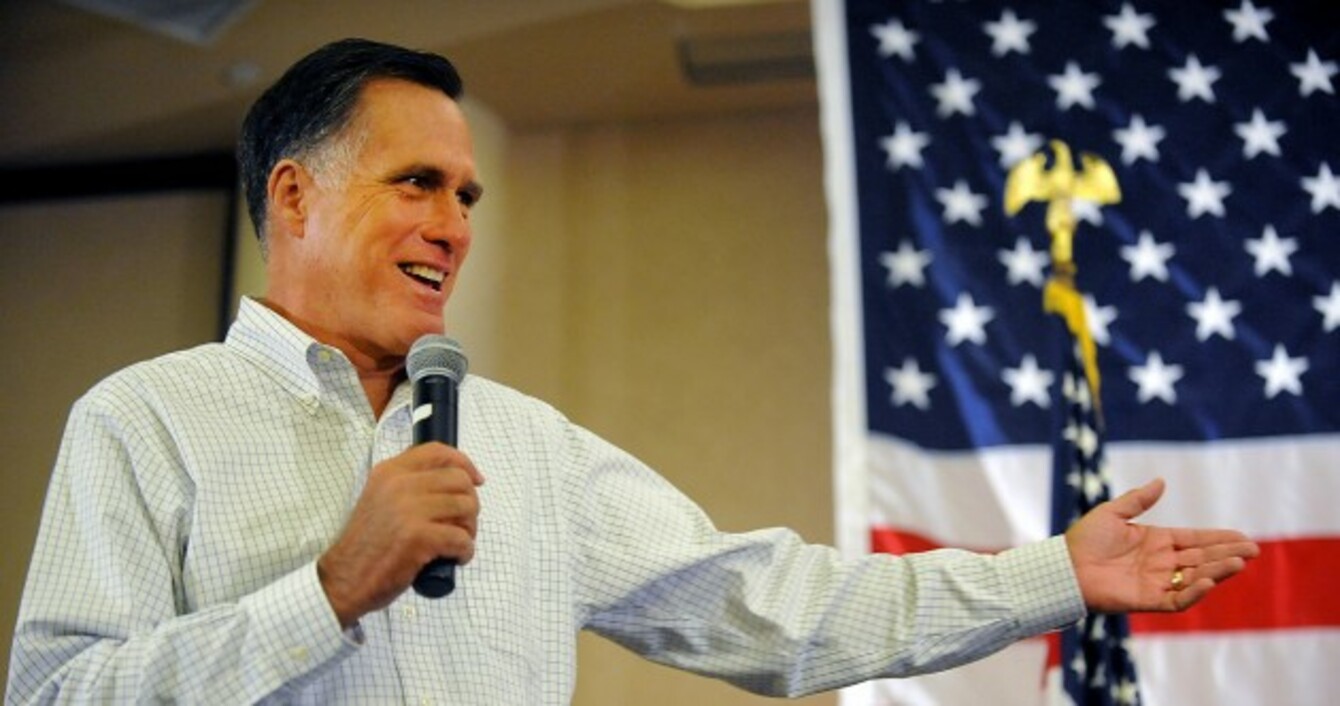 Image: AP/Press Association Images
Image: AP/Press Association Images
TWO-TIME US PRESIDENTIAL candidate Mitt Romney has told donors he is mulling another White House bid.
"Everybody in here can go tell your friends that I'm considering a run," Romney told supporters at a meeting in New York, a source told Politico.
The Wall Street Journal, citing people in attendance, also reported that Romney spoke of his potential presidential ambitions at the donor's meeting.
Romney, a Republican establishment favourite and former governor of Massachusetts, has repeatedly told reporters over the past year that he was not running for president in 2016, after losing to Barack Obama in 2012.
But the 67-year-old has reportedly signalled he is more open now to jumping into a field already crowded with prospective Republican candidates, notably former Florida governor Jeb Bush.
"The governor is preserving his options – that's the message I've gotten from Boston," Thursday's National Journal quoted Robert O'Brien, a lawyer who served as a foreign-policy adviser on Romney's 2012 campaign, as saying.
The Bushes
Speculation of a third Romney run comes as Jeb Bush, the son and brother of two former presidents (George and George W), sheds his ties to corporate and non-profit boards and begins to raise money for his freshly-launched political-action committee.
The moves are standard practice for a politician laying the groundwork for a presidential campaign, although Bush has yet to announce any formal steps.
Romney has routinely doused speculation he might jump back into the fray, as he did in 2012 after losing the Republican primaries in 2008 to Senator John McCain.
"Oh, no, no, no. No, no, no, no, no. No, no, no," Romney told the New York Times in January 2014 about a third campaign. "I'm not running again."
Should he change his mind, one challenge facing Romney straight out of the gate would be the number of top donors who apparently have already signed up with other candidates such as Bush and New Jersey Governor Chris Christie, who both campaigned for Romney in 2012.
Early in that race Romney presented himself as a Republican moderate. But he was drawn far to the right in order to beat his conservative rivals in the primaries.
In a video secretly recorded at one of his donor functions in 2012, Romney all but sank his own candidacy when he was recorded saying "47%" of Americans live off Government handouts and would therefore vote for Democrat Obama.
Romney remains nationally popular, however. A McClatchy-Marist poll in December showed him leading the field of potential Republican candidates with 19% support, followed by Bush at 14%.