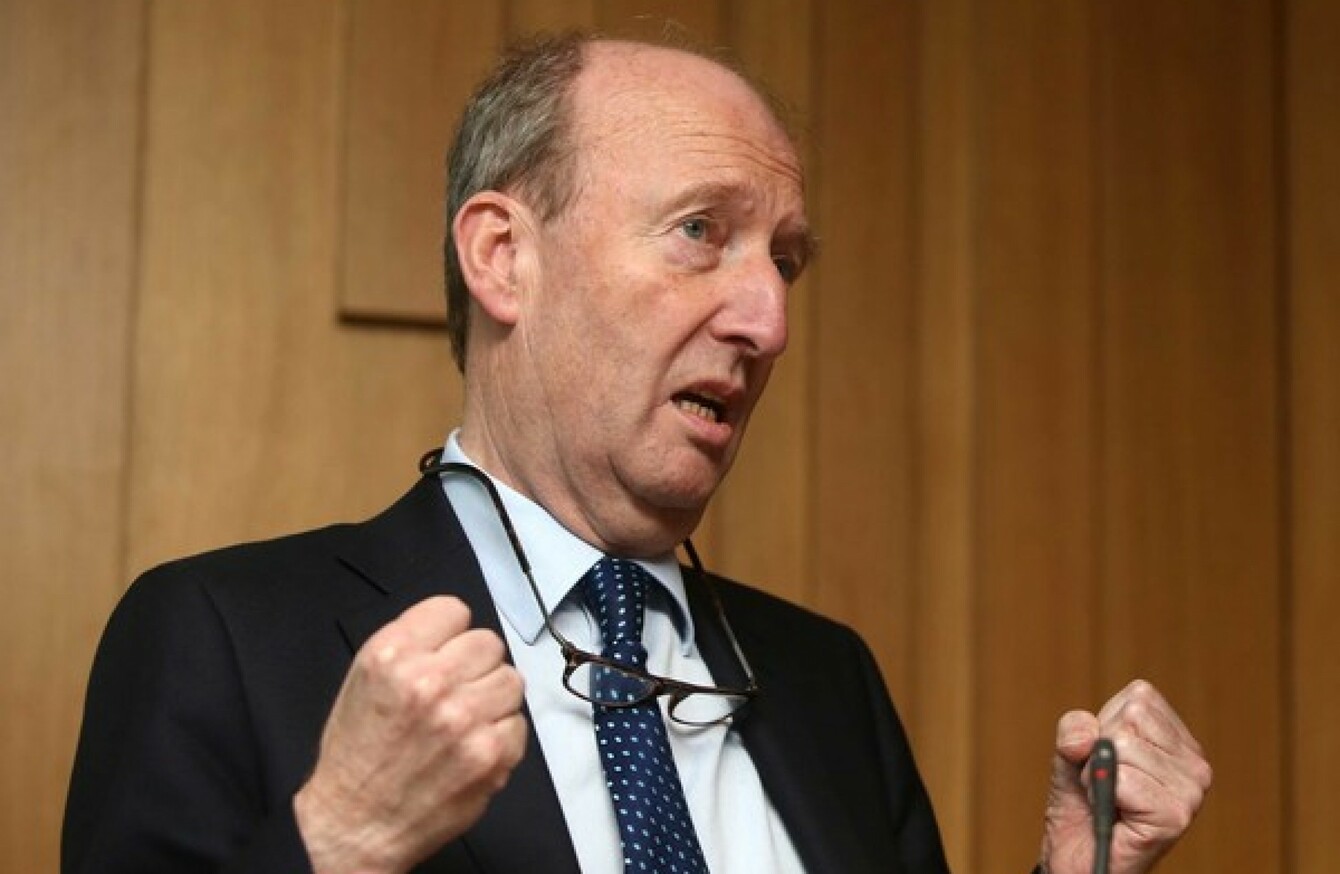 Ross said he finds some of the scenes in MMA "quite disturbing".
Image: Sam Boal/RollingNews.ie
Ross said he finds some of the scenes in MMA "quite disturbing".
Image: Sam Boal/RollingNews.ie
IN HIS LATEST statements about MMA, Minister for Sport Shane Ross said he found some parts of it "quite disturbing" and that rules should ensure there is an "absence of brutality or savagery".
"I know a lot was made of Shane Ross' comment, but there wasn't really anything in it that disturbed me," John Kavanagh, coach to MMA champion Conor McGregor told TheJournal.ie this week.
He and his colleagues in Irish MMA circles are, in fact, "running towards" the regulation Ross has been talking about. They, like the many politicians who have spoken out about the sport, want fighters to be safe from the amateur level right up to the top.
"In theory now, anybody can run an MMA event on a Saturday night and they could run it to whatever standard they see fit."
March last year saw the establishment of the Irish Mixed Martial Arts Association (IMMAA), of which Kavanagh is president. The body does not have any legal powers right now, but still "the vast majority" of active MMA clubs have signed up, he said.
As a group, we've done things like we have an insurance policy that all clubs can avail of specific for MMA. We're going through the process so we can do garda vetting for coaches of juniors and vulnerable adults. We want to be come a proper national governing body.
"We lean on promoters to follow safety standards, which are very high – equal to that of the UFC and of professional boxing."
The problem now is that clubs and promoters are under no obligation to follow the IMMAA's standards "and we can't stop them from doing that".
'Sadistic and voyeuristic' 
Kavanagh has been working with Sport Ireland and is positive about the progress that has been made so far. The main question is whether regulation of MMA will come under an organisation that already exists – the Irish Martial Arts Commission (IMAC) – or whether the sport will have a separate national body.
"We have an important meeting coming up in the next few weeks to decide that. If we fit in under the umbrella of IMAC which is already an established organisation for martial arts, that would be the quicker route," he explained.
He is likely to face opposition from IMAC, however, as it wrote to the Olympic Committee of Ireland last year saying that MMA is not a sport and is instead like "dog fighting".
In its correspondence, revealed by RTÉ last year, IMAC said it agreed with reports describing MMA as "pornographic, sadistic and voyeuristic to its core".
When contacted by this website, President of IMAC, Brendan Dowling, would only comment that discussions about the regulation of MMA were "ongoing".
Kavanagh said he believes MMA has been a "soft target" in recent years: "It's a popular sport, it's going to get you headlines."
"At least before you make up your mind, open your mind," he urged.
"If that's not possible, if we can't fit together and decide on a path, that will take longer for sure. I'm not sure how long, but we'll keep chipping away."
TheJournal.ie asked spokespeople for both Minister Ross and junior sports minister Patrick O'Donovan how much MMA they had seen and whether this was pro or amateur, in gyms, live events or on a screen. Neither responded.
Questioned recently in the Dáil about the topic, Ross said Sport Ireland was continuing its engagement with representatives with a view to the establishment of appropriate governance arrangements for mixed martial arts.
"While I am keen that this should proceed as quickly as possible, the process is a detailed and rigorous one and it is not possible in these circumstances to determine a precise timescale for its completion."
This week TheJournal.ie spent time with former MMA fighter Paddy Holohan at SBG Tallaght, where children as young as 7 are taking classes. See our report tonight to find out why the young people in Tallaght are so passionate about it and read their views on the safety of the sport.