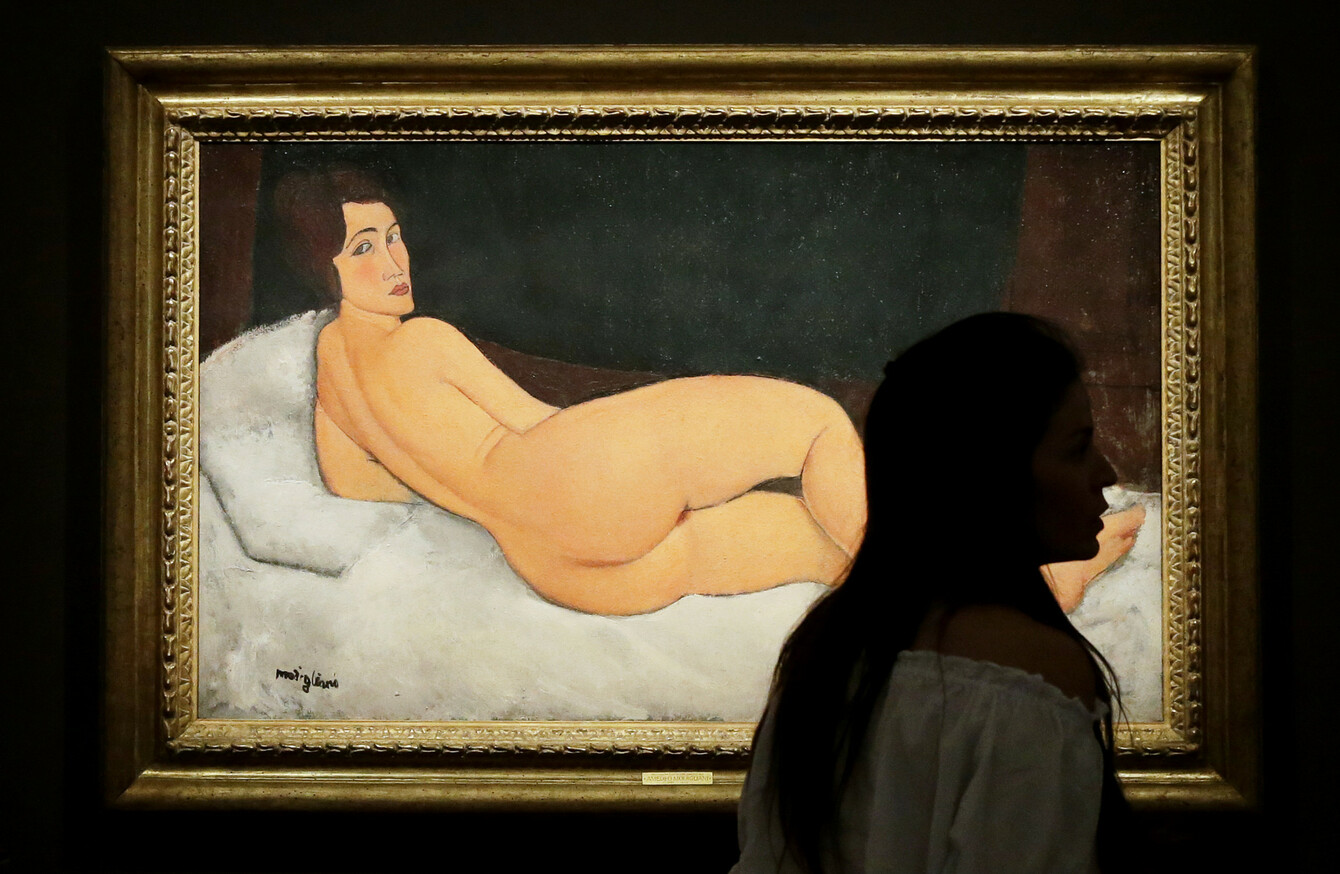 The painting on display in New York earlier this month.
Image: UPI/PA Images
The painting on display in New York earlier this month.
Image: UPI/PA Images
A PAINTING BY Italian artist Amedeo Modigliani sold for $157.2 million (€116 million) in New York yesterday, becoming the fourth most expensive work of art sold at auction.
Painted a century ago, Modigliani's masterpiece "Nu couche (sur le cote gauche)" fetched the highest price in Sotheby's history and was the star single lot in the May art auction season in New York.
Irish horse breeder John Magnier bought the work at auction in 2003 for $26.9 million, which the New York Times reports was a high price for the artist.
Modigliani follows Leonardo da Vinci and Pablo Picasso as the third highest-selling artist at auction. Monday's sale failed to eclipse the $170.4 million paid for another Modigliani nude at Christie's in 2015.
Nearly 147 centimetres wide, the picture was the cover star of a recent retrospective at the Tate Modern gallery in London.
Modigliani reinvented the nude for the modern era, and when his series of paintings were first exhibited in 1917, they were considered so shocking that police closed the show in Paris.
Bidding was restrained, lasting three to four minutes and opening at $125 million before auctioneer Helena Newman brought the hammer down at $139 million. The final price includes a buyer's premium.
Source: Sotheby's/YouTube
Modigliani completed 22 reclining nudes and 13 seated nudes between 1916 and 1919. Most of the former are found in museums, such as The Museum of Modern Art and the Metropolitan Museum of Art in New York.
Simon Shaw, co-head of impressionist and modern art at Sotheby's, said the painting sold Monday, while rooted in tradition, reflected the changing status of women during World War I.
"This is a nude of a very self-possessed, sexually confident woman who is not looking out from a distance. She's absolutely meeting our gaze," he told AFP prior to the sale.
Modigliani's dealer Leopold Zborowski gave him a stipend of 15 francs a day and paid the models five francs to pose in a Paris apartment.
John Magnier was not present at the sale and has not spoken about the painting, though he is widely reported to have owned it and the trainer has a three-year-old horse named Amedeo Modigliani in honour of the painter.
© AFP, 2018 - with reporting by Daragh Brophy