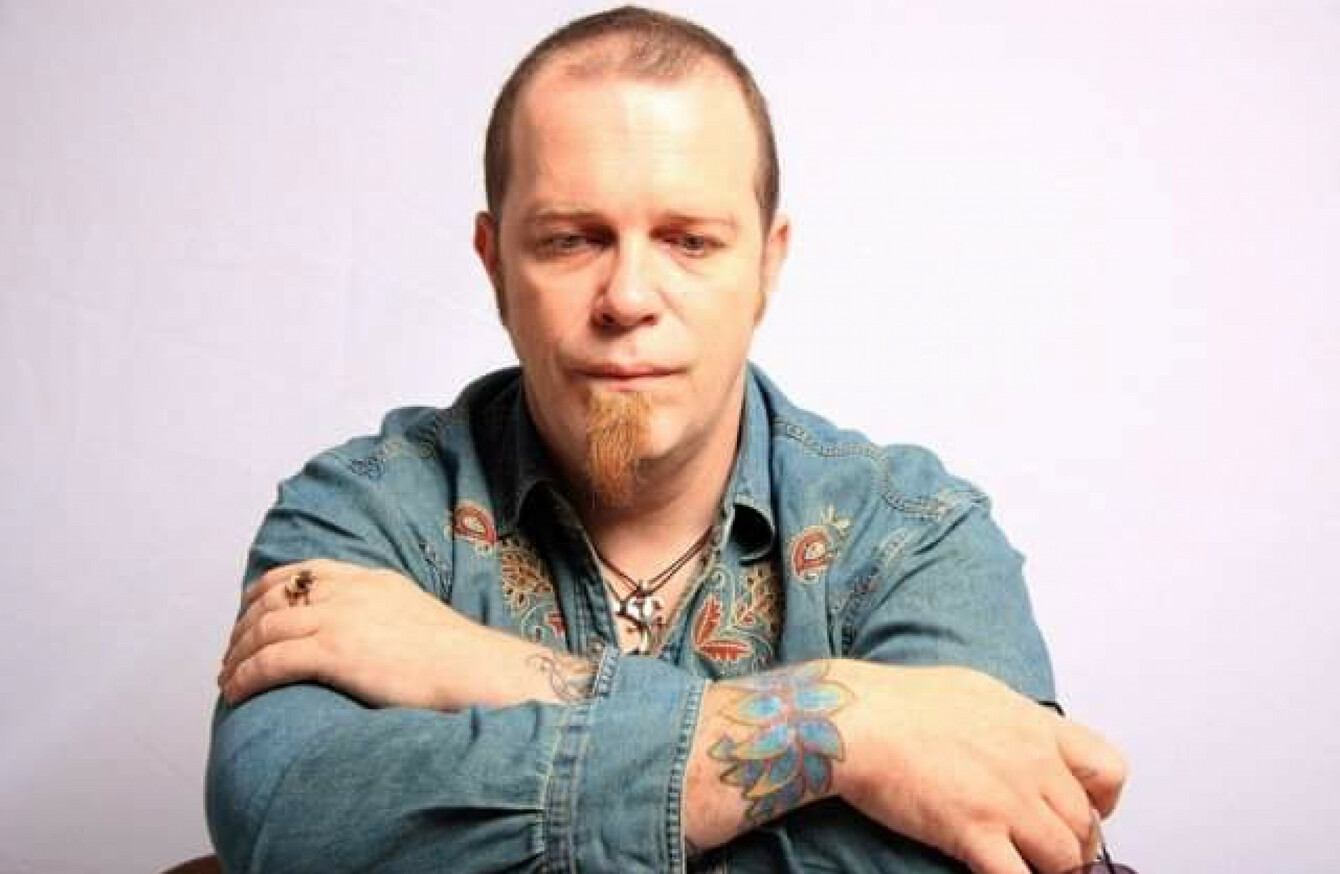 Mike Bartlett
Image: Mojo
Mike Bartlett
Image: Mojo
"I HAD SPENT 30 years touring with some of the biggest bands in the world, but mental health issues, panic attacks and depression became the mainstay of my life. It took my entire career away from me."
Mike Bartlett, from Killarney in Kerry, is just one of the many in Ireland who has received mental health help through an innovative initiative aimed towards men – Mojo.
"For me in my life, I'm a poet, I'm a songwriting, I'm a musician, but I couldn't get out my front door because of panic attacks," Bartlett told TheJournal.ie. 
"I'm 6'4″, I'm covered in tattoos from my head to my toe. I've had the best job in the world as a rock 'n' roll roadie for the last 30 years and nobody could understand why I was suffering from depression," he said.
The Mojo project just accepted me completely for what I am and gave me the platform to put it all on the table and figure it all out.
Mojo was developed to tackle the issue of the rising level of male deaths by suicide in Ireland back in 2011.
Mojo has four projects: Kildare, South Dublin, North Dublin and Offaly. The projects offer men a 12-week mental health training programme.
During the three months, the participating men are introduced to services in the community that can offer support, as many men struggle to take the first step in seeking mental health help.
"Quite simply, Mojo were the people who gave me a plan on a daily basis to help combat [my mental health] and get back into society again," Bartlett told TheJournal.ie. 
'Few and far between' 
Since the age of 14, Bartlett had toured the world with some of the biggest names in rock and roll. However, he told TheJournal.ie that one day he found himself unable to even walk out his front door as panic attacks and depression had taken over.
"I was very much unable to access any of the services which were available to men in this country because they are very few and far between," he said.
Bartlett joined the South Dublin project, which brings 12 men together every week, offering them the opportunity to chat with each other about their concerns. The project also linked Bartlett and his fellow participants up with the particular local services they needed to avail of.
"One of the great things is that they brought in a lot of government organisations and a lot of individual people from them. They let us have our say about how our interactions had been very bad with these government organisations before this," Bartlett said.
As well as working in a group, the men of Mojo also receive one-on-one sessions with a life planning coordinator, who helps develop personal goals and identify the steps to take in order to reach specific mental health targets.
Breaking down the barrier for men
Bartlett credited Mojo's approach of bringing men together to talk to each other and being the gateway to mental health services across the country that many men find difficult to avail of.
"The huge part about men sitting down and talking about what is affecting them is the fact that they don't do it. Men are geared towards 'Get over it and move on'" Bartlett said.
The Mojo platform on how they put men together in a room is exceptional. It really is exceptional.
"The Mojo programme works in a very simple basis to put you as the most important person at the centre of the programme," he said.
That simple feeling of walking away from the programme thinking you feel important is a life changing experience to somebody who is in the midst of panic attacks, depression, anxiety.
#Open journalism No news is bad news Support The Journal

Your contributions will help us continue to deliver the stories that are important to you

Support us now
Mojo Rising
On 19 November, Bartlett is bringing his musical talents to the stage of Mojo Rising for International Men's Day.
Mojo Rising is an arts festival aiming to "create a space where people can come together, enjoy the very best of Irish talent and raise awareness and understanding of male mental health challenges". Paddy Casey, Emmet Kirwan and DJ Nialler9 are among the artists performing at the event.
The event will honour the 400 men who have participated in Mojo programmes and hopes to build awareness on behalf of the thousands of Irish men who remain at risk of suicide or self-harm.
For Bartlett, the event marks a very significant milestone in his progress.
"I wasn't able to get up and play an original show for the last number of years. I'm able to get up at the moment and do it and I'm very much looking forward to it," he said.
There's two parts to this gig. One is to highlight the issues with male mental health. The other is to celebrate the successes and the work that the people in Mojo have put into hundreds of men around Ireland.
Mojo Rising will take place in the Grand Social in Dublin at 7pm on 19 November. More information about the event and service can be found here.
If you need to talk contact: 
Samaritans 116 123 or email jo@samaritans.org
Aware 1800 80 48 48 (depression, anxiety)
Pieta House 1800 247247 or email mary@pieta.ie – (suicide, self-harm)
Teen-Line Ireland 1800 833 634 (for ages 13 to 19)
Childline 1800 66 66 66 (for under 18s)