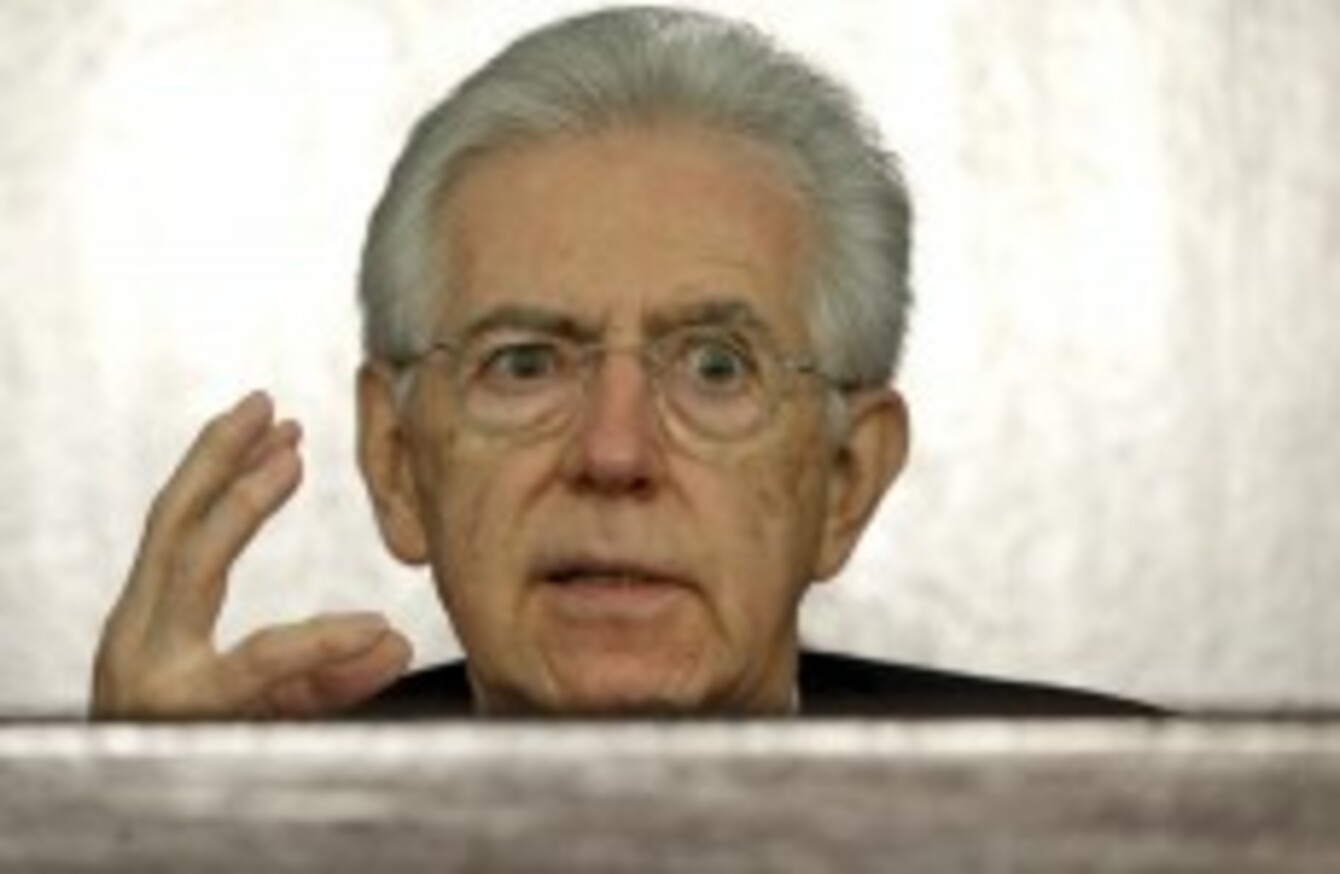 Image: Alessandra Tarantino/AP/Press Association Images
Image: Alessandra Tarantino/AP/Press Association Images
ITALIAN PRIME MINISTER Mario Monti has said he could govern the country again as head of a pro-reform coalition and attacked his predecessor Silvio Berlusconi ahead of a general election in February.
"If one or more political forces adhere to my agenda and put forward the idea of proposing me for the post of premier, I would weigh the option," the outgoing premier said at a news conference following his resignation earlier this week.
Monti cannot officially be on the ballot for the 24  and 25 February vote as he is already a senator-for-life but under Italy's electoral system he could be asked to join the government, even as prime minister, by whoever wins.
"I am ready to give my approval, my encouragement and, if called to, my leadership" to those parties who get behind the reforms, said the 69-year-old Monti, a former economics professor and high-flying European commissioner.
Change and reform
Monti outlined an economic programme to "change Italy and reform Europe", saying the main point was not to turn the clock back on austerity measures and thereby "destroy the sacrifices that everyone has made this year".
Among the long list of reforms he said were still left to be done Monti listed an overhaul of Italy's "archaic" labour laws, root-and-branch changes to the painfully slow justice system and more equal opportunities for women.
Monti also took on the billionaire media tycoon Berlusconi, who is running in his sixth election in two decades, saying he had made proposals including the abolition of a new property tax that were "very dangerous and illusory".
Comeback kid
Berlusconi, who was convicted of tax fraud in October and is currently on trial for having sex with an underage prostitute, has begun a strident campaign against Monti's economic policies and his possible bid for office.
He has taken to the airwaves and said Monti's government has been "a complete disaster" and he risks being "the little leader of a little party".
"We have to roll up our sleeves and work intensely for years to drag Italy out of a really dangerous situation," the 76-year-old Berlusconi said on Sunday.
Monti defended his record after 13 months in government, saying Italy — battling a two trillion euro debt mountain — had managed to extract itself from the eurozone debt crisis without resorting to an international bailout.
"The financial crisis has been overcome," he said, adding that Italy had overcome the same "fiscal cliff" that the United States now faces.
Monti handed in his previously announced resignation on Friday after Berlusconi's People of Freedom party withdrew its support for his technocrat government in parliament, triggering early elections.
That could turn the February vote into a nail-biting three-way race between the scandal-tainted Berlusconi, former communist Democratic Party leader Pier Luigi Bersani and a Monti-backed reform coalition.
Opinion polls have so far tipped Bersani and his Democratic Party as the winners of the election but without an outright majority, which would require a coalition, but there is no poll yet on what Monti's role could change.
Following Monti's comments, Bersani said he would "listen with great attention and respect to the proposals if they coincide with ours".
Bersani has said he will follow the broad course of reforms set by Monti but will face trade union pressure to moderate draconian austerity measures.
Berlusconi also remains a formidable campaigner and could benefit from a vote split between the centre and the left.
A wanted man
European leaders and Italian businesses have urged Monti to stay on, saying he has given Italy unprecedented stability at a particularly turbulent time.
He has also received the endorsement of the Roman Catholic Church, which is an influential political player in Italy and is wary of a leftist government that could back gay marriage and is also now virulently against Berlusconi.
But while Monti's austerity and bold reforms have received wide praise from investors and have rescued Italy from the brink of bankruptcy, they are increasingly unpopular among Italians who have been on the receiving end.
Monti's ratings have plunged from more than 60 per cent shortly after he took over in November last year to around 30 percent in recent weeks.
Some observers say he may be unwilling to risk losing the respect he has earned abroad and the cross-party appeal he has built up in Italy by entering a messy election battle.
Another development to watch in the elections will be the rise of far-right and Eurosceptic movements that have tapped into rising social anger.
The populist Five Star Movement led by former comedian Beppe Grillo is also expected to do well, based on its anti-corruption, pro-environment campaign.
Electoral lists, which can name a coalition leader even if that person is not formally a candidate, have to be submitted by 11 January.