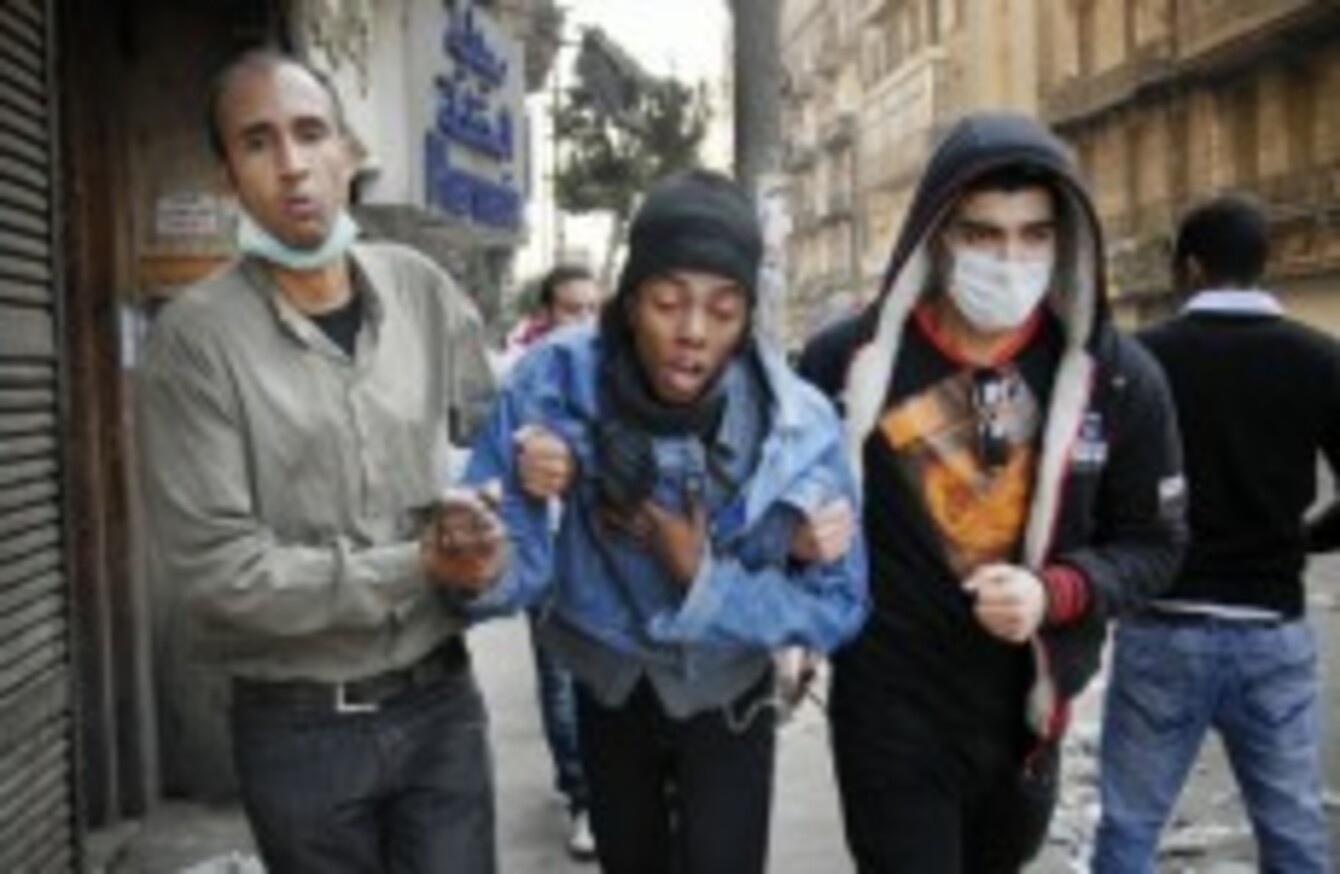 Two Egyptian protesters accompany a man, center, overcome with tear gas inhalation during the clashes with Egyptian riot police, unseen, in Tahrir square, Cairo, Egypt, today
Image: Mohammed Abu Zaid/AP/Press Association Images
Two Egyptian protesters accompany a man, center, overcome with tear gas inhalation during the clashes with Egyptian riot police, unseen, in Tahrir square, Cairo, Egypt, today
Image: Mohammed Abu Zaid/AP/Press Association Images
AT LEAST 24 people are now confirmed dead in Egypt during the third straight day of violence at Cairo's Tahrir Square.
Security forces fired tear gas and clashed today with several thousand protesters in Tahrir Square in what has turned into the most sustained challenge yet to the rule of Egypt's military.
Meanwhile, Reuters said that during a raid on an armed Islamist group, an Egyptian policeman was killed.
The group is suspected of being involved with pipeline bombings in Sinai.
Throughout the day, young activists skirmished with police, hurling stones and firebombs and throwing back the tear gas canisters being fired by police into the square.
The night before saw an escalation of the fighting as police launched a heavy assault that tried and failed to clear protesters from the square.
It comes only a week before Egypt is to begin the first post-Mubarak parliamentary elections.
The military says it will hand over power only after presidential elections, which it has vaguely said will be held in late 2012 or early 2013.
The protesters are demanding an immediate move to civilian rule.
An Egyptian morgue official said the toll had climbed to 24 dead since the violence began Saturday — a jump from the toll of five dead around nightfall Sunday.
The military council has issued a long-awaited anti-graft law that bans anyone convicted of corruption from running for office or holding a government post.
The timing of the move suggested it was an attempt to placate protesters.
But the law falls far short of demands by many that all members of Mubarak's former ruling party be banned from politics.
Al Jazeera reporter Mike Hanna is in Tahrir Square. He told the station that plumes of tear gas have been rising over houses since the morning time.
Egypt's stocks have plunged by 4 per cent to their lowest rate since 2009, BusinessWeek reports.
- Additional reporting by AP