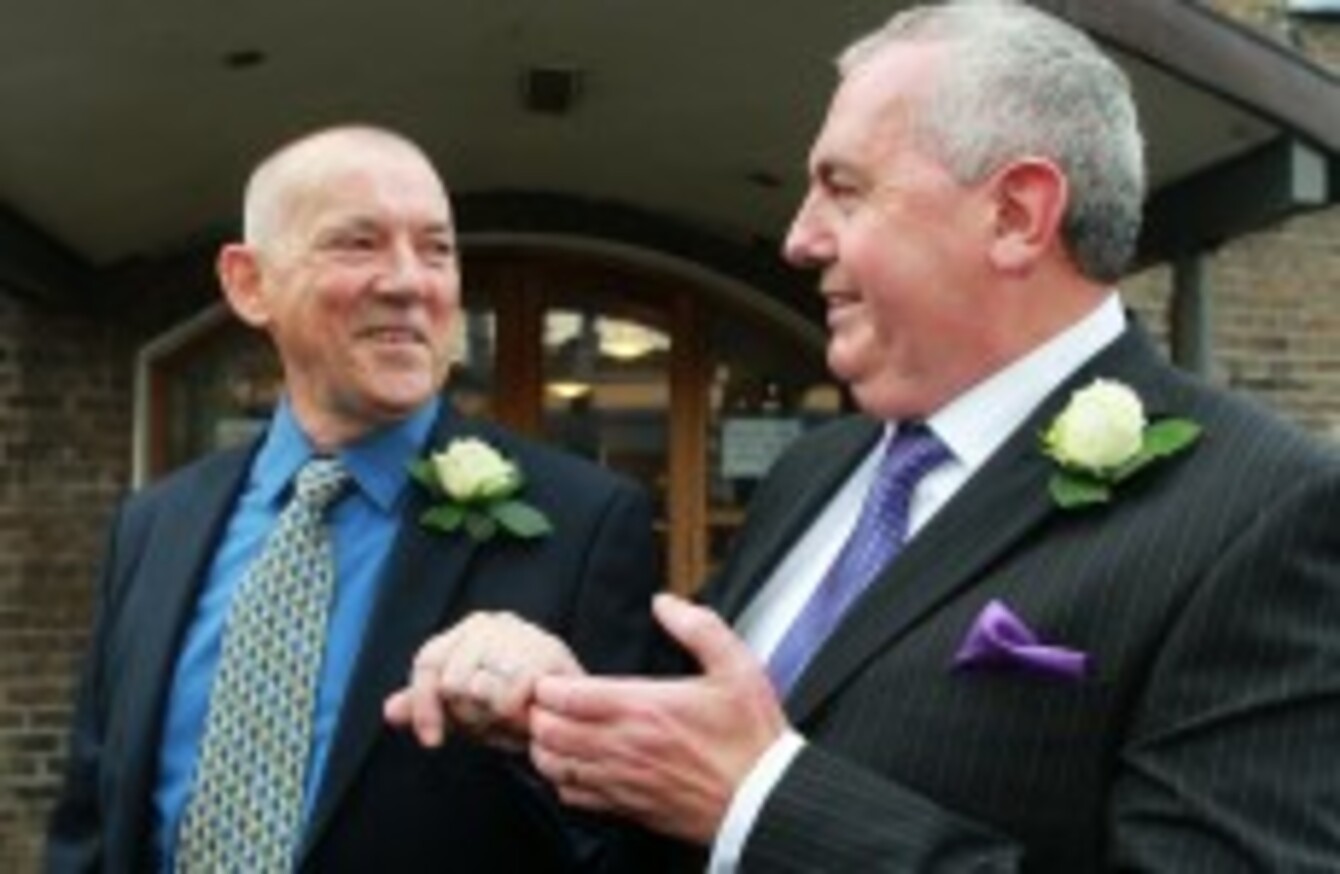 Nicholas Nelson and Thomas Cahalan entered a civil partnership on 5 April last year - the second male couple to do so in Ireland
Image: Leon Farrell/Photocall Ireland
Nicholas Nelson and Thomas Cahalan entered a civil partnership on 5 April last year - the second male couple to do so in Ireland
Image: Leon Farrell/Photocall Ireland
A TOTAL OF 536 civil partnerships were registered in Ireland during 2011, new figures have revealed.
Since 5 April 2011 (when civil partnership first became available) 1,072 people from 58 countries have entered unions with partners of the same-sex in Ireland.
Of the total partnerships, 201 were female couples while 335 were all-male. Registrations were carried out in every county in Ireland – except county Clare.
However, this was because of a lack of suitable facilities rather than an absence of people wishing to celebrate same-sex unions. In fact, nine couples who have entered official partnerships now live in the county.
Every county in Ireland was represented on the list of where couples intended to live after their ceremonies. According to figures released by GLEN (Gay and Lesbian Equality Network), 284 couples live in Dublin city and county, while another 230 couples intended to live in other parts of Ireland. Another 22 couples decided to move to a different country with at least six couples relocating to Australia.
Eleanor and Treasa

E&T

Richard & Paul
Of the 1,072 people who entered the partnerships in the nine-month period, 346 were between the ages of 41 and 50. A further 313 were in their 30s and just 114 were in their 20s.
Eight people over the age of 70 entered a civil partnership, while five people under the age of 20 did so.
The figures broken down by GLEN do not include the Irish lesbian and gay people who were married or entered a civil partnership abroad in 2011 or in previous years.  These marriages and civil partnerships are automatically recognised in Ireland as Civil Partnerships.
Remembering their day in Dublin, Des and Mike said, "The reception at City Hall was our way of celebrating our relationship of 13 years with all our loved ones. The abiding memory of the day is one of happiness and being overwhelmed by the amount of goodwill, support and love we felt from all of the people who were there."