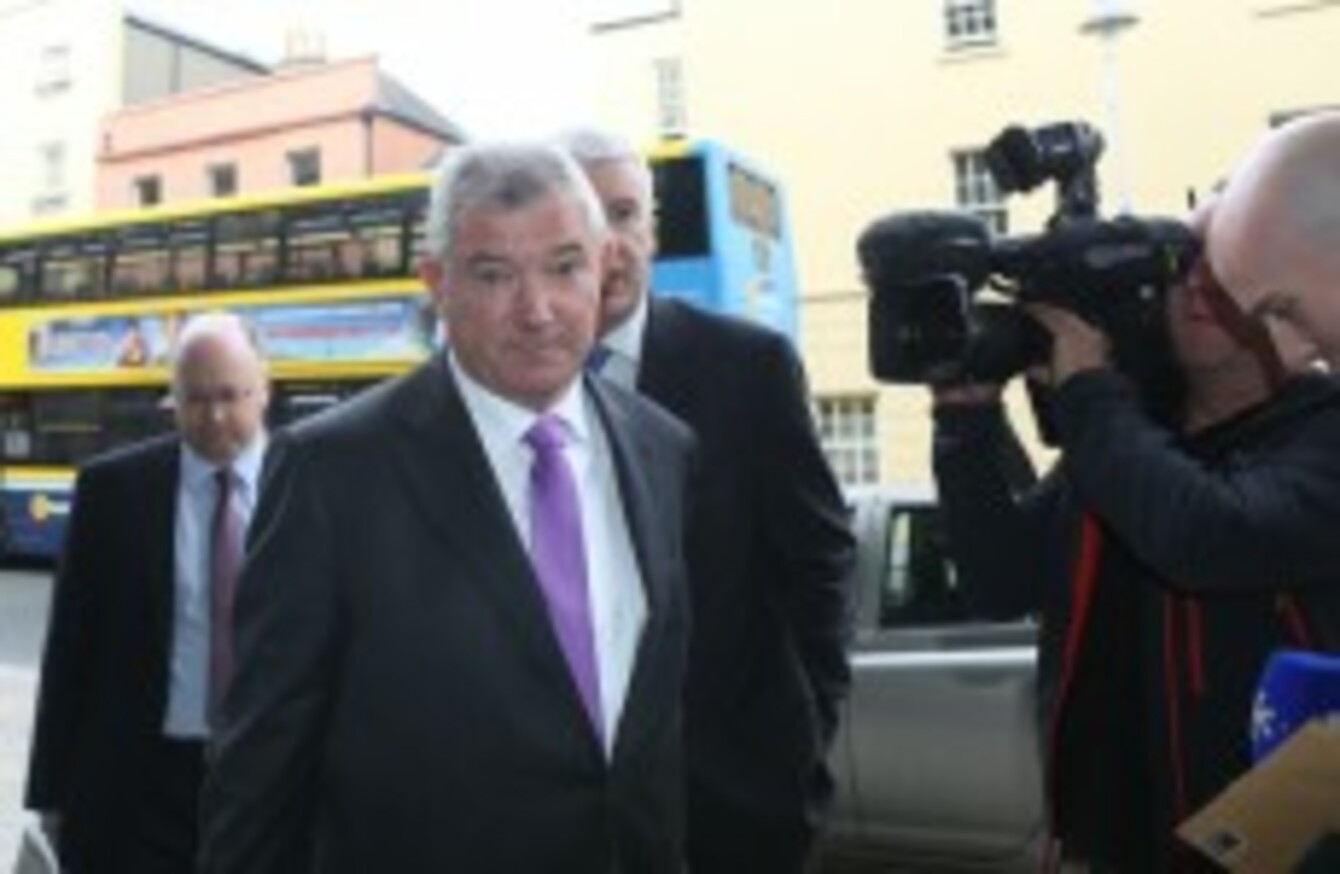 BOI chief Richie Boucher arriving at Leinster House last September.
Image: Sam Boal/Photocall Ireland
BOI chief Richie Boucher arriving at Leinster House last September.
Image: Sam Boal/Photocall Ireland
TOP EXECUTIVES FROM Ireland's four main mortgage lenders are to be questioned by TDs on their banks' progress in dealing with mortgage arrears next week.
Bosses from Bank of Ireland, AIB, Permanent TSB and Ulster Bank will face the Oireachtas Finance Committee starting from next Tuesday, about seven months after they last gave Leinster House briefings.
Their appearance follows on from the appearance of the director of the Insolvency Service of Ireland (ISI) Lorcan O'Connor, who will brief members of developments within the ISI this Thursday.
"According to the latest figures released by the Central Bank, the numbers of homeowners in mortgage arrears of over three months has fallen for the first time in almost five years," said committee chairman Ciarán Lynch TD.
However, those figures mask a very worrying trend in long term arrears whereby those behind in repayments by more than two years has risen. Behind these statistics are real people struggling to make ends meet.
The four banks have been set targets by the Central Bank to provide sustainable, long-term solutions for homeowners in arrears. The last time the bank executives provided updates to the committee on these targets they were criticised for not being direct enough.
The figures the bank's used for measuring their progress was also criticised, with the banks producing evidence of letters sent to mortgage holders. TDs insisted that simply sending letters does not count as engagement but the banks insisted they were backed by the Central Bank.
IMHO
The Irish Mortgage Holders Organisation will appear before the committee tomorrow along with the Money Advice and Budgeting Service (MABS) and the Free Legal Advice Centre (FLAC) to discuss the issues surrounding  the mortgage crisis.
It comes as the IMHO says it has entered into an agreement with Grant Thornton Debt Solutions Limited to provide additional advice and support to people in financial difficulty requiring insolvency services.
The IMHO say that the service will be staffed and funded by Grant Thornton and if a client requires bankruptcy services the IMHO wil progress this free of charge.
"Since November 2013 the IMHO has received over 1,000 completed Standard Financial Statements' for those in mortgage difficulty, said IMHO director Constantin Gurdgiev.
Many of these clients are already being provided with assistance in relation to their mortgage by the IMHO, a large proportion however have on average have four other creditors and thus may require a formal arrangement to bring finality to their debt problems. This initiative will ensure that all clients have all their debt dealt with in a holistic manner that leaves no issue unresolved.