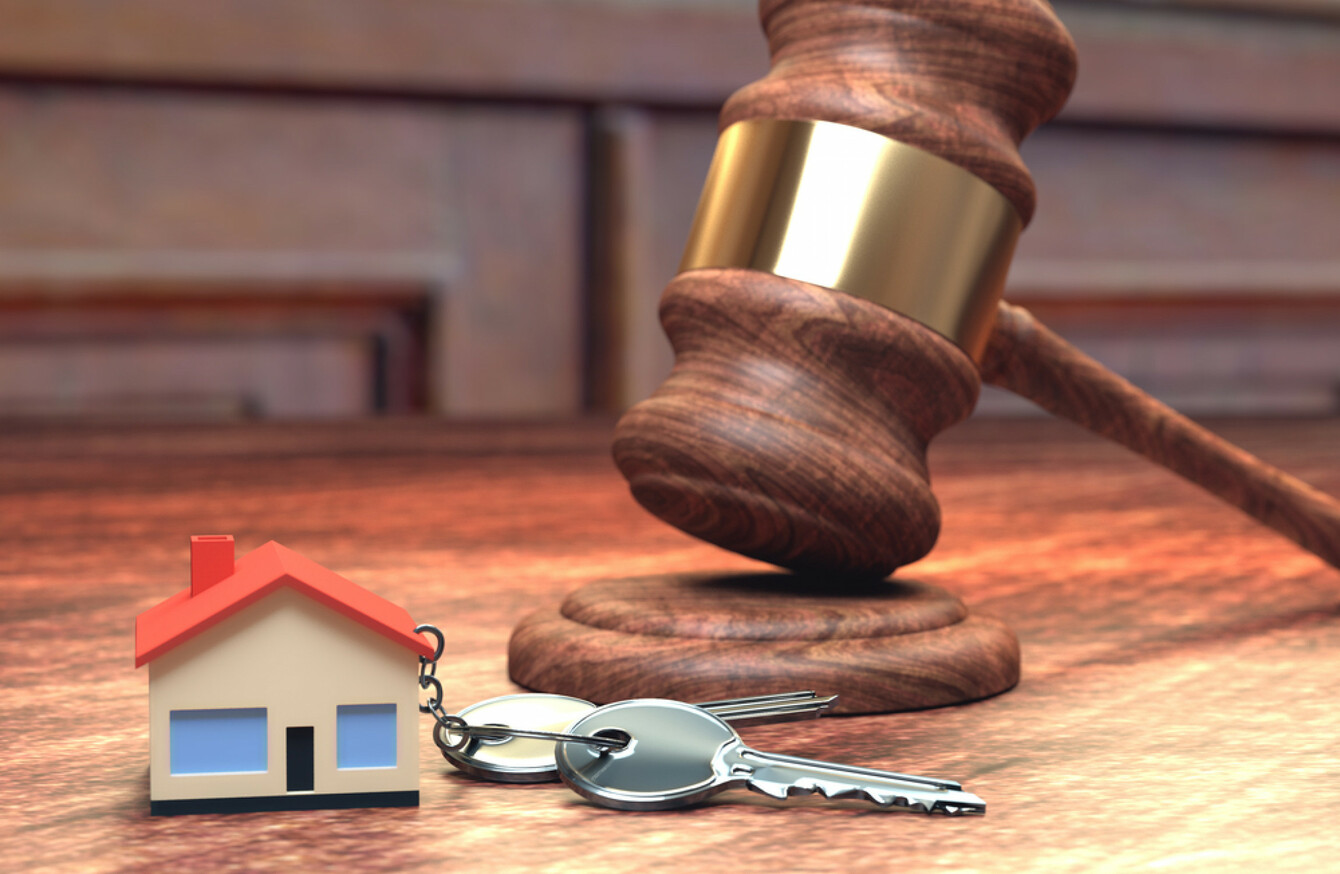 Image: Shutterstock/Lenka Horavova
Image: Shutterstock/Lenka Horavova
FALLING INTO MORTGAGE arrears is never an ideal situation, but it's currently the reality for over 77,000 homeowners around the country.
If you've been avoiding contact with your lender, missing mortgage repayments or not paying the full repayment amount each month, you could find yourself facing a court summons.
The prospect of having to defend yourself against your bank in court might feel incredibly overwhelming. However in some cases it can mark the beginning of a positive resolution process.
To lift the lid on what will happen if you are hit with a court summons, we spoke to three experts working in the courts with Abhaile, The Free Mortgage Arrears Support Service. The aim of Abhaile is to help mortgage holders in arrears to find the best solutions and to keep them, wherever possible, in their own homes.
Michael Laffey and Patricia Murphy, both of MABS, act as Abhaile Court Mentors. They offer free face-to-face advice and support to those attending a hearing. Louisa McKeon, of Rhatigan and Co solicitors, provides free legal guidance through Abhaile.
In their words, here's what you can expect if your lender takes you to court…
1. I've received a court summons. What do I do?
Even if you've received prior warning from your lender, a court summons can feel particularly threatening. As Patricia notes:
When a court summons arrives, it's often pretty intimidating, especially when you see a court date listed.
If you haven't already done so, Patricia recommends seeking independent financial advice from the Abhaile service via your local MABS office or the MABS helpline. Additionally, she suggests making contact with your mortgage lender. "There is still plenty of time to discuss other options," she explains.
2. Am I going to lose my home?
Receiving notice of a court date is not the end of the road, it's just one step in a long process, emphasises Michael. As he explains:
The banks are absolutely open to making alternative arrangements regarding repayments. I've seen cases where people successfully managed to keep their home even after a repossession order was granted by the court.
Any borrower in fear of losing their home should make themselves familiar with the legislative protections available to them. Under the Land And Conveyancing Reform Law 2013, for example, the court can postpone repossession proceedings for up to two months, to allow the borrower to explore the possibility of putting in place a PIA.
A PIA, or Personal Insolvency Arrangement, is a court-approved agreement between you and your creditor. It allows for the restructuring and write-off of debt, with the aim of keeping you in your home where possible. Borrowers can access the services of a Personal Insolvency Practitioner for free via Abhaile.
3. Do I need to show up in court?
If you can attend court, you should do so. Otherwise, your side of the story may not be heard, and you could miss a valuable opportunity for resolution. Appearing in court and showing that you have made an effort to meet your repayments are two things that will reflect favourably on you.
The first court hearing is usually a practice adjournment, where the case is adjourned for up to six months, but Louisa says it's still "imperative" that the debtor attends:
You retain more control that way. In the County Registrar's court, where cases like this begin, they'll always ask to meet the debtor. If you're not there, any inference could be drawn – for example that you've left the country or that you're not willing to co-operate.
As Patricia puts it, attending is your chance to "fight your corner a little."
4. Do I need a solicitor?
That's up to you. Unless you believe you have been the victim of serious malpractice, there is no real need to bring a solicitor along with you, but there are still some reasons why you may choose to do so.
If you do not have the resources to employ a solicitor to represent you in court on the day, do not worry, as there are Abhaile duty solicitors and court mentors offering free support at every Circuit Court sitting. As Louisa explains:
The scheme is designed to take the uncertainty out of the legal process for debtors. It means there's someone there who is in your corner, who understands the lingo and who can let you know what to expect.
In some courts around the country the Duty Solicitor is also permitted to speak to the court on your behalf, which is helpful if you feel too nervous to speak yourself.
5. What happens on the day?
Firstly, prepare for a long wait. There can be 30 or 40 people on a court list on any one day. As Abhaile court mentors, people like Patricia and Michael are a first point of contact with the court system for anxious homeowners.
"I'm there from an hour before the court opens," explains Patricia. "I'll have the court list, so I can let people know what number they are scheduled in for."
If you're speaking on your own behalf, wait for your number to be called from the list, stand up and state your name, and answer any questions asked of you. As it's a public courtroom, you can bring family members or friends along for support, but they will not be permitted to speak on your behalf.
6. The court has issued a repossession order. What do I do?
If a resolution has not been reached after repeat hearings, the court may rule in the lender's favour, giving permission to repossess your house. At that stage, the court may grant a "stay": a grace period allowing you to stay in your home for three to six months before the lender is permitted to take possession of it. As Patricia notes:
You can request an extension to that stay, for example if you have a child sitting their Leaving Cert or a newborn baby at home.
After a repossession order is granted, you can still appeal the ruling to a higher court, or make contact with your bank to see if alternative agreements can be reached.
"I have seen many positive resolutions," says Michael. "If you haven't already done so, contact Abhaile for more advice. The one message we always try to get across to people is that it's never too late."
If you are in mortgage arrears or fear you are at risk of losing your home, you may be eligible for free face-to-face financial or legal advice under the Abhaile service. For information, click here or call the MABS dedicated helpline on 0761 07 2000.