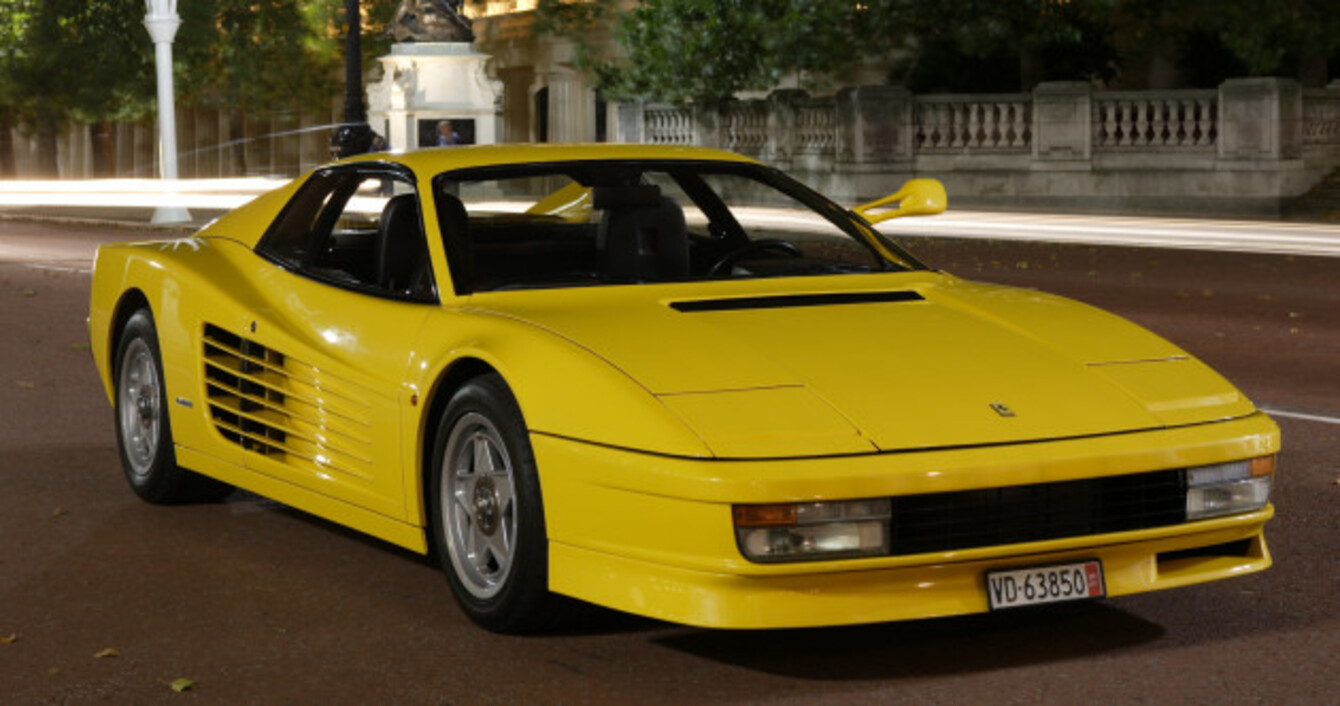 Image: Newspress
Image: Newspress
IN 1947 THE first Ferrari-badged car, the 125 S, rolled out from the Prancing Horse factory in Maranello in Northern Italy.
This year marks the 70th anniversary of Ferrari producing beautiful, iconic, desirable cars and in honour of this, we've decided to pick the 10 most beautiful Ferrari models ever made.
However, as fun as this article was to write, choosing a top ten was not an easy thing to do as there are hundreds of magnificent models, from race cars to road cars, from which to choose.
With so many choices I've had to be guided by emotions and my heart on this list and not my head. Therefore, with no scientific basis for my choices, these are the ten Ferraris that make me go phwoar.
Ferrari F355 Berlinetta
The F355 was introduced in 1994 for the 1995 model year and was one of the most head-turning Ferraris built in decades. To me, it is still one of the most aesthetically pleasing modern cars. It really is a work of art with its emotional Pininfarina wedge shape and classic 90s details like those pop-up headlights and elegant open air inlets.
Dino 206 GT
Yes, the Dino is a Ferrari even though it doesn't wear the Prancing Horse badge. The two-seat Berlinetta first made an appearance in 1968 and was named after Enzo Ferrari's son, Dino who died at the age of 24 in 1956. The Pininfarina design is very pretty with classic lines and a smooth, rounded body style with the full curves of the front wings flowing into the cabin, onto the rear wing curves and buttressed sail panels and ending in a Kamm-tail. It is such a classic design.
Ferrari 250 LM
The Ferrari 250 LM was the last Ferrari to win the gruelling 24-hour race at Le Mans, taking the chequered flag back in 1965. The LM stands for Le Mans.
The 250 LM is just under 44 inches tall so is very low and has voluptuous rear fenders that flow elegantly into the Kamm-tail. It is sleek and graceful yet purposeful too. It's also quite rare with just 32 examples produced.
Ferrari 308 GTB/GTS
The 1975 Ferrari 308 GTB is also known as the Magnum PI Ferrari – however, Tom Selleck drove the targa-topped 308 GTS version.
The 308 GTB is another Pininfarina masterpiece with a low waist line, slim nose, super sleek shape and large and fast windscreen. Again, it is another model featuring cool pop-up headlights – I love pop-up lights – and those flying buttresses are just superb.
Ferrari 330 GTC
Once again, the coachbuilder of the 1966 Ferrari 330 GTC was Pininfarina who crafted an elegant body with a long front hood, oval grille and round headlights that took styling inspiration from the 500 Superfast model.
Even though this was a non-racing Ferrari the car still featured sporty touches like quad exhausts and side vents. It is one of Ferrari's best GT road cars of the last century.
Ferrari 365 GTB/4 Daytona
Constructed by Scaglietti, the front-engined Ferrari 365 GTB/4 Daytona is another highly desirable car sought after by Ferrari collectors and enthusiasts all over the world.
It was launched in 1968 and has a smooth unbroken design which is accented by a crease that runs the length of the body, just below the wheel wells. The black-egg crate grille has rubber-tipped bumperettes which match the rear bumperettes that sit below four round taillights, a design feature that has persisted to this day.
Ferrari 166 MM
The 1948 Ferrari 166 MM was built for long distance racing. The car took its name from one of the world's most famous road races, the Mille Miglia (MM),  although I like to think the MM stands for motoring magic.
The car is so utterly beautiful that words can't do it justice. You are better off just staring at the photo and admiring its iconic egg-crate grille, pert posterior and classic Borrani wire wheels. This is one of the coolest and most beautiful racing cars ever made.
Ferrari Testarossa
This Pininfarina-designed mid-engine car was originally produced from 1984 to 1991 and is one of the most iconic Ferrari models. Huge posters of this car adorned many a teenager's bedroom walls during the 1980s and 90s.
Testa Rossa translates as "red head" and references the red-painted cam covers of the 12-cylinder engine. The sides of the Testarossa are dominated by striking strakes – often referred to as cheese-graters – which cool the engine and the wide rear also features horizontal thin black metal bars that stretch across the back. These make the car instantly recognisable and an icon of 80s motoring.
And what a surprise, it features those retro pop-up headlights. The Testarossa really is striking to look at from all angles.
Ferrari 250 Testa Rossa
The Ferrari TR, or 250 Testa Rossa, is a race car model first introduced in 1957. The 250 Testa Rossa came at a time when aerodynamics were begging to have a greater influence on the shape of cars. It combines form and function beautifully. The pontoon front arches and low windscreen gave the car a unique look.
Ferrari 250 GTO
The Ferrari 250 GTO is probably the most sought-after car in the world and only 39 examples were made between 1962 and 1964.
A 1962 Ferrari 250 GTO fetched $38.1m and is the most valuable car ever sold at auction. Everything about this car is pleasing to the eye; its long flowing bonnet, muscular rear haunches, Borani spoked wheels… and the body was made entirely by hand so no two GTOs are the same.
Some have doors that are longer on one side than the other, some have two rather than three side vents making all models unique. Be still my beating heart.
Has this whet your appetite for a Ferrari of your own? There's a Ferrari 360 Spider for sale on DoneDeal right now.