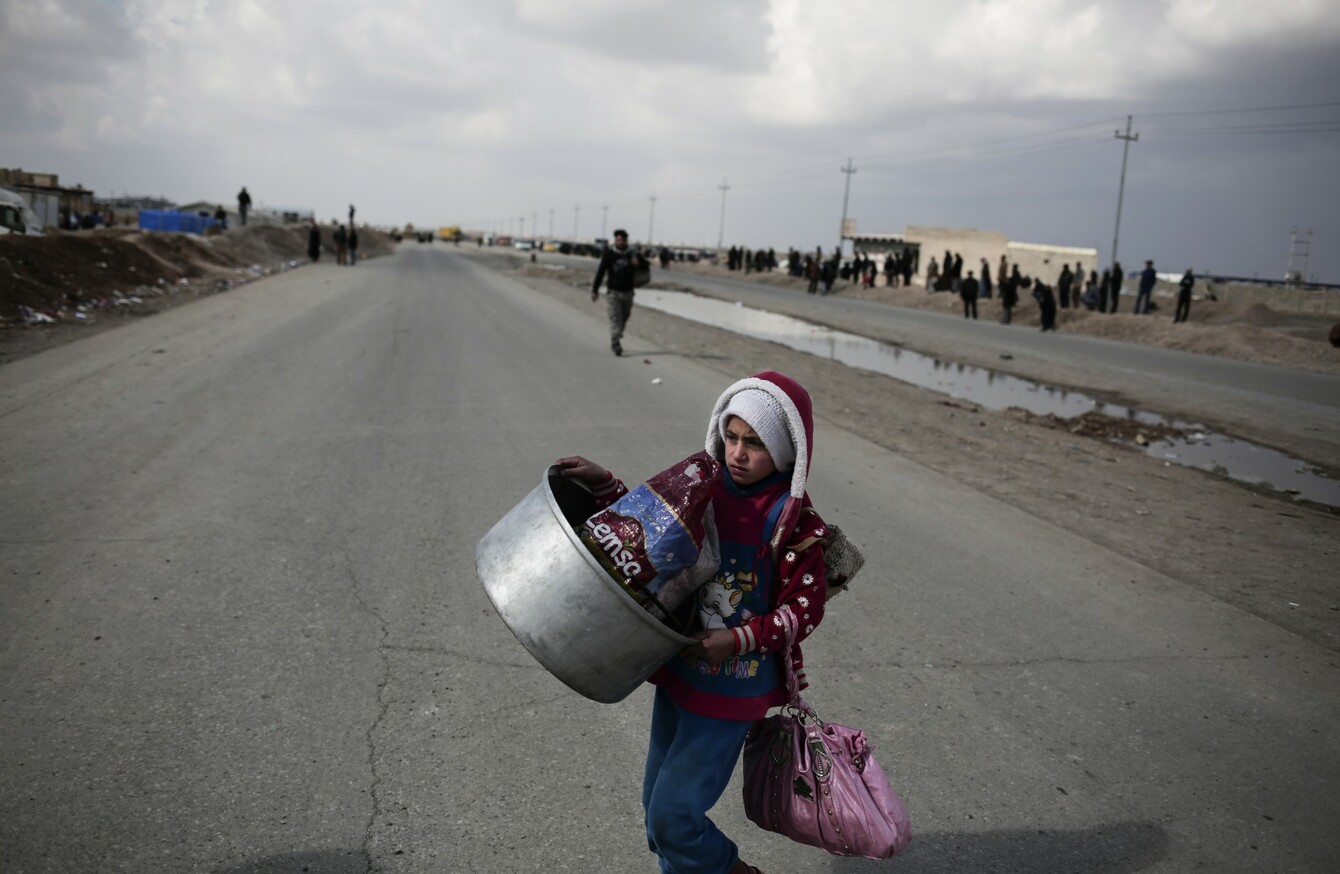 A displaced girl in Mosul crosses the road at a military checkpoint yesterday.
Image: Bram Janssen AP/Press Association Images
A displaced girl in Mosul crosses the road at a military checkpoint yesterday.
Image: Bram Janssen AP/Press Association Images
AS THE NOOSE tightens around holdout jihadists in west Mosul, so does the belt around the waists of hundreds of thousands of Iraqi civilians trapped there with dwindling supplies.
"We're trying to build up some reserves but we have very little food left at home," said Umm Sameer, a mother from the Ras al-Jadda neighbourhood of west Mosul.
After retaking eastern Mosul from the Islamic State group last month, Iraqi federal forces are now preparing to move on the part of the city that lies on the west bank of the Tigris River.
All the bridges connecting the two sides have been dropped and the jihadists holed up in the west have nowhere to run to, setting the stage for what could be Iraq's bloodiest battle yet in the fight against IS.
"We're already only eating once a day," said Umm Sameer.
"The shelves are almost bare in the shops and when you do find something it's too expensive, like a kilo of onions which now costs 15,000 dinars (around €12)," she said.
Umm Sameer said 30 eggs fetched around €50 and sugar was impossible to find, a shortage that affects all households in a country where tea is consumed in large quantities and with abundant sugar.
"People are so desperate that they are using sugar substitutes for diabetics to sweeten their tea," she said.
The jihadist gunmen who have ruled the area for almost three years are growing more paranoid by the day as air strikes by the US-led coalition continue to target their hideouts, residents said.
IS raids
"(IS) members are raiding people's houses more often, looking for mobiles. If you have one, you face execution," said Abu Mohammed, who lives in the Al-Shafaa neighbourhood.
He said some residents who had secretly kept a mobile phone since 2014 had recently destroyed their device.
None of the residents contacted by AFP by phone would give their full names out of fear.
Abu Mohammed said the only ones not to suffer from the food shortages were IS leaders, many of them foreigners, who still had access to some supplies from Syria.
"Local IS fighters however are more or less facing the same situation as the rest of the population," he said.
Some residents have been displaced internally by the preparations IS is making for the offensive federal forces are expected to launch against the jihadists' west bank stronghold.
Fighters have set up positions along the river front in a bid to counter any attempt by Iraqi forces to cross the Tigris on pontoon bridges.
The jihadists have also punched holes in people's homes, which enables them to move across a neighbourhood from one house to another without exposing themselves to aerial surveillance by stepping into the street.
Residents also said that the homes of those who managed to flee are being systematically seized by IS, as well as the shops whose owners happened to live on the east bank.
Burning clothes for fuel
That leaves some residents with the choice of abandoning their homes and belongings or staying in a place that is being used by IS fighters and risks being considered a military target.
"We are extremely concerned about the rapid deterioration of the conditions in west Mosul," United Nations humanitarian coordinator in Iraq Lise Grande told reporters Wednesday.
"Families are in big trouble, half of the shops have been closed," she said while visiting a nearby displacement camp.
Abdelkarim al-Obeidi, who heads a Mosul civil society organisation, urged the government to start air dropping food supplies.
Water and electricity are intermittent at best and some Mosul residents have told of how they are resorting to burning their own furniture to stay warm in a city where temperatures have regularly dipped below zero in recent weeks.
A man from the Tammuz 17 neighbourhood who gave his name as Abu Zeid said he was even burning old clothes because gas and kerosene were also hard to come by.
"We have suitcases filled with old clothes in the basement, we'll be spending a lot of time down there when the fighting starts," he said.