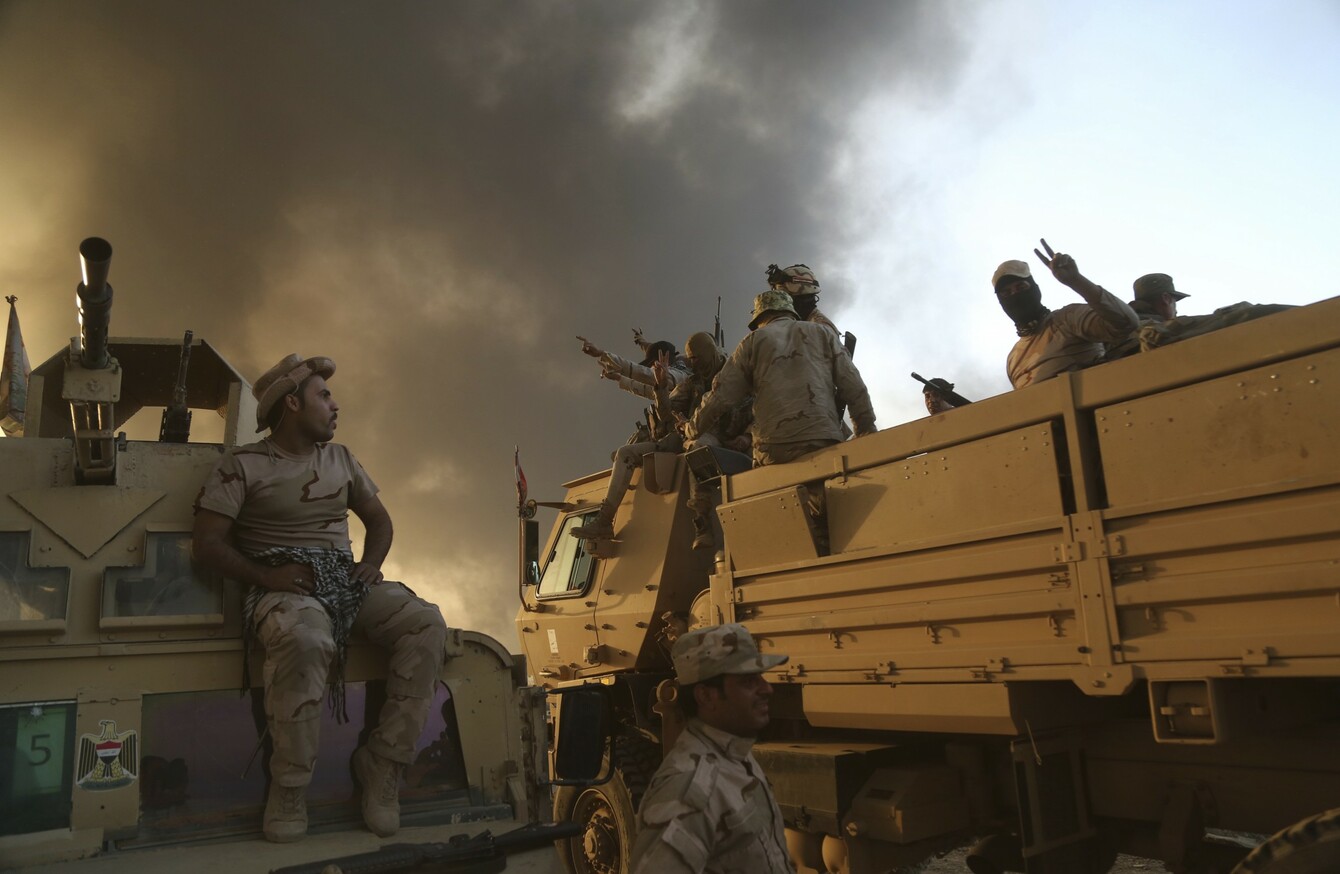 Iraqi forces are deployed during an offensive to retake Mosul.
Image: AP/Press Association Images
Iraqi forces are deployed during an offensive to retake Mosul.
Image: AP/Press Association Images
TENS OF THOUSANDS of Iraqi forces were making gains from the Islamic State group in Mosul in an offensive US President Barack Obama warned would be a "difficult fight".
With the crucial battle in its second day, Iraqi commanders said progress was being made as fighters pushed on two main fronts against the jihadists' last stronghold in Iraq.
The US military, which is leading a coalition providing air and ground support, said Iraqi forces even looked "ahead of schedule" but senior Western officials warned the battle would take time.
"Mosul will be a difficult fight. There will be advances and there will be setbacks," Obama said, as the Pentagon warned IS was barring civilians from fleeing the city and using them as human shields.
"This will be, I think, a key milestone in what I committed to doing when ISIL first emerged," Obama said, using an acronym for the jihadist group, adding the Mosul operation was "another step toward their ultimate destruction".
Advancing in armoured convoys across the dusty plains surrounding Mosul, forces moved into villages defended by pockets of IS fighters after intensive aerial bombardment.
Some families cautiously approached security forces waving white flags while others remained in their homes, in line with the instructions contained in leaflets Iraqi aviation rained on the area in recent days.
In one village south of Mosul, part of the Al-Shura district, the men were promptly isolated and herded into a handful of buildings for screening.
"Our forces are checking profiles against information we have from local sources because we are trying to find IS members," a federal police major said.
Most of the men wore long beards because the IS members who ruled them for more than two years banned trimming them.
Abu Abdullah, a villager, asked one of the police fighters for a cigarette, also prohibited by the extremist jihadist organisation.
Chemical weapons fears
Pentagon spokesman Jeff Davis said IS was preventing civilians from leaving Mosul.
"We know they are being used as human shields, absolutely," he told reporters.
The Red Cross said it was training healthcare workers and providing equipment to facilities around Mosul to deal with potential individuals contaminated with chemical agents.
Iraqi troops and police have been joined on the battlefront by an array of sometimes rival forces, including the Kurdish peshmerga, Sunni tribal fighters and Iran-backed Shiite militia.
IS once controlled more than a third of Iraq's territory but its self-proclaimed "state" has been shrinking steadily.
Experts say the jihadists are likely to increasingly turn to insurgent tactics as they lose ground.
IS has claimed a string of deadly suicide bombings in Baghdad in recent days.
The extremist group has also organised or inspired a wave of attacks in Western cities and on Tuesday the European Union's security commissioner raised concerns over the potential impact of Mosul's fall.