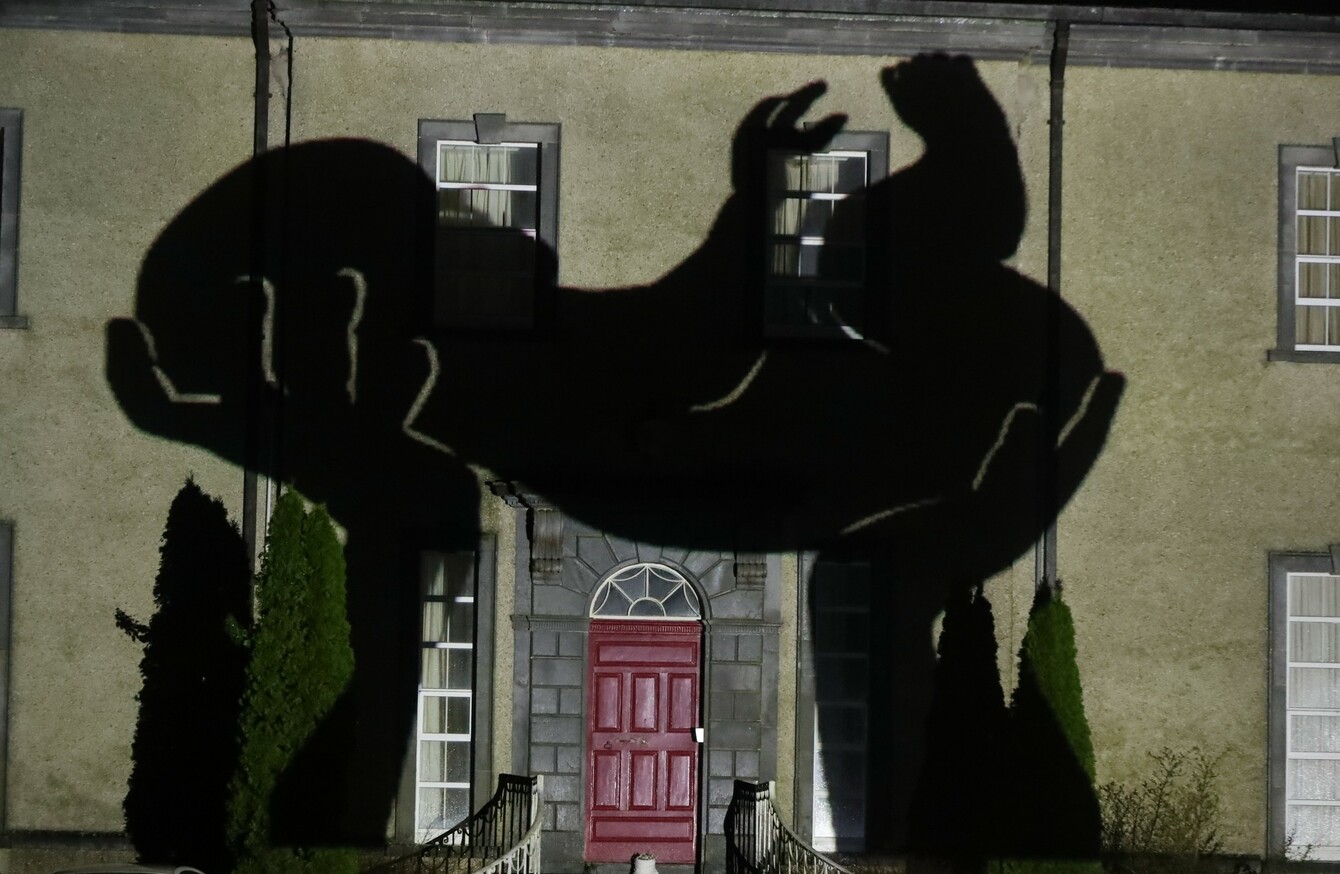 An image of a newborn baby is projected onto Sean Ross Abbey, in Roscrea in County Tipperary on St Brigid's Day for the Herstory Light Show in February.
Image: PA
An image of a newborn baby is projected onto Sean Ross Abbey, in Roscrea in County Tipperary on St Brigid's Day for the Herstory Light Show in February.
Image: PA
Updated Apr 29th 2021, 5:55 PM
AN GARDA SÍOCHÁNA has launched an appeal for survivors of Mother and Baby Homes to report any crimes that occurred at the institutions.
Gardaí have asked anyone who wishes to report a crime "relating to a pregnancy and/or abuse involving their stay at a Mother and Baby Home" to contact them.
However, Garda Commissioner Drew Harris acknowledged that – due to the passing of time and the fact some of the people in question have since died – it may be difficult to prosecute anyone in relation to these crimes.
A dedicated team in AGS has reviewed the final report of the Commission of Investigation into Mother and Baby Homes but "there is insufficient detail in the report to commence criminal investigation at this moment", a statement released today noted.
The report, which was published in January, confirmed that about 9,000 children died in the 18 institutions under investigation.
A Garda spokesperson today said: "Having carefully considered the Commission report, An Garda Síochána is of the view that there is insufficient detail in the report to commence criminal investigation at this moment.
"The report is anonymised and any proper investigation would not be possible without identification of individual parties affected by specific occurrences.
"As such, An Garda Síochána is appealing to anyone with information about crimes at Mother and Baby Homes to make contact with them so that such crimes can be investigated where possible."
A dedicated email address has been set up for people to contact gardaí: MotherandBabyHomes@garda.ie; along with a confidential freephone number: 1800 555 222.
Alternatively, people can contact their local garda station.
Anyone who contacts gardaí about this will receive personal contact within 48 hours. A "small number" of people have already made contact today.
Difficult to prosecute
Speaking at a meeting of the Policing Authority today, Commissioner Harris said the report highlights a number of crimes such as statutory rape and incest.
"We have studied that report, and it is a harrowing and disturbing read," Harris said.
"Obviously, there are reports of rape, there are reports of children and young as 12 being pregnant. So, even though the criminal law has changed over the intervening years, there may well be yet matters which we can subject to, in effect, crime investigation towards a criminal justice outcome."
Harris pointed to AGS's "quite significant experience in dealing with historic cases of sex abuse", as well as the fact there are now Protective Service Bureaus throughout the country that "are specialists in terms of such complaints".
However, he acknowledged that – due the passing of time and fact some of the people in question have since died – it may be difficult to prosecute people in relation to the crimes. 
Garda Commissioner Drew Harris tells Policing Authority meeting that final report of Commission into #MotherAndBabyHomes is "harrowing and disturbing", noting that girls as young as 12 were raped and ended up in the institutions.

He encourages victims of crimes to come forward. pic.twitter.com/s9fIIWMUgR

— Órla Ryan (@orlaryan) April 29, 2021
Harris said numerous incidents detailed in the Commission's final report are "obviously a description of crime".
"20% of those girls who stayed in the mother and baby homes were under the age of 18. So there's a initial very significant concern [about their age], but there are also issues in terms of their mental vulnerability, and also then indications of incest and rape, and what would now be called statutory rape."
Harris said the gardaí would have to cross "various hurdles" in order to be able to prosecute people, but said victims of crimes should still come forward.  
"We want people to come forward and if they feel that they have a complaint to make or an issue to raise with us, we're going to deal with those each in turn and at least be able to either investigate and report that matter then to the Director of Public Prosecutions or at the very least explain why we haven't done that and why the prosecution is not likely to succeed. 
There is a passage of time here. Persons of interest, even suspects, may have died. Indeed victims, witnesses, may have died as well, and also then records may no longer be in existence. So, this is a difficult scenario and decades have passed in terms of some of the events which are particularly harrowing within the report.
"But at the same time, there may still be those who are alive who suffered criminality and we would say to them, please come forward and make a complaint or approach us at least and let us speak to you."
Given the fact prosecutions are unlikely in many cases, some survivors have today said they believe contacting gardaí about historic crimes would be pointless and possibly re-traumatising.
When asked by The Journal about survivors' concerns, Harris said gardaí "want be sure that we've dealt with all the suspected criminality there might be in respect of this".
"Undoubtedly there is an element of criminality outlined overall in the report, but we need the specific complaints.
"I would point to our ongoing work in respect of historic sex abuse allegations and the successful prosecutions that we've had in respect of that.
"It would be foolish for me to say that we can reach back through the decades to the undoubted criminality that did happen, because that may not be possible. But I think people should come forward and at least we can try our very best for them and treat them properly as victims within the criminal justice system," Harris said.
#Open journalism No news is bad news Support The Journal

Your contributions will help us continue to deliver the stories that are important to you

Support us now
Speaking at a media briefing after the PA meeting, the Commissioner also stressed that AGS has the resources and expertise to handle the cases that may arise from this appeal.
"We're keen to say that we've experience that we can apply to this. And today, we have dedicated resources to this form of work. People shouldn't be inhibited by our resourcing issues or our attitude to this, they should come forward. We're committed to this and committed to dealing with victims in a very proper and humane fashion."
'Profound impact'
In a statement released earlier today, a spokesperson added that AGS is "fully aware of the profound impact on the lives of those who were in Mother and Baby Homes and the concerns of the wider public on how Mother and Baby Homes operated".
"An Garda Síochána is inviting anyone who was the victim of a criminal act arising out of the Mother and Baby Homes, or who has information likely to assist an investigation into a criminal act committed at a Mother and Baby Home, to please come forward and report this," they noted.
"An Garda Síochána will deal with any matters reported by complainants in a sensitive manner and will, where possible, progress matters through investigation."
The spokesperson added that while it is the intention of AGS "to effectively deal with all complaints and information received, there will be limitations as to the action we can take in some cases due to matters such as the loss of evidence over time or suspects and/or witnesses being deceased".
"Where these factors are present, An Garda Síochána will diligently explain such limitations to complainants."